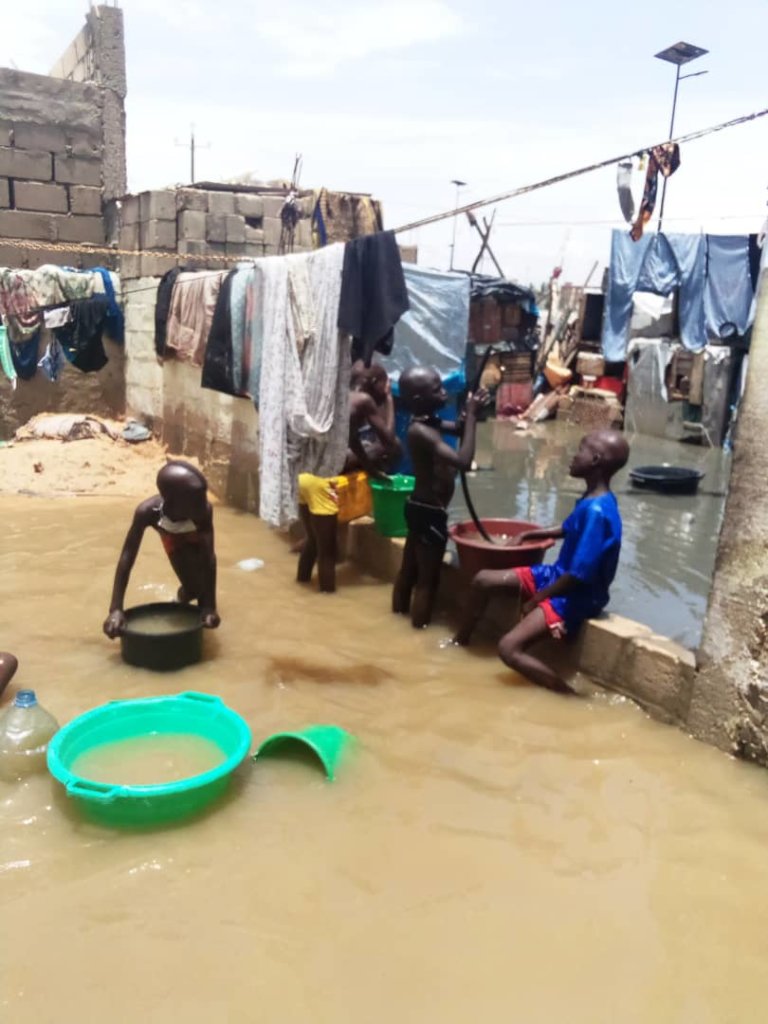 In this summer, we faced lots of trouble, but we still have a smile in our face to stay alive and be positive. Despite the Covid-19, the rainy season was tough, in one day in rained more than in three months of normal raining season according to BBC Africa report.
This raining season was not like any other particularly in Senegal. The rain affected many regions and Saint Louis town was flooded everywhere. It left many damages in this north part of Senegal, location and area of interest of Chance For All Senegal.
This raining season showed many defects which existed in Saint Louis.
The bad Channeling and high water table made the inhabitants really vulnerable to rains like that.
Many families were obliged to leave their house and go to stay in school where they could use classrooms to sleep. The Daaras where Chance for All Senegal used to work with were flooded. But we went to visit them and try to give help, if possible.
A narration from one of the volunteers: "when we went to check on the damages the whole concession were under water and the little good they had, floating. Children were in the water, all the way up their waste"
Despite that they stayed in the concession and the funny thing is that nothing really changed for them. After asking one of them why they stayed in? They informed us that since they don't have running water and the rain was an occasion to get enough water to do their laundry and wash some dishes.
When others may be too worried about that situation, kids in daaras found the situation as an advantage.
However the situation was really bad, in other place, we saw most of the kids without clothes on and wounds everywhere. They didn't get the care needed. Their innocence and childish mind made them not realize the seriousness of the unhealthy conditions of their lives. That seemed to be the most normal thing just like on a normal random day. At some moment a little group of children were even playing in the water, saying they were to learn how to swim. They really enjoyed themselves in all that chaos.
We started helping them to clean rooms and we advised them to avoid to play there. It was better to move to another daara where it was possible to stay until the end of the rainy season.
Lucky they are too young to get anxious because of such conditions but it was too bad for their health and growth.
Due to these troubles, Chance for all activities were postponed, the only activity we had was to get water pumps to drain water in order to assist children and their chaperones in Darou.
The mayor and some associations came along to help. The mayor sent water pumps.
Now we restart activities and even if the covid-19 is still there, our children need help and assistance, we couldn't wait until the end of the Pandemic to reopen centre, specially the healthcare unit where we are receiving the emergencies cases. Thanks God we have less covid-19 cases in Saint-Louis, so our activities are improving little by little.