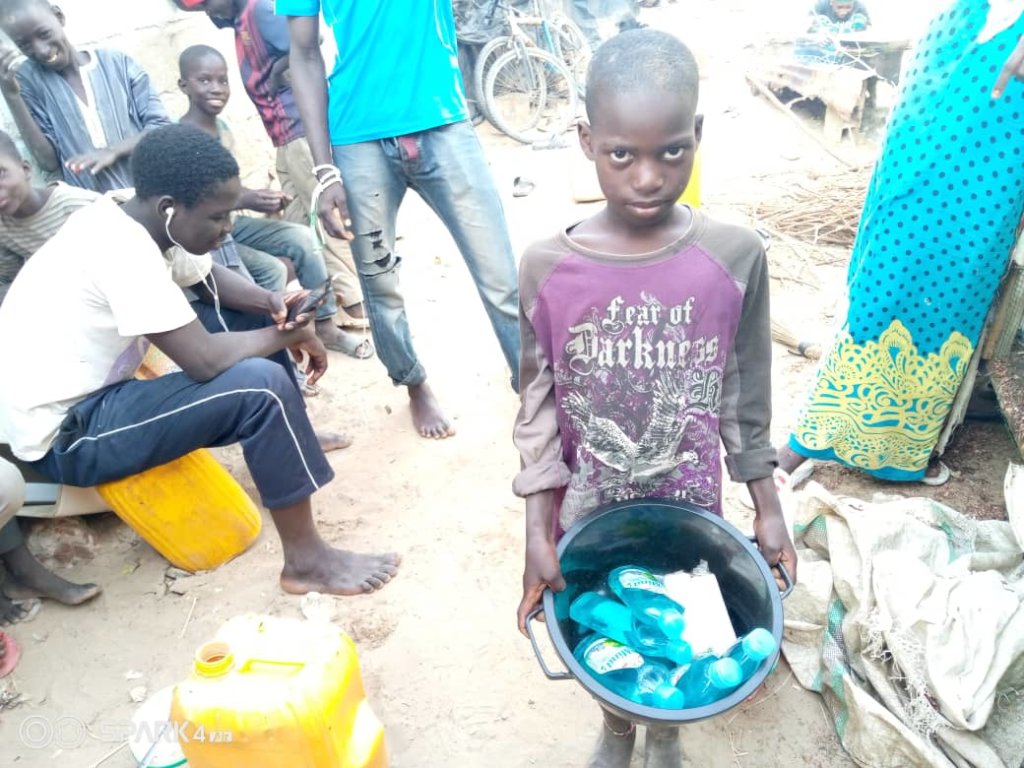 In times of crisis like this, the association today more than yesterday is at the service of vulnerable community. They know that everywhere in the world runs the fear and weakness of people facing the corona virus. That virus that entire humanity still does not have control on does not make any distinction. Thus, with the measures established to protect from that virus, our brave people of Chance for All Senegal have not forgotten to educate, prepare and equip their lovely kids, to include them in the fight against the virus where perhaps many people have forgotten them. This being said, members of the association decided to visit children of some daaras. Too many people couldn't go because there are more restrictions regarding organizing meeting, just to avoid the spread of Coronavirus.
The association chose the last weekend in March and still in the North, Saint Louis at their Headquarter to invite all these children they had been following since the beginning and the Daaras with their Marabout. It was on Saturday morning at eleven (11) o'clock they bought hygiene materials at the market first before visiting Daaras. The stuff bought was for hygiene and especially hand hygiene. It was bleach, disinfectants, hydro-alcoholic solutions, powder soaps, disposable towels and even plastic buckets (recipients to carry water for hand washing) ... At that image, on the faces of children you could've read a lot of questions, for others, it was a surprise. That did not last with the arrival on stage of 3 members of the association. They introduced the subject of the day: the illness due to Corona, it was an opportunity to sensitize more, for example, how we get sick? What are the symptoms? What steps to watch if someone has them and above all how to avoid that disease?
It was not so easy to pass the information to the children who we know somehow are living in their own world, which means, away from any information. By these times, all of them know a little bit about Corona virus, but they need accurate information and good measures to apply by themselves. Among the Marabouts who had witnessed the meeting, one stood on behalf of the others to encourage and thank the association, rewind everything they said, and support the observation of the prescribed measures. Learning was not only intended for children but especially all that accompanied them to always remind them.
Thus, the facilitators did not only give the materials, they also insisted on their usefulness and their good use with a demonstration. At the end, kids were singing in Wolof: 'To avoid the Corona virus: I have to wash my hands….'. A small phrase they have been taught from this day. It is sure it will be very difficult for them to stay in confinement for always having been most of their time out and without restriction. But, this is another opportunity to remind everyone and to some marabouts that place to these children is not the street, full of danger and predators.
At the end of the meeting, when they had all left off with a lot of baggage as well as knowledge, in an interview, one of the pillars of the association entrusts us in these words: even with the corona, we cannot leave the children. It was not only words but Chance For All Senegal once again shows that he bears heart this mission, to carry out the well being of these children and that no matter the situation. They will chaperone them until they should fly by their own. let's hope that that Virus will disappear soon, because we don't have good facilities to help people in this kind of disease. For now let's cross our fingers and hope to have better days for everyone in the world.