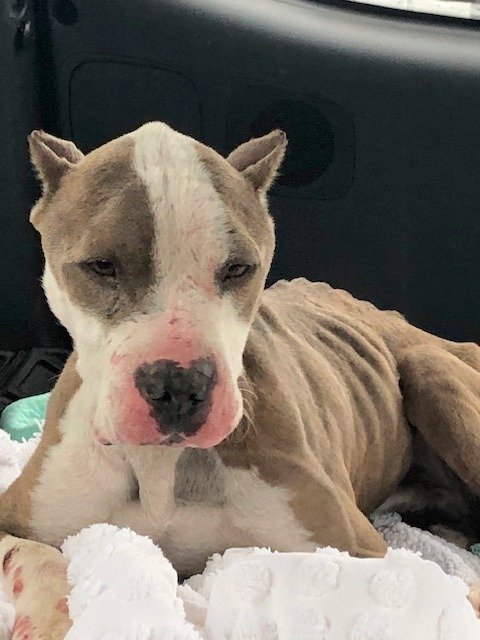 Chain of Hope operates and serves in the lower income areas of Kansas City, Missouri, assisting pet owners with their animals. We have had some extremely cold weather here, so we would head out on outreach, looking for dogs living outside. We would talk to the owners or drop off a bag of straw for their dog house if no one answered. On Super Bowl Sunday we were out. It was a brutally cold day. We spotted a dog whose chain led into his dog house. We stopped and went to the door. No one answered. We left our information, a bag of straw and some treats. We were really hustling, trying to get to as many outside dogs as we could. The next day, I drove by this house to make sure the owner had put the straw in the dog house and he had. On to the next house-the wind chill that night was going to be below zero and we had many dogs to get straw to.
Two days later, we received a message from someone who said that he thought his dog was sick. I called him back and he told me that he had found his dog with his head hanging out of the dog house the next morning and he was "asleep". He had brought the dog in the house and said that he was starting to come around. I knew immediately what had happened, but the man didn't seem to realize it. I told him that his dog had almost frozen to death last night. He seemed very surprised that this had happened. I told him to put a hot water bottle up next to him and/or a heat pad wrapped in a towel, cover him with blankets and I would be right there. This was the house that we had left straw at and I had driven by the next day to make sure the straw was in there. Thank God we had stopped and left our information on his door.
When I walked in his house, I saw a pit bull with a large heating pad across his back and a space heater going. He kept trying to stand up, but kept falling over. It was difficult to watch him struggle. I was talking to the owner and trying to access the situation. As the dog fell down again and was turned away from me, I could see hip bones sticking out underneath the heating pad. I lifted up the heat pad and it was then that I saw that this poor boy was completely emaciated! He was skin and bones and he had almost frozen to death. The owner was mentally challenged and did not seem to understand the severity of this situation. I told the owner that the dog needed to come with me and I needed to get emergency veterinary care for him. He signed him over to Chain of Hope and I headed to the vet.
This poor dog's temperature didn't even register on the thermometer. The vet said that thermometers start registering at 92 degrees and even at that, a dog would be close to death if not dead. He was in terrible shape. I left him at the hospital for the day so they could get him warmed up and get him going on fluids and medications. They had him on a heat pad and warm IV fluids. He had deep sores on his legs. He only weighed 38 lbs. He had barely made it and he might not have had we not given this owner straw a couple of days before and he had put it in the dog house. That straw might have been the only thing that kept poor Apollo from truly freezing to death. The low temperature of the night he barely made it through was 11 degrees.
Apollo is now doing amazing! In two weeks, he put on 19 lbs!! The sores on his legs are healing up and he is a very happy boy. He did test positive for heart worms, so he will have to undergo that expensive treatment in the near future. We are so happy that Apollo made it! We know some of them don't and that is why it's so important that Chain of Hope is operating in the urban core, finding these animals that are neglected and abused. Thank you for keeping us out there for the animals. We couldn't do it without you!