Who's Minding the Kids?
Lots of Stranding Network volunteers and local residents it seems!
By "kids" we're referring to the young elephant seals born right here on Whidbey Island, in the Salish Sea region of Washington State.
Ellison, our first known elephant seal pup to be born on Whidbey Island, will be five years old; and sister Elsie Mae will be two years old in March 2020. Both were born to "Ellie" a female elephant seal who has been coming back to Whidbey every spring to molt and give birth on the same westside island beach and observed by our Stranding Network staff and volunteers for years.
The two offspring have distinctly different personalities, and as they grow, will look quite different as well. Ellison, being the male, is already quite large with the notorious "big nose" of male elephant seals beginning to show. They both have become quite famous, as the neighborhoods they visit are filled with citizens who love and watch over them to make sure they are not being harassed.
Ellison seems to be a "homebody" spending a great deal of time on his favorite beach on a very small island just off Whidbey Island, surrounded by much smaller harbor seals where he is relatively safe from human interaction. He has been recorded on the beach for 138 days from January through October so far this year. A recent photo of him shows that he is beginning to develop the large proboscis (or inflatable nose) of an adult male elephant seal - at adulthood his nose will overhang his lower lip by about eight inches! He is getting larger too - fully adult males can reach up to 13 feet in length and a weight of 4,400 pounds. Male Elephant seals have a lifespan of ~13 years, and at about age nine or ten, males typically form "harems" of females in areas where large numbers of elephant seals haul out. It will be interesting to see if Ellison continues to remain in his more solitary life on Whidbey, or travel further south in search of females to mate with as he gets older.
Elsie Mae, on the other hand, is a "party animal" and seems to love people (not usually a good thing for a marine mammal). She has been tagged by WA Dept. of Fish and Wildlife shortly after she was born, with tag #1285, so she is easy to track. She has been observed and confirmed on at least four different islands in our region during her first year and a half, and attended at least one wedding on each of those islands! She spent several weeks in a marina community attending weddings, parties and picnics and becoming a constant concern to our pup sitting volunteers who had to maintain safe distances between her - a wild animal - and eager visitors, for the safety of all.
With the help of WDFW, our stranding network finally had to relocate Elsie from that busy location, between the large number of people there and the nearby road she kept waddling into, stopping traffic. But she immediately left the remote beach she was relocated to, and shortly afterward showed up on a neighboring island where she attended public events at one state park before moving on to another, causing the same concerns.
We credit Elsie Mae with being an "ambassador for her species" giving the excited public a once in a lifetime chance to observe and learn from such an unusual and entertaining animal. A recent photo of Elsie Mae posing in one of her yoga positions at the last park she visited is included - she is so cute, we can't help but have our hearts melted by her face and antics! We are all very fortunate that CPSMMSN volunteer Sammye watched over Elsie and educated park visitors during her recent stay, and captured a video of Elsie finally departing the park, after struggling to get over the logs on the beach (see video link below). As Elsie continues to grow, she will reach a length of about 10 feet and a weight of 1,300 pounds at adulthood. Female elephant seals have a lifespan of about 19 years.
Thanks to your support, our Central Puget Sound Marine Mammal Stranding Network has been able to track and document this first known family of elephant seals on Whidbey Island, and each year we get to know them better, and in the process educate hundreds of people and collect data useful for agencies such as NOAA Fisheries and WA Dept. of Fish and Wildlife. Our staff and volunteers are working on a book about this elephant seal family, and each year we are provided more wonderful photographs and stories to add to the tale. As people learn more about these individual elephant seals, they also learn about the species, and about the changing ecosystem which has brought about changes in species present in our local and regional waters. We hope you too have enjoyed getting to know Ellison and Elsie Mae!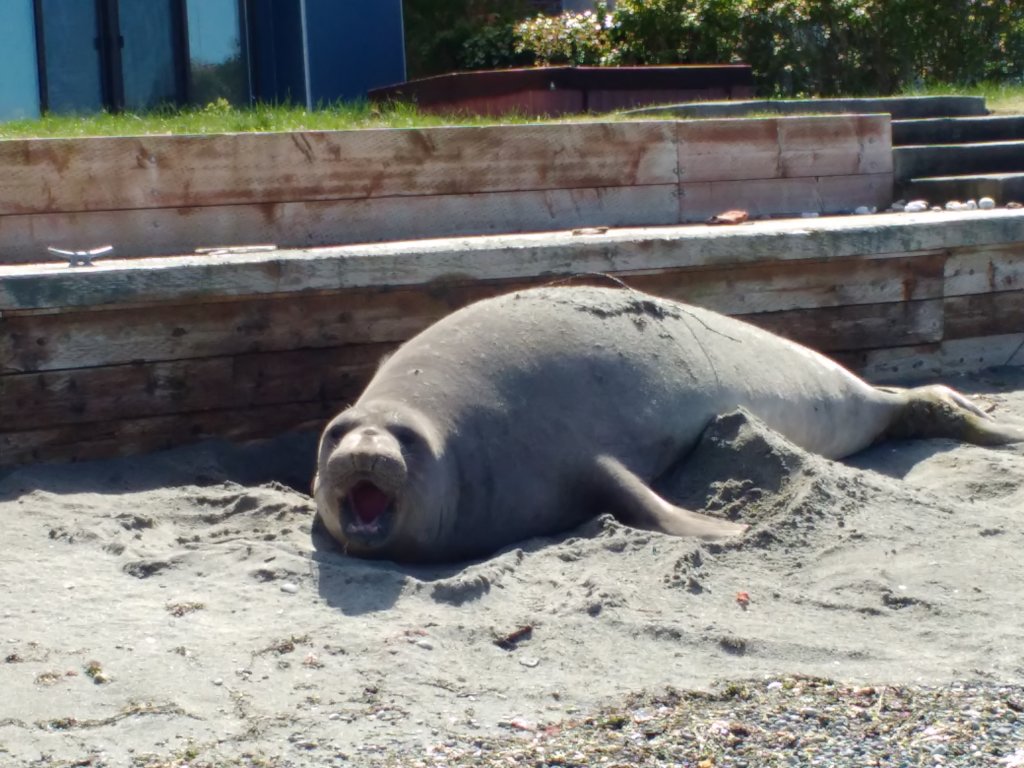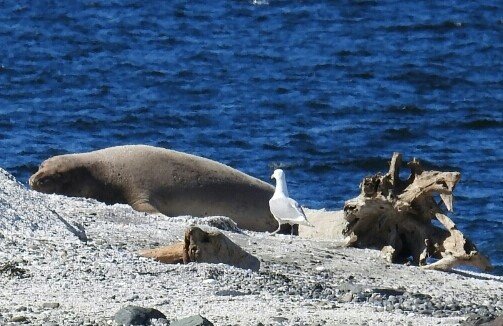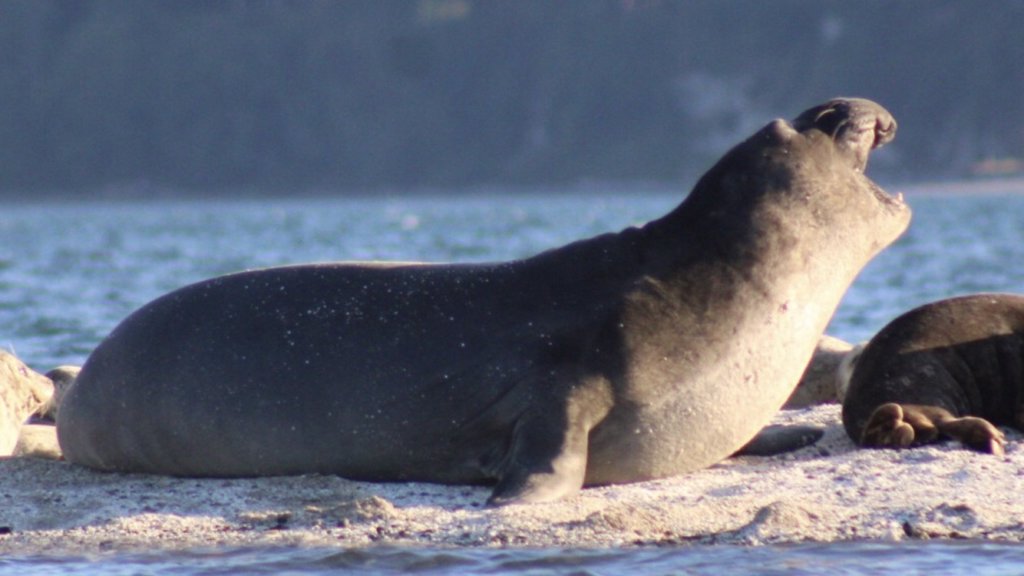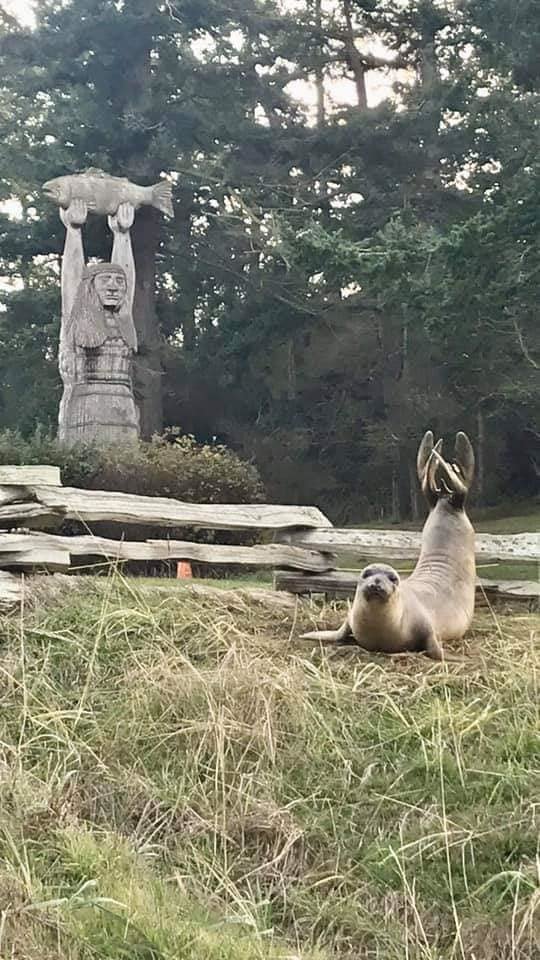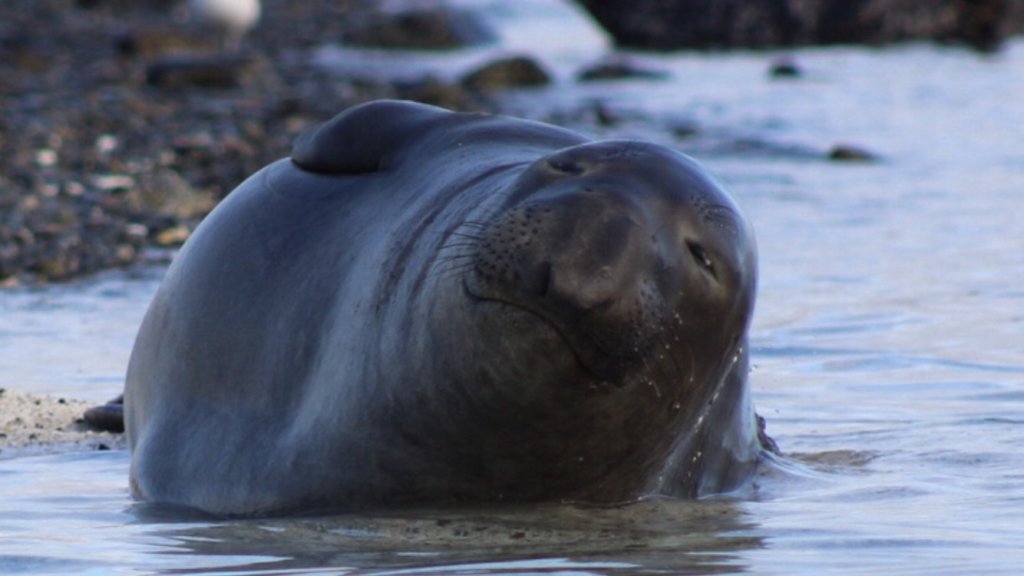 Links: