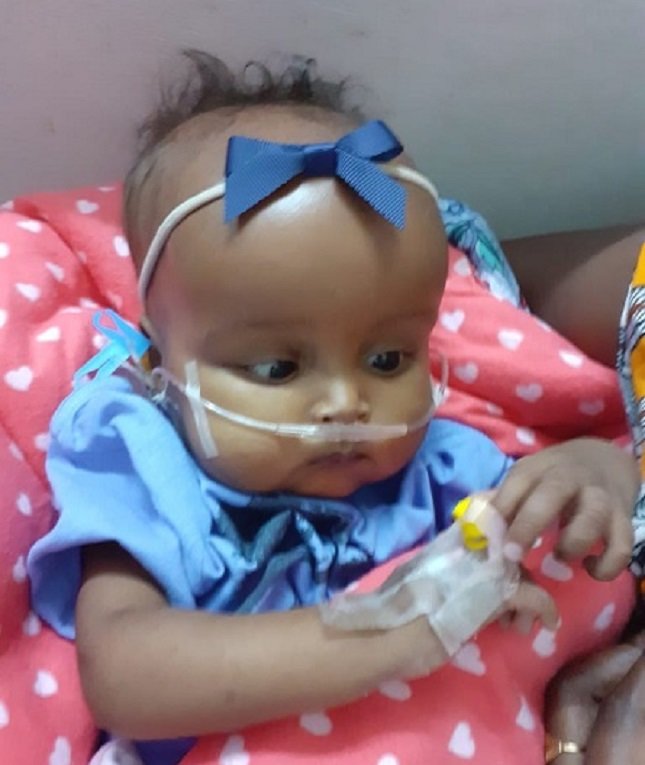 Care for a Child's Heart (CFACH) is the continuation of an initiative that started 28 years ago. The initiative involves helping sick and desperate children with heart anomalies in Kenya get urgently needed care. Over 2,000 children and families have been blessed with surgeries, interventions, medicine, food, personal care, livelihood packages, accommodation, and support to enjoy healthier lives today.
During the past quarter, six patients received evaluation at Tenwek Hospital. Baby Sara qualified for open heart surgery. Baby Sara is the 2nd born in her family. She has a history of heart murmur and cyanosis (bluish color of the skin and mucus membranes). She was diagnosed with MAPCAS (arteries that develop to supply blood to the lungs when the native pulmonary circulation is underdeveloped); Patent Ductus Arteriosus (PDA), a hole that allows blood to skip circulation to the lungs and pulmonary atresia with intact septum. Although Sara was cleared and booked for surgery, on the night before her surgery, doctors discovered a clot in her system. Surgery was suspended to manage the clot. One week later, the clot was cleared and The Hearts of East Africa Medical Mission team performed successful open heart surgery on Sara at Tenwek Mission Hospital in Bomet, Kenya. Sara stayed in ICU for a few days before being transferred to the HDU. She was later admitted to a ward but she is now safely home! Sara has her smile back. Her mended little heart continues to heal – No more turning blue. The cyanosis is gone!
Care for a Child's Heart currently has a total of 19 children on the Waiting List. We hope to present them for surgery assessment during the next visiting mission team in September. To encourage more partnerships and collaborative relationships, CFACH Board held a dinner meeting with Dr. Michael Liske and Dr. Tom Doyle on January 23, 2020.The event took place at Mayfield Guest House. Four CFACH board members had a great moment with the doctors ahead of their trip to Tenwek Hospital. The one-hour meeting was informal just to allow the board members time to interact with the doctors.
CFACH Family Support Center hosted Baby Wada and her parents for 2 weeks in February 2020 as she was in transit to India, Narayana Hospital for open heart surgery. Through partnership with Chain of Hope, CFACH continues to offer accommodation to families in-transit as they travel to any Chain Of Hope center in different parts of the world for heart surgery.
Care for a Child's Heart and CAC are grateful to all partners, funders, and supporters that continue to believe in our work and the impact it has on many lives. Your continued donation to this worthy cause that influences lives of deserving children and families in Kenya is truly appreciated. Partnerships and support from benefactors are pertinent to growth in our organizations. Thank you.