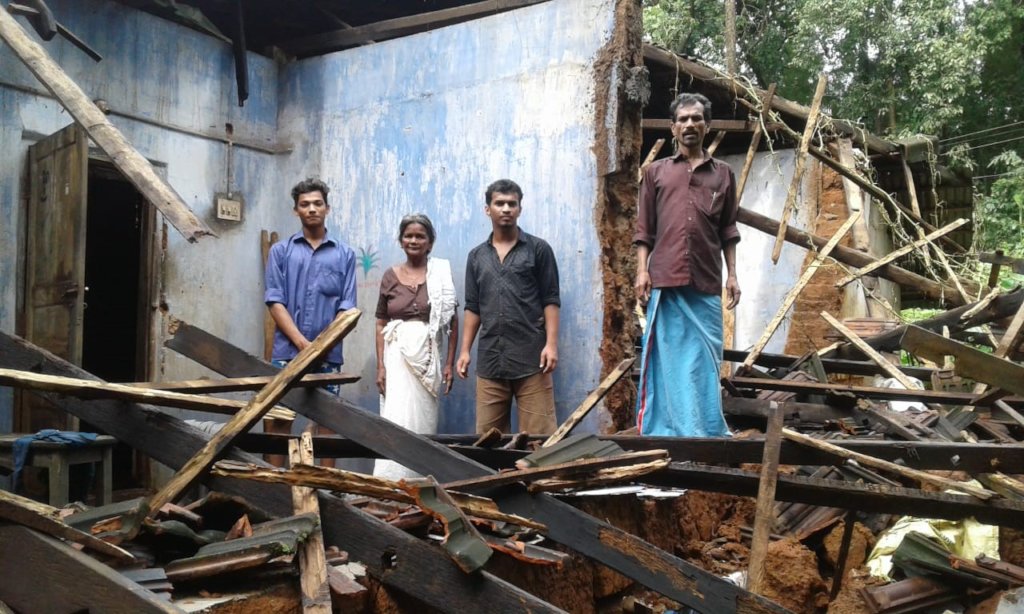 Dear Supporter,
The unexpected floods that ravaged a large part of Kerala have disrupted the lives of people across the state.

Under the guidance of National AIDS Control Organisation (NACO), Kerala State AIDS Control Society (KSACS) and ART centres, our Care and Support Centres (CSCs) and District Level Network of people living with HIV (DLN) continue to do a tremendous job in of the support to affected People Living with HIV (PLHIV) by ensuring urgent medical requirements and counselling support.

There have been problems in locating PLHIV stranded in waterlogged areas. Ensuring uninterrupted supply of ART drugs during such situations was a great concern as we had to maintain privacy even at a time like this. Great efforts were made in addressing this issue. CSC staff contacted every PLHIV in the flood-hit area and delivered enough supply of medicines. Alternate arrangements were made for the affected people to collect medicines from nearby ART/LACs that are accessible at present. KSACS has issued a circular to all the delivery points including those in the nearby states to provide medicines to meet requirements for every needy PLHIV.

Although severely affected by the floods, the PLHIV community in Kerala have overcome this calamity. Now efforts are in full swing for smooth rehabilitation and reconstruction. As people of Kerala stand together to overcome the traumatic situation with support from around the globe, the road to recovery and reconstruction may not be that difficult.
Radhakrishnan who lives with his aged mother and two children in Pudanoor region in Kerala was one among them. He is HIV+ and gets his treatment from our Care and Support Centre in Palakkad city. He works as a salesman in a petrol pump and hardly earns enough to sustain himself. The heavy rain ruined all that he had, including his house. He is now staying in a camp in Palakkad and has nowhere to go with his family. Palakkad CSC is offering him support till he can support himself and his family. He was provided with a life support kit consisting of groceries, clothing and all basic utilities. With the support of kind-hearted people and we could support many individuals like Radhakrishnan.
Finding a home for an HIV orphan and HIV+ young Swati
Gangumai, a helpless grandmother from the small hilly village of Raigad district in Maharashtra requested for our support for the admission of her granddaughter to an orphanage. Her granddaughter Swati, a 12-year-old girl living with HIV, has been part of our Care and Support Centre for the past two years. After facing stigma and discrimination from her paternal relatives she was packed off to her grandmother, Gangumai.

Gangumai is a domestic worker in her village. She faced a lot of challenging in raising her granddaughter with her meagre income. In January, 2018, Gangumai, with the support of the senior medical officer of the ART centre in Alibaug, Dr Nalanda, approached us for help. The Raigad Child Welfare Committee (CWC) then transferred the child to Thane district CWC for their support as none of the centres was equipped in handling children living with HIV. Unfortunately, even Thane District forwarded the case to CWC in Palghar district for help. Finally, the Palghar CWC issued the order for getting her admitted in Inigo Ekjaa Aruthi Children's Medical Institute, Vasai in Palghar district. Our field team tirelessly worked from February 2018 and on 16th August 2018 Swati was admitted in the institute at Vasai successfully where her needs for health care and education will be taken care.
Her grandmother is now relieved knowing that her granddaughter now has a chance at a better future, a future she could not have given her.
Out of 12,95,452 PLHIV registered with our Programme:
1,20,455 received differentiated care and support services.
14,141 ART LFU/Missed PLHIV were re-linked to ART services for treatment.
13,545 PLHIV linked with social protection schemes and entitlements.
2,745 Family members and partners of PLHIV were tested for HIV.
65,707 Persons Living with HIV (PLHIV) screened for TB.
222 pregnant women identified at the programme linked with Prevention of Parent-To-Child Transmission Programme.