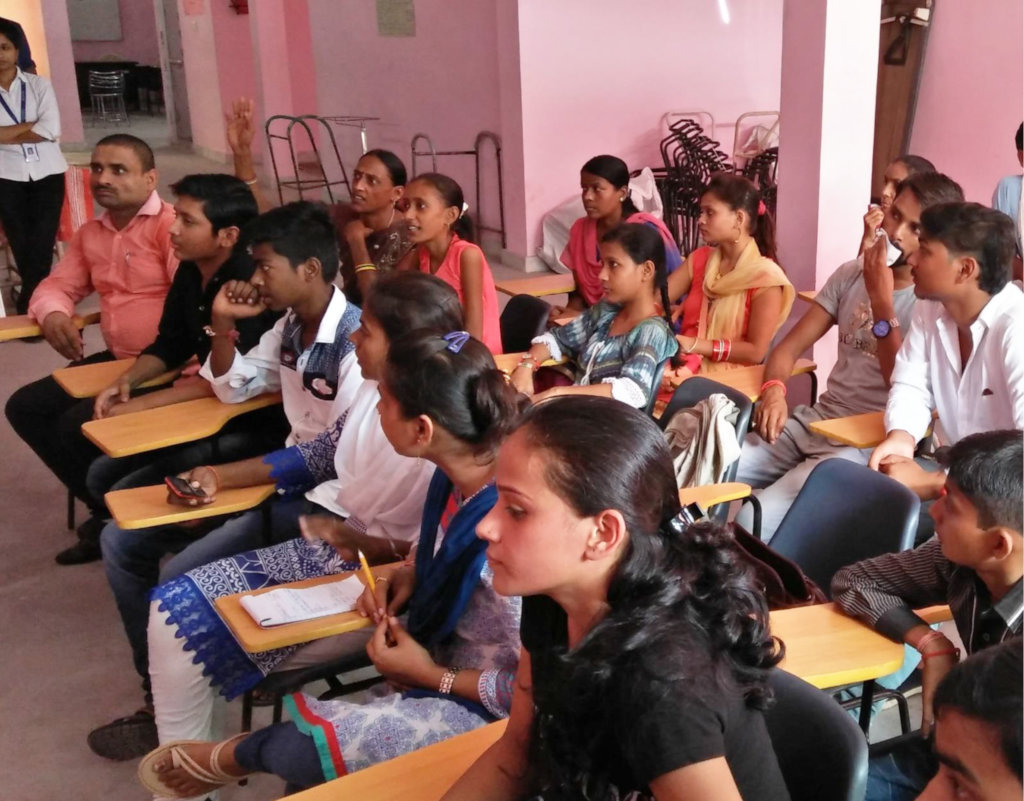 Special focus on adolescents living with HIV
Challenges faced by adolescents living with HIV are manifold. A good number of them would have lost either one or both their parents to AIDS. They would then depend on their extended family members if any for food and shelter. Moreover, due to the illness of parents, some of them are forced to discontinue their studies. Owing to their difficult circumstances, many of them are not regular on the antiretroviral therapy, treatment for HIV.
With the objective of ensuring retention of adolescents living with HIV in care and improving their treatment adherence, the programme reached out to about 150 adolescents in the last one year and registered them under our project for availing services such as travel support for accessing ART, supplementary nutrition, educational support, life skills education and vocational training.
Travel supports provided through the programme took the burden off their relatives and enabled the adolescents to collect their medicines from ART centre every month. As a result, their treatment adherence levels and overall health status have improved. Similarly, nutrition support enhanced the efficacy of ART and improved their attendance in school. Those who were forced to discontinue their studies due to lack of financial resources were supported to resume their studies. The programme also provided them with a platform to share their views, receive peer support, and learn from one another.
Helping PLHIV find life partners
Social acceptance for people living with HIV (PLHIV) is a big need in our society. Disclosing one's HIV status hinders their prospect of getting married or having a family as the society still has certain misconceptions associated with sex amongst PLHIV. With the vision of positive living our programme partner, Gujarat State Level Network of People Living with HIV/AIDS (GSNP+) with support from Reliance Industries and government of Gujarat organised a marriage consultation for PLHIV.
All our programme partners, mostly the state and district level networks across India took an active part in mobilising community members. The aim is to strengthen the support system for PLHIV by helping them find their suitable life partners and live their life to the fullest with dignity. A matrimonial website was created for interested PLHIV from various states to register themselves which was screened by GSNP+ representatives. More than 900 candidates from 8 states registered themselves with a hope to find their soul mates. So far 21 couples have found the match for each other. A special event was organised to reinforce hope and confidence of many PLHIV to see their dream of finding their life partner. The event was attended and graced by state government dignitaries.
Ankit's Story: Overcoming obstacles to help himself and others
29-years-old Ankit worked as a staff nurse in a private hospital in Kota, Rajasthan. He lives with his two elder brothers and mother and was leading a happy life. In 2015, he fell ill and got himself tested in the hospital for HIV, the lab technician informed him about his HIV status and also informed the hospital's managing director as well as the senior doctor. After knowing Ankit's HIV status, he was terminated from his job citing that his character was doubtful and blamed him for his infection. He was depressed after losing his job with thoughts looming over his mind whether he had committed any sin or crime and whether the society will accept him. He was apprehensive about finding another job and was worried about his career. His elder brothers supported him immensely and motivated him. He initiated antiretroviral therapy (ART) and in the hospital, he met Sangeeta from our Care and Support Centre (CSC) she explained about positive living methods and told him about her fight with HIV and informed him about the importance of treatment adherence.
He then got himself registered at the CSC in Kota, Rajasthan. Witnessing his passion for supporting others and his energetic personality, the medical officer of the hospital guided him to work with the CSC. Today he is a peer counsellor in the CSC actively extending his warmth and support to many PLHIV, motivating them to live a healthy and productive life. Presently, he is happily married and is committed to continuing working towards reducing stigma and discrimination faced by PLHIV in the society.
Currently, our programme has 310 such active Care & Support Centres (CSCs) across India, of which 300 CSCs are led by PLHIV networks and community-based organisations and 10 by Transgender community-based organisations.
Out of 1248815 PLHIV registered under our Care and Support Centre:
• 82,953 received differentiated care and support services
• 18,031 ART LFU/Missed PLHIV were re-linked to ART services for treatment
• 5,920 PLHIV linked with social protection schemes and Entitlements
• 1,950 Family members and partners of PLHIV were tested for HIV
• 35,273 PLHIV screened for TB
• 131 Pregnant Women identified at the Program linked with PPTCT