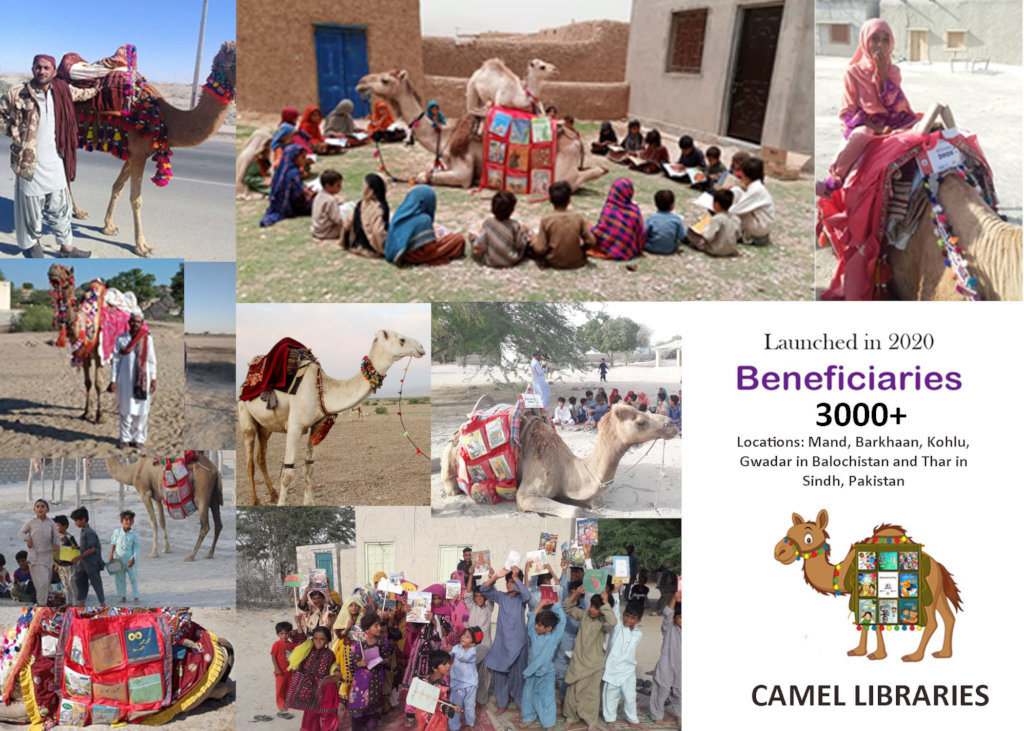 Our Camel Libraries aim to reach the marginalized and operate in Balochistan and Sindh.
Pakistan's first camel library was launched in October 2020 in Kech, Mand, Balochistan with funds from Judith's Reading Room and the Female Education Trust as implementing partners. It was a huge success and more friends joined hands to replicate this exciting idea of taking books to children in far flung areas/villages.
Alif Laila/ IBBY Pakistan's first camel library was called "Roshan" (Bright). After Roshan, we were able to set up 5 more camel libraries, Aman (Peace), Chiragh(Light), Raunaq(Glory), Khushi (Happiness) and Umeed (Hope) in different areas of Gwadar, Balochistan and Thar, Sindh.
Each Camel library has one pocket library along with 500 books, a set of puppets and props along with a portable hanging puppet theatre, as well as rugs and cushions for children to sit on. After the first three months of implementation we were able to raise funds and provide two libraries with Tech Bags. These wondrous bags contain four tablets and solar panel batteries to keep them charged, and screen audio/video aids for the children who do not have access to either books or any form of digital learning in the areas they live in. Since access to the internet is an issue, pre- recorded material was loaded on the tablets for the children to learn from, and enjoy.
The books in the library are carefully chosen and many are related to the environment. The audio/video aids sent in the "Tech Bags"has a folder of eco-friendly resources. Our entire environment related resources, books, audio/video aids encourages students to investigate how and why things happen, and make their own decisions about complex environmental issues. By developing and enhancing critical and creative thinking skills, it will help foster a new generation of informed consumers, workers, as well as policy or decision makers.
In the provinces of Balochistan and Sindh, using camels is the most efficient method of transporting goods, and adding books to their repertoire gives the camels in the area newer paths to tread.
The Camel Caravan has to date benefited more than 3000 children in 20 different villages. The idea of a camel library is eco-friendly, generates love and respect for animals, provides money earning opportunities for camel owners, and most importantly is a means of spreading knowledge.
Murad, who walks his camel to four villages in Mand feels happy that he is of service to children and is helping their development. He now sends his own daughters to school too, and says, "I am not a literate person. I have never gone to any school, but I feel very proud that an illiterate person like me has become a source for education for children who want to learn."
Khushi in Barkhaan district of Balochistan is a female camel with a 3 month old, Muskurahat (Smile) who goes along with her on her library visits to different villages carrying books and joy. The children in Barkhan do not have well established schools or libraries. For more than a year they have been at home with no access to learning because schools have been closed and they do not have the facilities to work online. When happy, colourful books come to them, lovingly brought by a mother/ child duo they rejoice because what comes to them is rich indeed; it is hope, dreams, laughter and colours of different hues. They will not be left behind now.