Project Report

| Mar 10, 2014
Cable installation in progress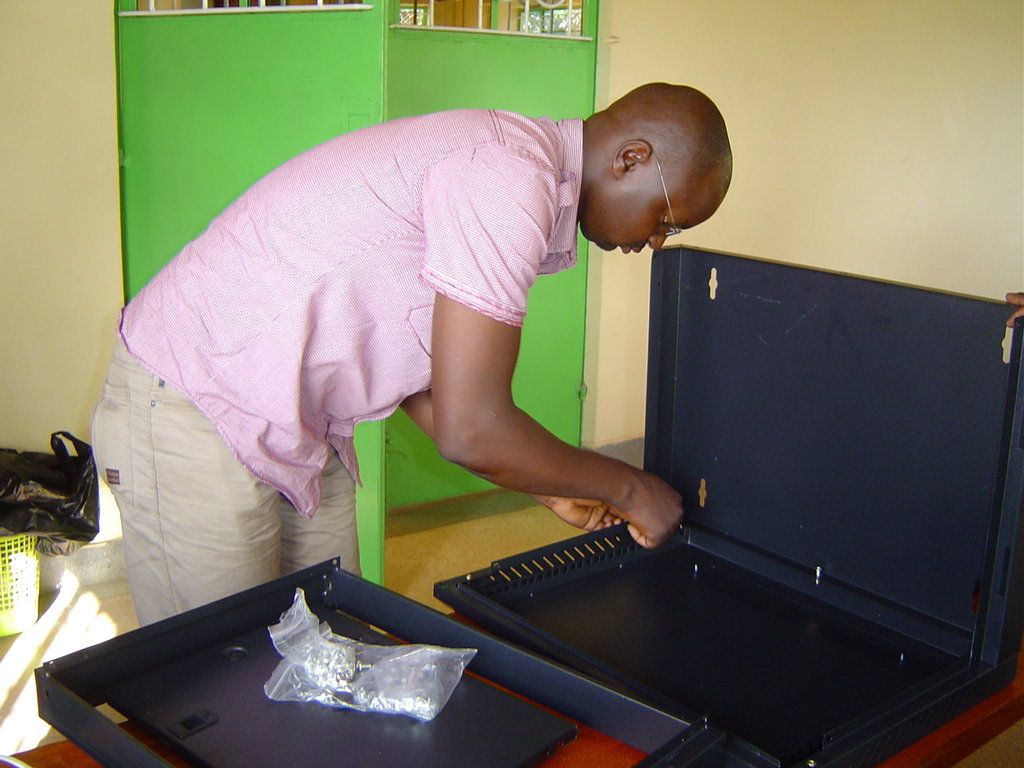 Finally, the cable installation is in progress! The process began when we secured a suitable contractor. In liason with the contractor, we were able to procure supplies needed for the work - rolls of data cables, a 9U cabinet, face plates, ethernet switch, trunkings, UPS, RJ 45 connectors, wall box connectors among other things. With the materials on site, the contractor began by assembling the cabinet to run the wires through, installing the trunkings, and laying the cables within the computer lab of the LRC building. A total of 38 connection points have been set up at the computer lab meaning a maximum of 38 computers can be connected to the internet at the lab at the same time. Currently the lab has 20 mac mini computers with an ultimate hosting capacity of 40 computers. Other rooms within the LRC building are also being installed with the cable and networked which will allow us to spread out the computers if we need to. Another 10 connection points have been established in other rooms within the LRC building making the total connection points 48! The process of testing the cables and wall connection switches is now occurring. The contractor is working hard to ensure that work is completed in good time.
Once the cable installation work is finalized, this will mark a big stride in our efforts to provide skills for the 21st century. Many of the missed opportunities by our students and teachers (as highlighted in the previous progress report) will turn into reality. The Center will become the hub of communication and online research among students and teachers in our 54 enrolled schools. Book club discusions via Skype (which in the past have been a big frustration) will now be feasible.
We are excited to highlight that the completion of the cable is coniciding with the inclusion of five of our enrolled schools in a pilot project called 'Exceed Academy Africa' which is part of Avallain Africa and Jacarada Designs (the producers of Young African Express). The 5 target schools will get e-learning modules delivered to standard five. We are starting to get tailored educational resources on-line.
The current 120 students and teachers in training at the LRC on computer skills will be among the first group to benefit from this cable project.These learners are very excited to see the cable project get underway and cannot wait to experience the power of the internet.

"I am happy to see the laying of network cables in the Kenya Connect LRC. My dream to use the Internet as a research tool will soon come to fruition"
Mr. Francis Muli - A teacher at Kambiti Primary School
We remain most grateful to you our supporters for making this great learning transformation happen among our schools.Thank you!