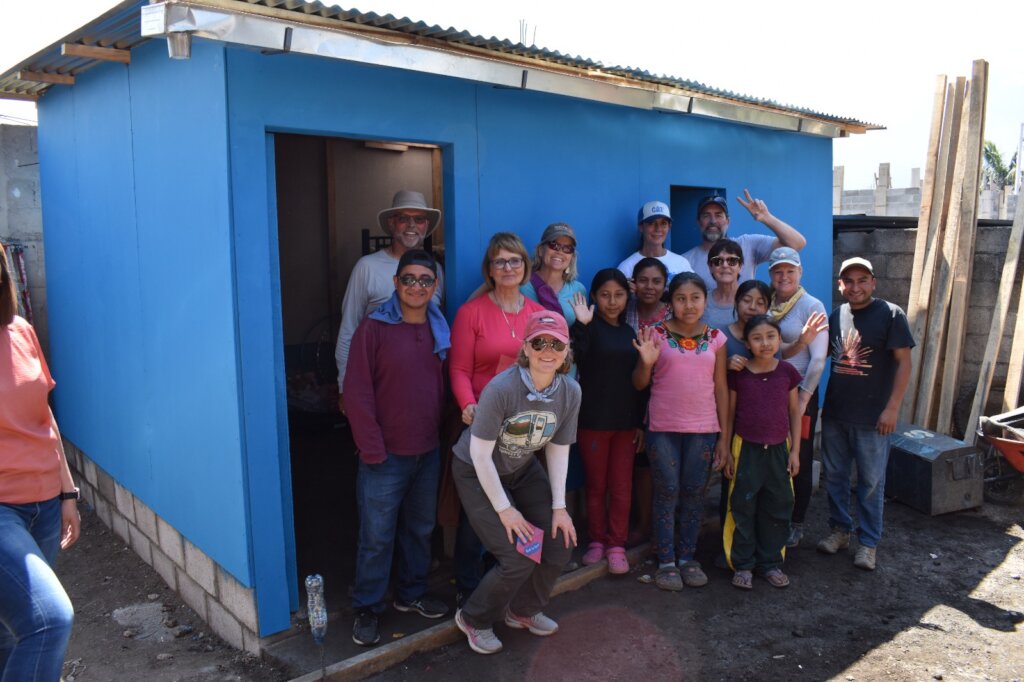 This year so far we have built 14 homes for families in need. We have only been able to do this thanks to the dedication and generosity of our donors, volunteers and Service Teams.
The first group of 9 volunteers who arrived in January of this year was led by Teri Brandt, a volunteer originally from North Dakota with nearly 20 years of volunteering with Nuestros Ahijados. Like Teri, most of the volunteers are grandmothers and nurses, becoming friends in the workplace and hearing non-stop about Teri's exploits in Guatemala. This friendship and dedication was extended to each Guatemalan family they met that does not have the most basic of resources. 3 houses were built in San Juan Alotenango, a municipality in the south of the department of Sacatepéquez. For three days this group of volunteers worked extremely hard to build decent homes and improve the living conditions of two beautiful families.
The second group of volunteers this year built three houses for families who lived in inadequate conditions, as was the case of Doña Fernanda*, who does not have a formal job and must support her three children with what she earns by taking shifts as a waitress and with her small vegetable stall. "I went to Nuestros Ahijados and thank God they took me into consideration, because when you have children and see the need it is better to ask for help and take advantage of people's generosity, so they can give us a little of the blessings they have," said Doña Fernanda.
A few streets away, we learned the story of Juana*, who at only 21 years old is raising a 4-year-old girl and is currently 4 months pregnant. She previously had to abandon her studies but now shares her time between housework and studying 9th grade. "Sometimes it gets complicated accommodating everything but with time management and the determination to succeed for my family everything is possible, so we are very happy that they are building us our house. We do not have a way to repay them, but God is going to reward them," she told us.
At the end of the week, three houses were delivered in an emotional handing-over ceremony that left good feelings and the desire to continue helping the neediest. According to Darin Zumwalt, who was building houses for the third time, it was a great blessing to carry out this work. "You know we are called to be the hands and feet of Christ and what better way to show that love than to build a home for a family in need." Zumwalt said.
The group also left families with water filters, improved stoves, beds, clothes, shoes and basic supplies to change the lives of these families.
In February, with the arrival in Guatemala of the group led by Chuck Peterson, two families from San Juan Alotenango received decent housing, as in the case of Doña Zulma* who has raised her 4 daughters alone and Ana*, who had to leave her job to take care of her sick father and her 3-year-old daughter.
Chuck Peterson, who has more than 15 years' experience working with Asociación Nuestros Ahijados, regularly brings new people to Guatemala to experience what personally changed his life.
One more house was built during February in San Lorenzo el Cubo, Sacatepéquez by a group of volunteers led by Don Miller, who on this occasion was enjoying his 14th time in Guatemala. His daughter told us that seeing the children in Asociación Nuestros Ahijados had changed the way he sees life.
In the next three months we have 9 Service Teams planning to visit and around 20 houses to be built. We are excited to be able to continue to support families in need.
At Asociación Nuestros Ahijados and The GOD'S CHILD Project our mission is to reduce the gaps of extreme poverty in vulnerable and excluded populations, to guarantee equal development opportunities through programmes in food and nutritional security, to support families through secondary, technical, and vocational education, health, child nutritional recovery, volunteering and Service teams, housing, economic and social empowerment of women and their families. We also fight human trafficking through long-term solutions to the causes in Guatemala, India and the United States. Nuestros Ahijados is an affiliate of the organization THE GOD'S CHILD Project (GCP).