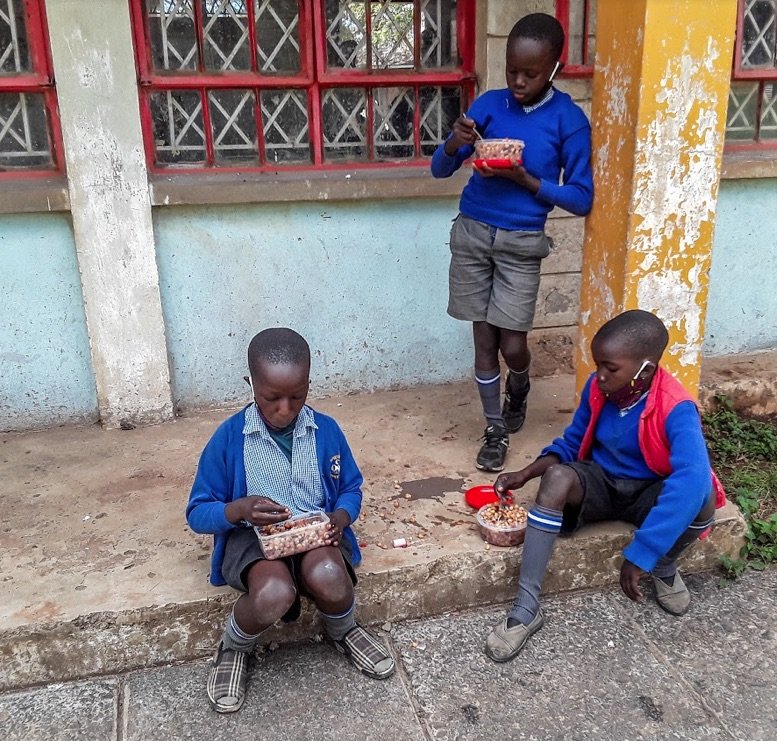 Will you join us, today?
AFG Board will match your donations to double all gifts made through GlobalGiving.
Donations received on Wednesday, December 2 will be matched by American Friends of Gatoto (AFG) Board members dollar for dollar. This is in addition to a smaller percent of matching funds made available by GlobalGiving on GivingTuesday. This is a great opportunity to make year-end donations.
Thank you!
In this season of gratitude, we are extremely grateful to both our new and longer-term supporters. 2020 has been a tough year — it has been one of fear, food insecurity, and far too many dire circumstances in Nairobi, as in many places around the world. The effects of hunger and difficult lockdown conditions will take physical and mental health tolls particularly on our Gatoto students. The generous support of our wonderful donors helped AFG provide food, PPE, and additional support, allowing Gatoto's families to escape many worst case scenarios.
News from the school
After seven months of closure, the Kenyan government permitted Gatoto Primary School to reopen its doors to 4th and 8th graders. Sadly, that still leaves the majority of our students at home. Most children in Mukuru have been confined with their families to 10' x 10' tin shacks for the entirety of the pandemic. This results in crowded conditions, often antithetical to learning. Additionally, it often is not safe to play outdoors either. For the returning students, Betty reports the great joy of returning students who finally have the freedom of space to run, play, feel safe, and know they will receive regular meals. Many pupils have talked about the tough time they and their families have been through, and how narrowly they have managed to escape harrowing pangs of hunger. Despite some reopenings, jobs for parents are still scarce and the informal economy of Mukuru has yet to recover.
98% return rate
We are excited to announce that 98% of our 4th and 8th graders were able to return to Gatoto. This is both a testimony to how AFG's support keeps quarantining families safe, and how much these kids want to be at this school. The stability and the safety found within the gates of Gatoto is a rare luxury for the kids of Mukuru kwa Reuben, a place too often insensitive to the needs of children and other disadvantaged groups in society. We hope that the younger children, who are more vulnerable to long term health effects of hunger, fare as well upon their return.
Exams
Within a week of returning, anxious students had to sit the all-important KCPE exams and assessment tests that will determine so much about their future, despite having been away from formal learning environments for nearly seven months. During quarantine, Gatoto focused limited funds on home-study textbooks for these students, since test results are so important. The students are being asked to do the herculean task of performing well academically after grappling with so much community stress and food insecurity.
Return Logistics
Gatoto's crowded classes have historically had 60-70 students per classroom, with many students lined up at long desks. On reopening, grades 4 and 8 were divided into classes of 30 pupils in order to meet the government-mandated standards of social distancing. The school does not have enough furniture for every student to have their own desk. Pupils and staff remain masked and every classroom has hand washing stations. While many traditional school activities are on hold, children still receive physical education lessons and get to play soccer at the end of the school day. Besides learning and feeding, Gatoto has always been there to let children have the joy and safety to just be children.
Call to Action!
Please join the global movement of generosity on #GivingTuesday and support a Gatoto student. Your generosity means the world to them and will be matched by both the AFG board and GlobalGiving!
Want to see the latest photos and receive updates?
Like us on Facebook: American Friends of Gatoto
Follow us on Instagram: @americanfriendsofgatoto
Subscribe to our e-newsletter on our website: https://www.americanfriendsofgatoto.org/contact-us/
Thank you for giving today!
With warm wishes,
Yassi Tamdji and the AFG Team