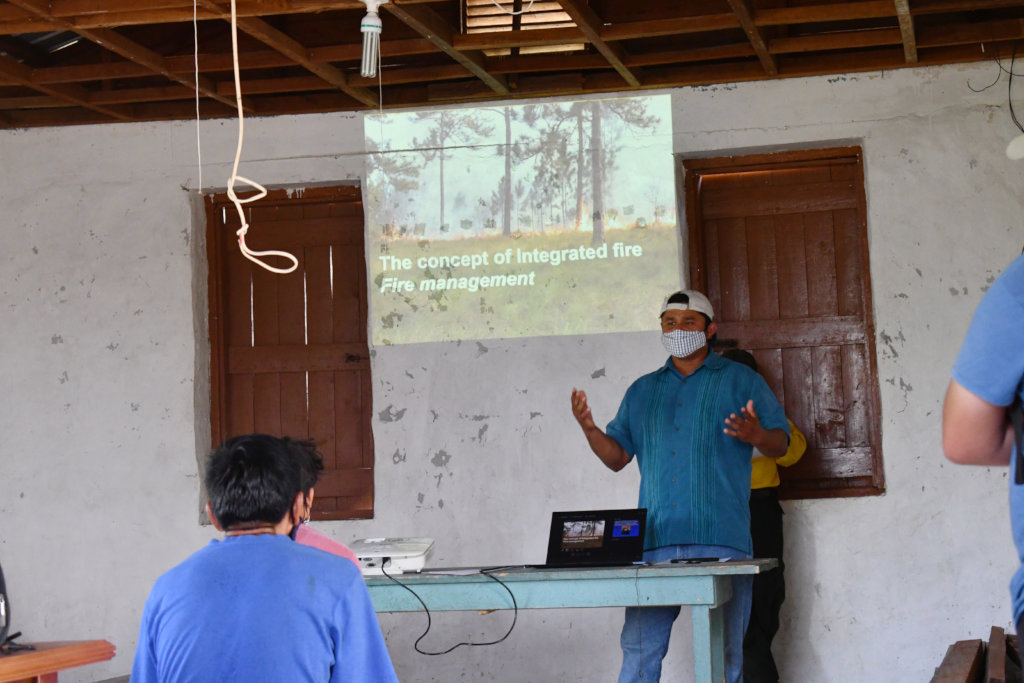 Ya'axché spent the 2021 fire season building capacity, strengthening education and awareness and lending technical support to local communities across southern Belize's Maya Golden Landscape (MGL).
To prepare for the 2021 fire season, ten San Pedro Columbia village volunteer firefighters, consisting of Village Council, Alcalde and community members came together to build their capacity in the management and proper control of fire through the technical support and guidance of Ya'axché.In April, Ya'axché's fire team facilitated this two day fire management training for ten MGL community members in the village of San Pedro Columbia. As one of the MGL communities severely impacted by the raging fires of 2020, which destroyed many acres of forest and farmland, Ya'axché was invited to facilitate a two-day training in April for these firefighters, which focused on the importance of fire management at the landscape level, weather impacts on fire severity and fire behavior. A control burn demonstration concluded the training, which provided participants the opportunity to be introduced to fire equipment and associated fire safety protocols. The planned control burn practical session was conducted on a local community farm where participants had the opportunity to create a fire break and manage a fire within a controlled environment.
To complement the fire training, Ya'axché had an informative radio show on April 15, 2021 which premiered on local radio station-Sunshine Raydio. The Ya'axché fire team discussed the importance of integrated fire management in the MGL and how to conduct a control burn. The radio talk show also spotlighted San Pedro Columbia's community firefighters including Mr. Basilicas Choco, San Pedro Columbia village chairman, who took part in the capacity training. He shared his experience on the impact of fire and his community initiatives in building a firefighting team. Ya'axché recognizes that fire is a major threat to local communities, farmlands and forests and the radio show provided another way for technical support and awareness on fire management to be disseminated to MGL communities. To further expand their reach, the Ya'axché fire team were guests on a Belizean podcast called the Mada Fyah. The podcast focused on forest fire management where the fire team shared about proper control burn and alternatives to use of fire in agriculture in the segment called "Integrated fire management in the Maya Golden Landscape"- start listening at 15:58.
Ya'axché also provided technical support to three farmers in the months of April and May to conduct managed control burns on their milpa farmlands ranging from two to five acres. Ya'axché's fire team carried out farmland inspections in preparation for the burn, as well as transported necessary materials to prepare and execute the burns. Two of the three controlled burns were executed by a fire team previously trained by Ya'axché. These requests for support in carrying out burns at the community level, which only increased post-radio show and podcast broadcast, demonstrates that there is an increase in the awareness to manage fires responsibly. These positive steps demonstrate Ya'axché's community-based fire management approach is working,both in terms of awareness and local action.
We are grateful that our technical support assisted in having a commendable fire season. Many thanks to our GlobalGiving donors for allowing us to integrate fire management in the communities of the MGL. With your support, the future for fire management is very hopeful and can be expanded to incorporate science-based decisions and management practices.Ya'axché looks forward to continuing to build community fire management through further capacity building, controlled burns and equipment in 2022.