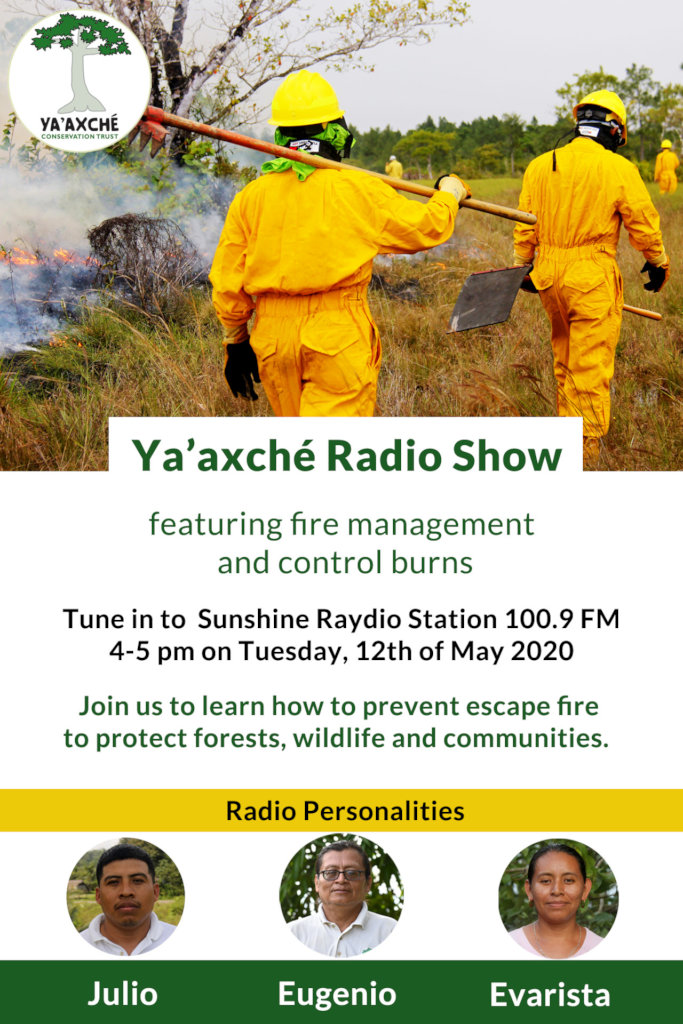 Fire can be a threat to biodiversity and the status of vegetation when uncontrolled burning occurs, which is why Ya'axché is proactive in its fire fighting program. There are two types of burns common in Belize: cooler burns occur usually in December and January when the wet ground is protected from the burning fuel load which is dry between 3-4 days, while the hotter burns, usually in April and May, fully burn the ground. These hotter burns coincide with when most farmers burn to clear land for agriculture. Close monitoring of fire, especially for hot burns and wildfires, is carried out between February and June, Belize's annual fire season. (E.Ah, Personal Communication, 3 November 2020). In Belize, the 2020 fire season, forecasted in December 2019, has concluded. The year's fire season was a very active one, and started out strong in February with prevalent fires along the country's western border with Guatemala, outside of Ya'axché's primary focal area of the Maya Golden Landscape. Specifically, these major fires were centered around the Vaca Forest Reserve and the nearby town of Benque Viejo. Ya'axché's fire team was asked to provide fire fighting capacity to farmers, whose crops were at risk, and suppression support to the Benque Viejo community members, due to the smoke becoming a health hazard. In May, while Ya'axché was supporting fire fighting in western Belize, fire reached the Maya Golden Landscape, where a large, uncontrolled fire broke out between the villages of San Pedro Columbia, Crique Jute, Mafredi and San Antonio. There were losses of corn crops and cacao farms, and widespread erosion due to large burned areas becoming exposed to heavy rains. Based on the major fires being pinpointed, the Maya Golden Landscape saw an exponential increase in fire, forecasting that fire will remain a serious threat in seasons to come.
Ya'axché spent the early part of 2020 working to develop their fire management plan to respond to such types of fire hazards, as well as the ever increasing intensity of the annual fire season. The plan developed included meeting with village leaders so as to share information on the fire season, as well as obtaining a list of farmers from the community who were going to burn their milpa (traditionally practiced slash and burn agriculture) plots and select leaders for firefighting training. Unfortunately, these meetings were not concluded due to Covid-19 and subsequent nationwide and community precautionary lockdowns and other measures.Other parts of the fire management plan which Ya'axché was able to carry out this season focused on community education and outreach. This included being featured on a local radio show, sharing fire posters and other information online and presenting on fire to local school-aged children during Ya'axché's summer camp.
On May 12th 2020, Ya'axché's Community Outreach and Livelihoods team, including resident fire experts, hosted the "Ya'axché radio show" on local station, "Sunshine Raydio." Local community members of all ages could listen to these experts discuss topics such as the causes of escaped fire, fire's impact on biodiversity and communities, steps to take for a safe burn, and Belize's regulation to prevent escape fires. The radio show was a formidable way to capture the attention and share information and knowledge on fire management and control burns with audiences around Southern Belize. Another education strategy deployed to capture audience attention was the May launch of a fire poster, which was generated and shared online across Ya'axché's social media accounts (Facebook and Instagram). The post was focused on advocating for safe burns, and the information was translated into the four most common languages spoken in southern Belize, including English, Spanish, Mopan and Q'eqchi (the later two representing indigenous Maya languages). Since southern Belize's Toledo district has a diverse population with a diversity of languages being spoken, it made sense to target audiences in their native language. The final fire education component occurred August 3rd through August 7th, during the annual summer camp held for local children aged 12 to 18 years old. This year, one of the camp presentations was primarily focused on fire management, with the organization's main firefighting experts sharing information with the camp youth on topics such as basic fire behavior, fire break and ignition techniques, as well as the impact of different weather conditions on fire and instructions on how to control fire.
Milpa, or slash and burn agriculture is one of the primary farming methods in the Maya Golden Landscape, as well as one of the leading causes of runway fires and forest fires. Ya'axché's work in sharing knowledge and helping local farmers transition away from slash and burn to climate-smart farming methods, such as slash and mulch, Inga Alley cropping and other agroforestry techniques, becomes even more important. However, Ya'axché realizes that not all farmers are willing to adapt these climate-smart agricultural techniques. It is therefore of great importance for farmers to take ownership of their fire before and after they burn their farms. With these initiatives, there have been fewer runaway and agriculture-based fires, illustrating that Ya'axché's work in spreading climate-smart farming, coupled with their fire management plan, is having a positive impact through less forest fire.
Ya'axché Conservation Trust looks forward to continuing this work in 2021 and beyond, so as to decrease fire's impacts on local forested ecosystems and communities. Ya'axché hopes to continue social media during fire season, and capacity building for community members. Apart from the already established fire mitigation strategy, Ya'axché's fire team is already looking to improve their efforts for 2021, which includes creating a fire plan to target cacao agroforestry farms. Other actions the organization seeks to implement include utilizing a map to chart fire frequency, establishing fire monitoring plots to see the effects of fire, and working to reforest areas that are burned, especially riparian forest areas. The future is daunting but Ya'axché sees many possibilities for the fire season to be managed and become less dangerous for local communities and less harmful for the country's forests and biodiversity.