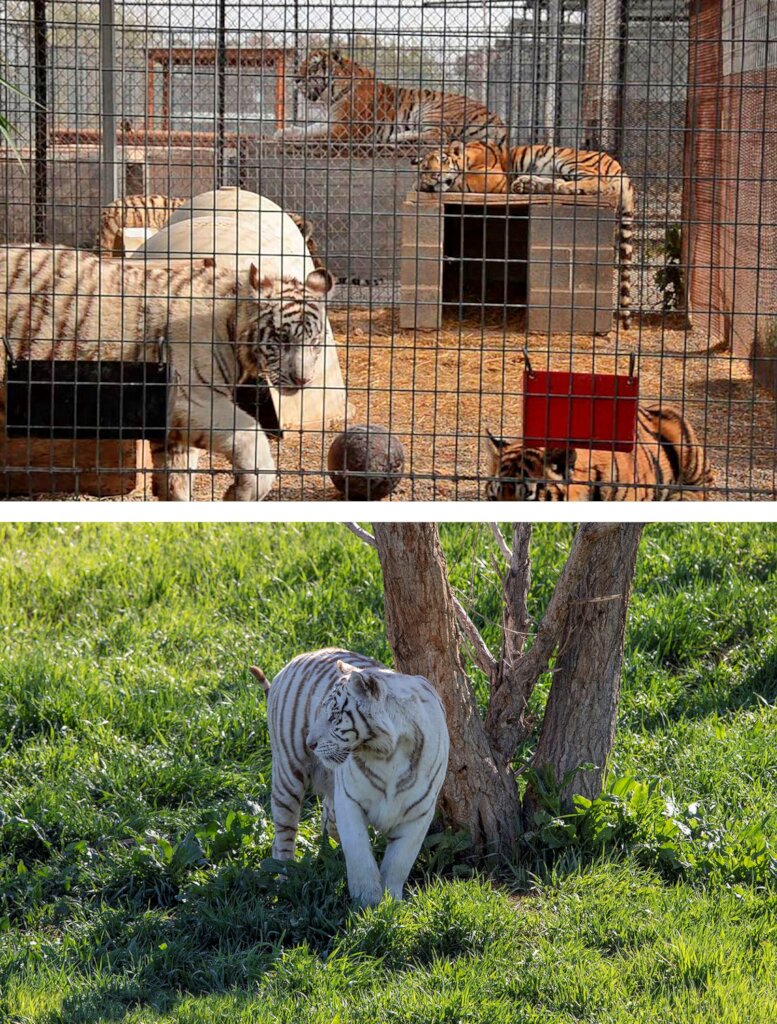 The Wild Animal Sanctuary is a very unique organization with equally unique facilities. We specialize in rescuing AND rehabilitating Lions, Tigers, Bears, Wolves, and other large carnivores that have come from illegal and/or abusive situations. We are the only organization in the country that gives animals like these wide-open large acreage habitats in which to live and roam freely.
The beautiful female white Tiger you see above was rescued from the facility in Dade City, Florida where people could pay to interact and swim with Tiger cubs. Removed from their mothers at only a day or two of age and forced to interact and swim with paying guests, such abusive treatment was determined to be in violation of the Endangered Species Act. After an illegal journey through a notorious Tiger breeding facility in Oklahoma (Joe Exotic's Greater Wynnewood Exotic Animal Park of The Tiger King series), the Sanctuary was finally able to rescue Pearl. She now lives a wonderful life in a large-acreage habitat with other Tigers—free from human exploitation
To date, nearly 150 animals have been rescued from the so-called stars of the Netflix TIGER KING series. Thankfully, the 141 Lions, Tigers, & Bears that have been rescued, now live and roam freely inside beautiful large acreage habitats at one of our three accredited sanctuaries.
Every time we successfully rehabilitate a new group of Lions, Tigers, or other large carnivores, we then build them a new habitat where they will spend the rest of their lives living in spacious comfort. As the Sanctuary continues to rescue more animals, there is a constant need for new habitats to be built. Today, over 1,000 acres have been developed at our nearly 10,000-acre Refuge. You can be part of this historic effort to transform the lives of rescued animals by contributing toward the Refuge's development. With your help, we can stand ready to help even more of the unfortunate animals that continue to suffer and need our help.
Links: