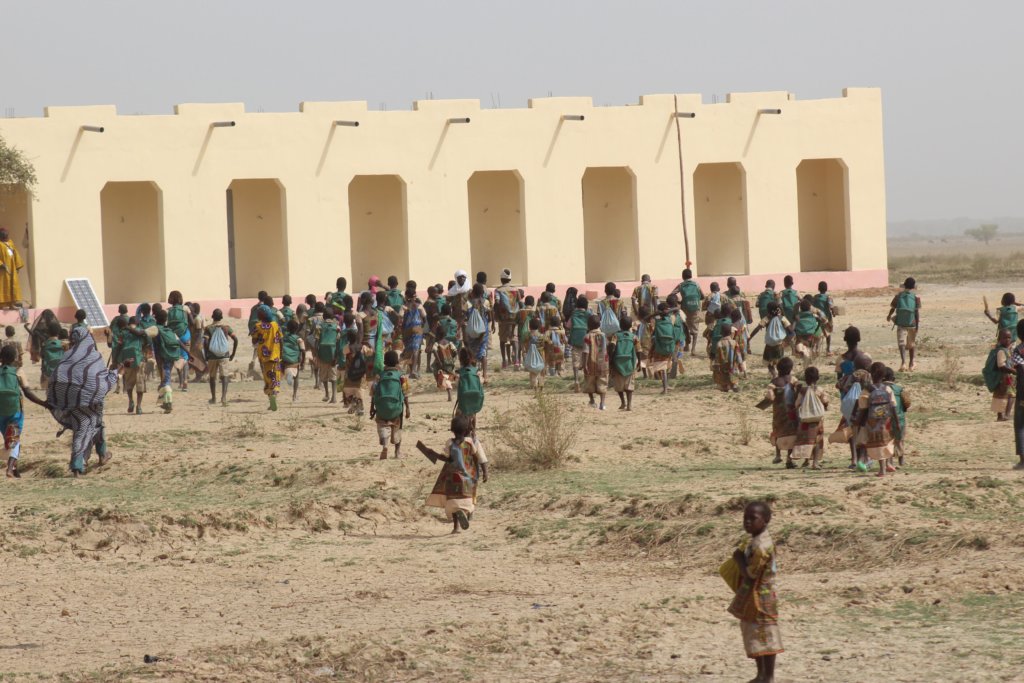 Dear Supporters of our Bantam school construction project on Global Giving:
I wanted to send you an update on our Bantam school construction project of 2016/17, Caravan to Class' 10th school construction project in village around Timbuktu since 2010.
The school was inaugurated on February 22nd, 2017, opening its doors for 182 children. I was able to witness this event, and my son, Benjamin, was in fact given the honor of taking the key from the Head of the village to open the school and let the children inside. My good friend El Hadj said to me, "It is amazing that in the middle of so much conflict, insecurity and other serious challenges the area is experiencing, that on this day, one could see a future for this deserving village. It really gives hope." It is thanks to your generous donations that we are able to contribute to rebuilding hope in this deserving community.
We also visited the Female Adult Literacy program in Bantam, in which mothers of the pupils have the opportunity to learn basic literacy skills. By learning to read, write, and calculate, these women are able to experience the joy of literacy and help instill that in their children, making education a priority.
Later, the children performed a skit for us. The final line, delivered from an eight-year-old boy, was: "We ask our parents to please send us to school, as we are the future of the country." As ever, we are hopeful that helping to bring education back to Mali and the fabled city of Timbuktu will guide the country toward peace and a much deserved renaissance.
I want to thank you again for your contribution to the Bantam school construction project and making this project a reality. We will soon be gearing up to build our next school, in the village of Koiria. It is the first time that we build a school in a village that already has a cement school building. However, that building only has one classroom and there must have been more than 75 students in that class with another 50 or so in a tent-school. This is clearly a village deserving of a Caravan to Class school construction project.
The villages where Caravan to Class works have been severely underserved by their government and the international community. For a relatively small amount of money, Caravan to Class fulfills such a basic need, the right of children to be in school. With our 12th school construction project starting shortly, in the village of Koiria, a Female Adult Literacy program, and a new girl's program, to provide scholarships for girls to continue school beyond the age of 12, Caravan to Class has been able to do our work in an holistic way in the villages, with strong administration and control. We could not do any of this important work without you. On behalf of the thousands of children of this historically important place, we are incredibly grateful for your support.