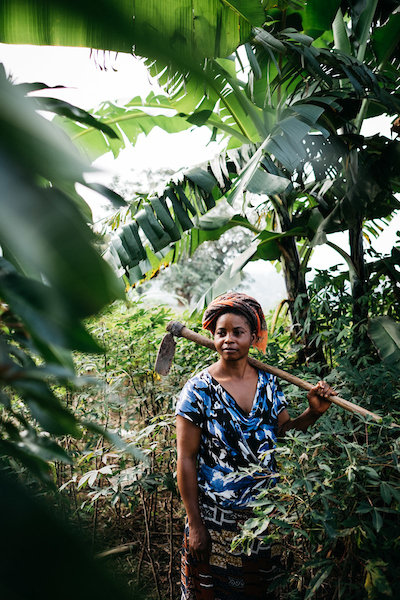 ''I remember the day my life changed forever. War broke out in my village and I had to flee with my family to escape the fighting. Before this we lived peacefully, we were happy''.
Julienne's life, and that of her family, turned into a desperate struggle the day war broke out in their village. Her husband used to make a good living in a soap factory, but when they were forced to flee their homes, they lost their income too. Moving into a camp for people that had been displaced by war, they had little food or shelter.
Just when they thought things couldn't get any harder, aid donations stopped coming in, and Julienne's husband fell ill.
Julienne felt utterly hopeless. One of her friends found her crying in desperation. Julienne told her about her problems, and the women told her that some other women in the camp were being helped by an organisation called Centre Resolution Conflits (CRC).
Julienne did not think they would be able to help her, but she hesitantly ask to join, and they accepted her. She began receiving training in starting a business, and was given a loan of $50 to invest in her family and her business.
She put $25 towards her husband's care, and $25 into improving the produce she was able to grow from a small plot of land.
''Today my life has totally changed. I now run several small businesses selling cassava, beans and rice, and other vegetables. Recently I managed to buy a small solar panel for lighting my house, so we can see in the evening''
Julienne's life has been completely transformed by this small $50 loan, and a few business training sessions. She is now able to feed her children properly, buy them new clothes, and care for her husband.
''My hope is that CRC keep progressing and find other women like me, whose lives are painful, and give them a future like they did for me''
Links: