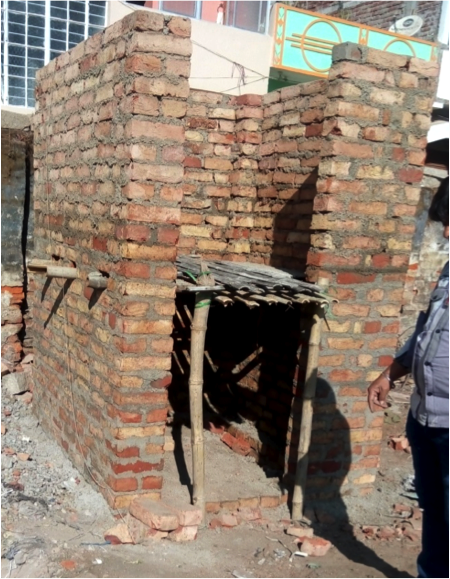 Under the intervention, six bio toilets have been constructed each in the second phase in six garages, Maitri is working with, in Ranchi.
More than 700 rickshaw pullers are the beneficiaries of the intervention. All the 6 garages have proper water availability (well and supply water).
During the third phase under the intervention, we intend to construct 10 bio toilets in 2 garages and 4 urban slums of the Ranchi Municipal Corporation. It is our effort to seek cooperation and support from the designated authority (Garage owners and Community Representative), thus, catering to the general masses of these slum areas.
Maitri aims to seek behavior change in the beneficiaries and is doing outreach for the same.
Case study on positive impact of the intervention
Dev Nandan (40 years old) when spoken to, said that he has been pulling rickshaw since 2002 and has been living in SRK garage, where Maitri is working, from the last two years. He hails from Latehar district of Jharkhand and his family lives in the village. SLK garage is one such garage where toilets were constructed because of Maitri's constant efforts to bring hygiene and sanitation in the lives of rickshaw pullers.
He shared, "Earlier we used to go out in open for defecation but we used to face so much problems like passersby used to call us names, we had to use places areas where garbage is thrown etc. which was extremely unhygienic with flies and mosquitoes as well as humiliation of no privacy. We knew it was not good for our health and the environment also gets polluted, yet unfortunately we had no choices. Maitri team convinced Mr.Suresh (garage owner) and us about the disadvantages of open defecation and benefits (health, hygiene, sanitation, environment, dignity) of using a toilet. We became increasingly aware and finally Mr.Suresh was motivated to allow construction of two toilets constructed in the garage."
Maitri's outreach interventions brought about change in the attitudes and behavior of not only the rickshaw pullers and the owner but it extended beyond to their families as well. Mr.Dev expressed, "After I got in the habit of using a toilet, I realized how this little change in our lives has brought about a huge transformation in our daily lives. It spares us the humiliation, social awkwardness, health risk and most importantly has led us to the realization that we too deserve a hygienic life for our families and us saving from disease and infection. I felt guilty that my wife and daughters and other family members had to go out in the open for defecation in the village and I decided and built toilet at my home for my family's use."
He further added that he and his fellow rickshaw pullers in the garage have a feeling of shared responsibility towards keeping the toilets clean and maintained. He also expressed his gratitude towards Maitri for working for the betterment of their lives.