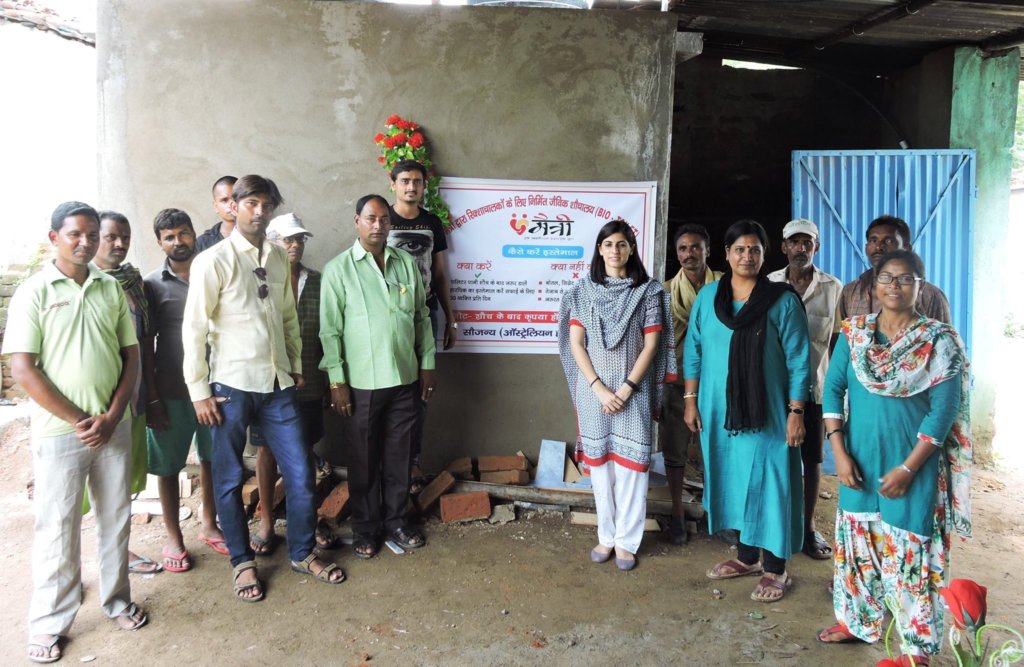 Dear Maitri Friend,
You have directly contributed towards helping 700 Rickshaw Pullers have access to sanitation facility for the very first time in Ranchi, Jharkhand state of India. With your support, Maitri has completed the construction of 14 toilet cabins in six different garages with proper supply and storage of water. The garages are not only a place to park rickshaws but also a place where Rickshaw Pullers live because they cannot afford to rent a room. Most often, in the garages they lack basic amenities such as kitchen, toilet and running water.
In order to improve the living conditions of Rickshaw Pullers, Maitri has been working together with Rickshaw Pullers, Garage owners and the local government officials.
The newly constructed sanitation facilities were inaugurated on 9th September 2016 for its use. A board with DOs and DONTs was placed outside every toilet to ensure Rickshaw Pullers maintain hygiene and functioning of the toilets. Rickshaw Pullers from each garage were very excited and grateful. "Maitri has not only given us information but also done something concrete for us. Toilet is most basic but it was our greatest need. I am very grateful for the toilet and running water that we have now", said Magga 68–years-old, Rickshaw Puller who after a sudden death of his son is now forced to pull rickshaw once again to provide for his family.
Maitri team is now working with next batch of Garages to build more toilets for Rickshaw Pullers. It requires cooperation and agreement from Garage Owners. They need to consider about the unhygienic living conditions of Rickshaw Pullers and be willing to take steps for their welfare.
Health Camps for Rickshaw Pullers
Maitri team conducts regular health camps for target Rickshaw Pullers. In the last quarter, 3 Health Camps were organized at Sabir, Amit and Sharma garages, which benefitted total 186 Rickshaw Pullers. Most common ailments were related to skin problems, itching, cough and cold, and weakness in the bone for which doctor prescribed medicine and told them how to care for their health. About 8-10 cases related to hydrocele, eyesight, and asthma were referred to the Government Hospital.
Awareness on Citizenship Rights
Most Rickshaw Pullers are either not aware or do not know how to avail the welfare schemes that are available to them through the national or state government initiatives. As a result they continuously live in the margins and do not have any support to better their lives. For this reason, Maitri holds awareness meetings on regular basis. In the last quarter we held the awareness meetings at 30 different garages. Maitri staff gave them information about various welfare schemes that apply to them and how they can avail them. A total of 314 Rickshaw Pullers attended the awareness camps. Many Rickshaw Pullers came forward to enroll their names for identity cards and benefit cards. Maitri team will follow up the process and help them access their citizenship rights.
In the future, we hope that Rickshaw Pullers will themselves demand for their rights, and they will also make others around them aware of the benefits.
Garage Owner's Association formation and meeting
Maitri has been working towards bringing Rickshaw Garage Owners together with the goal of forming an Association. The formation of the association will empower and help the rickshaw Garage Owners' and Rickshaw Pullers to have a voice and speak up for their rights. The registration of the Association is in the process and the documents have been submitted to the concerned authority. This is a right step towards protecting Rickshaw Pullers from any kind of exploitation and violation of their rights.
A heart filled with gratitude
Budheo, 57, has been pulling rickshaws since 1980. He has lived and moved to different garages in Ranchi. His hometown is Angara, a village about 25 km away from the Ranchi city. His two sons are now adults and working. Besides pulling rickshaw he also grows vegetables in the small agriculture land he has in the village. His wife helps him in the farming. He has great respect and devotion to his profession of pulling Rickshaw, "It is through pulling rickshaw that I raised my children and purchased a small agriculture land", he says. He makes only INR 200 to 300 per day but he is full of gratitude and believes in working hard. Maitri has assisted Budheo with voter ID, UID, a zero saving bank account and Below Poverty Line cards. It gives us a great joy to support a Rickshaw Puller like Bedheo who displays such content and positive outlook to life.
Thank you for sharing our vision to uplift and empower Rickshaw Pullers in Ranchi. We couldn't do it without your support. Thank you friend!