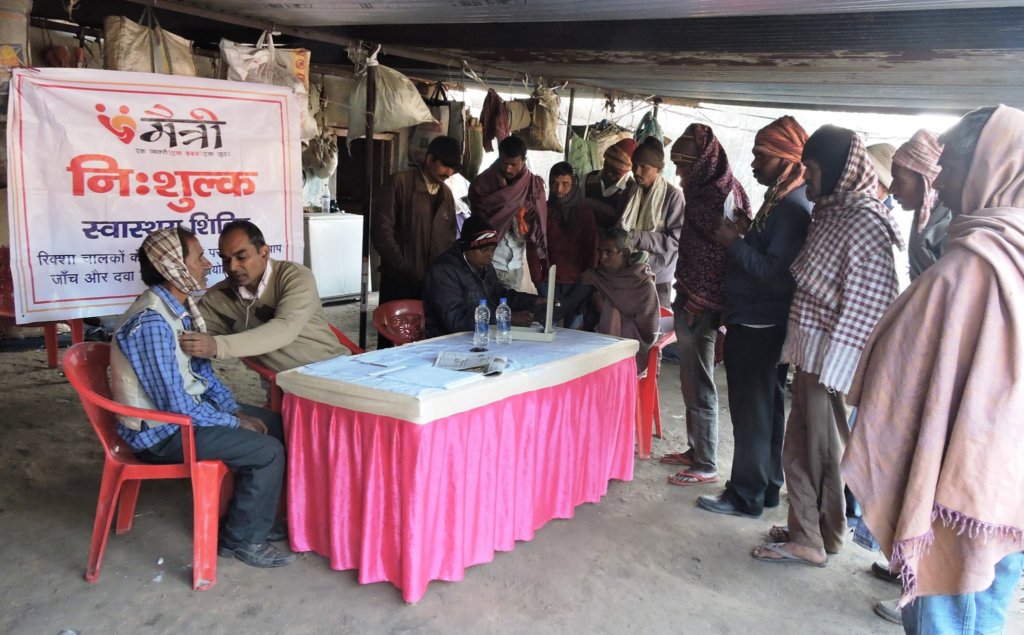 Dear friends,
Everyday large numbers of people migrate from rural to urban areas causing unplanned and explosive growth of cities in India. A vast majority of these migrant workers get absorbed into various unorganized sectors. A significant number of migrant workers take up cycle rickshaw pulling to support their families back in their villages.
Pulling cycle rickshaw is one of the easiest ways they can get employed because it doesn't require any formal education or job application. However, it is one of the most physically demanding jobs. They have to paddle the cycle rickshaw in harsh weathers all day long for as low as few hundred rupees a day. Most rickshaw pullers cannot afford a cycle rickshaw so they take one on rent. After they pay the daily rent and send home some for their families, they practically have nothing left for their own sustenance. That's why many of them don't rent a house. Instead, they sleep on their rickshaws, at the railway stations or at the rickshaw garages. An estimated 2 million cycle rickshaws ply the roads in India. It is believed that the actual number could be much higher than this.
Maitri has been working among Rickshaw Pullers (RPs) in Ranchi City, Jharkhand, India since 2012. Most of these RPs live in dire poverty, with a lack of adequate housing, clean drinking water, sanitation and medical facilities. Maitri works to improve living condition, promote access to citizenship rights and other challenges Rickshaw Pullers confront on a day-to-day basis while doing an unglamorous job to sustain themselves.
In the past three months, Maitri held 46 awareness meetings with various rickshaw garages that houses about 15 to 20 rickshaw pullers. The purpose of the meeting was to engage Ricksha Pullers in imparting knowledge about their rights and to promote health-seeking behaviour among them. They were given awareness on the benefit of Universal Identity Cards and how they can use the card to open zero balance bank accounts and avail health insurance from the state government. The Rickshaw Pullers were also made aware of the health risks due to lack of personal hygiene. During the meeting they raised concerns about not able to store adequate clean drinking water. Maitri then provided them with large buckets with lids at subsidized rates so they can store clean water for drinking and cooking. Maitri also distributed sheets to Rickshaw Pullers to protect themselves from rain.
In two different health-camps about 145 rickshaw pullers were examined, given prescription and provided with basic medicines, all free of cost. Accessing free health check ups and basic medicine is a huge relief to Rickshaw Pullers who live a challenging life.
In India so many people lose their lives during winter due to their vulnerability to the cold weather. For Rickshaw Pullers it can also mean loss of income as their work hours get reduced due to freezing cold. Maitri collaborated with Citizen Foundation to distribute clothes to 1250 rickshaw pullers in seven different areas. Instances like this remind us that even the smallest of help could greatly improve lives of people.
With regard to the construction of toilets for Rickshaw Pullers in Ranchi, we are grateful to you for donating to this project. The ground clearance work has already begun in target rickshaw garages. This is our dream project for rickshaw pullers and we are delighted that we can begin with the construction of first 25 toilets. This will greatly improve hygiene and health among rickshaw pullers that Maitri is serving.
Here is how you have made a difference in Ashok's life
"Rickshaw is my friend and my livelihood," says 70-year-old Ashok who has spent almost four decades pulling rickshaw for survival. He lives alone in Ranchi city, Jharkhand state of India. He is an inspiration to those around him for his hardworking nature. "I work hard and I am proud that I can earn my bread", he says.
Ashok has been associated with Maitri since 2012. It was with the help of Maitri that he enrolled himself to avail Aadhar Card, an identity card and later availed benefits of accessing government schemes. With the identity card he was able to open a zero balance bank account that encouraged saving habits. He also accessed Health Card ensuring of INR 30,000 in case of an accident. Currently, the state government is working on integrating various benefits for marginalised population but as soon as state invites application, Ashok wants to apply for senior citizen's pension. He regularly attends Mairi's awareness meetings and has been active participant in improving his life.
We thank you, our loyal donors, for joining hands with us in coming along side with Rickshaw Pullers and helping them actively participate in improving their lives. We will keep you updated on the progress we make and the lives we transform!