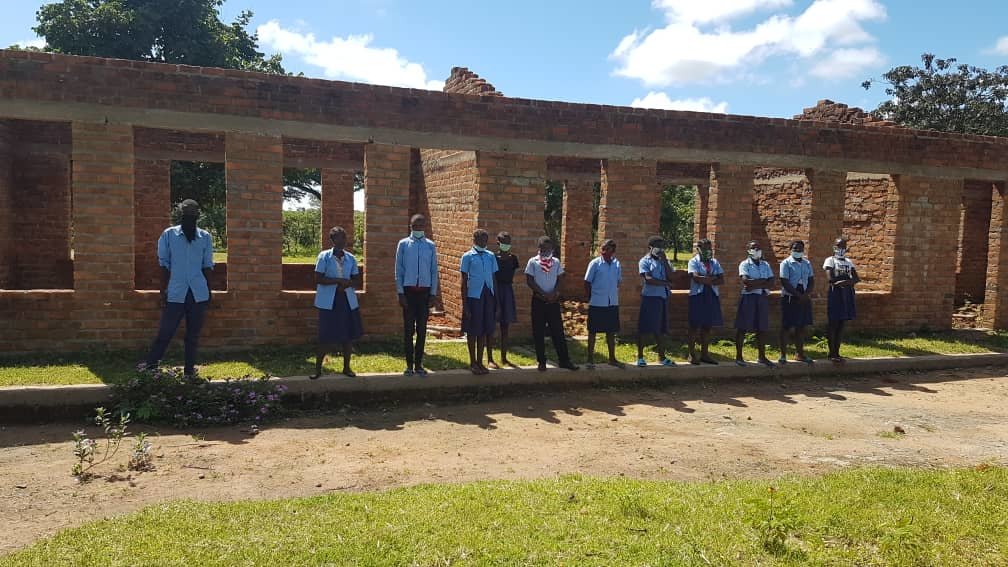 Dear Partners
Giving an update to benefactors who help us made a difference in the lives of the children of Nyamasinda is always a moment of joy and appreciation.
Let me start by informing you about a change of our organization's name, from Rural Children's Hope to Save The Girls, change driven by the changing landscape in our communities where girls are still being denied access to education and are victims of early marriages and teenage pregnancies. Last Sinda District from January to September, recorded 171 teenage pregnancies as a result of school closure due to COVID-19.[1]That said, allow me to thank you for your continued support, since 2018, towards the building of the school in Nyamasinda.
From a tiny one classroom where more than 300 learners were receiving their education, we are now boasting of 3 additional classrooms, which are at roofing level.
Day after day, our learners keep on asking us the same question: "when are we going to start using the new classrooms?" With the sensitization that our teachers have been giving to the learners of the public health and social preventive measures against Covid-19, learners are looking forward to the day they will be able to apply social distancing in the classrooms.
With our 1x3 classrooms block at the roofing level, since November 2020, we can only count on your continued and generous support for its completion. The Covid-19 pandemic's community spread has been on the increase and cases of Covid-19 have since been diagnosed in Sinda District. Urgently roofing, fixing the doors and windows of the new building is for now our only hope of saving the lives of our learners and protecting them from the pandemic. We need your financial support now than ever before. Please give us the final push and impact the lives of the children of Nyamasinda. kindly consider starting a monthly recurring donation and share the project to your friends to support this noble cause.
Thank you.
Faithfully yours
Lusaka, 21 March 2021
Christine N. Mwasiti, PGDipPH, BSCD, BBA
Save The Girls CEO
[1]https://www.lusakatimes.com/2020/10/21/eastern-province-records-1700-teen-pregnancies-between-january-september-2020/#:~:text=More%20than%201%2C700%20pregnancies%20in,%2C%202020%20to%20September%2C%202020.&text=Lingambe%20said%20from%20the%201%2C784,and%20131%20cases%20recorded%20respectively.