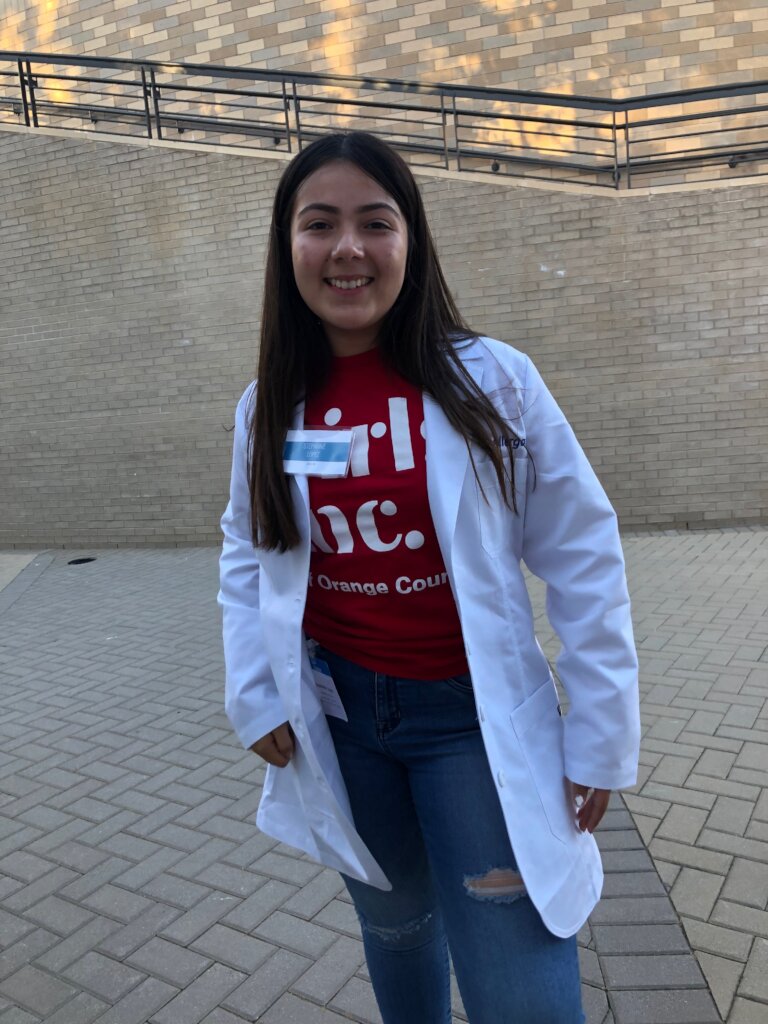 As a freshman at Vanguard University on my way to becoming a psychiatric nurse practitioner with support from two Girls Inc. National Scholarships, I am so grateful to Girls Inc. and supporters like you for helping me become the confident advocate and leader I am today. As a Latina, I want to help people in my community get the mental health support they need and deserve, just as Girls Inc. was there for me. I found my voice at Girls Inc., and I take that voice with me everywhere I go, from meetings with patients to Congress members.
I remember standing at the chalkboard in middle school math class and intentionally writing the wrong answer to a problem because I did not want to be the center of attention. I thought girls were not supposed to be good at math, and I wanted to blend in. As my grades dropped, I became ashamed. "Who is this girl?" I asked myself as I pointed out every single flaw I saw in the mirror.
When I joined Girls Inc. of Orange County's Eureka! program in seventh grade, I found an environment where I could take off the mask I wore at school and be my true self. I was surrounded by a group of girls and mentors who accepted me even though we were all very different from each other and came from many backgrounds. The other girls became like sisters as we teamed up for STEM (science, technology, engineering, and math) activities, sang our lungs out, and made crafts. I'd only known these girls for days and it was as if we had known each other for years. Finally, I wasn't alone.
It isn't easy to be a teen girl. So many of us endure sexual harassment, body insecurities, racial prejudice, and other forms of discrimination. By the time I reached high school, I felt hopeless and exhausted from putting so much pressure on myself to look a certain way, to earn top grades, and to juggle many extracurricular activities. Even today as a first-generation college student, sometimes I question whether I belong. Throughout it all, Girls Inc. has been the support I rely on when I need somewhere to turn. If I'm ever having a bad day, I like to read through my jar of encouraging notes that my friends at Girls Inc. wrote to each other. We still keep in touch today.
Over the years as I got more involved with Girls Inc., I learned how to advocate for myself and others. I now know that when I use my voice and speak up for myself, I am speaking up for many. When my Girls Inc. affiliate held a Teen Town Hall to discuss issues facing teen girls with our community, I was too nervous to participate at first. With encouragement from my staff mentors, I got up the courage to speak, and I realized it wasn't as scary as I had thought. Girls Inc. raised a spark in me.
When I joined the national Girls Inc. Teen Advocacy Council (TAC) last year, I met with members of Congress to call for more mental health resources in schools. We were proud to immediately convince one member of Congress to co-sponsor a bill. As many girls like me know, our mental health is crucial to our academic success. A lot of families don't have the resources to get their daughters the mental health support they need, which is why spaces like Girls Inc. are so vital for us.
There are also cultural barriers and stigmas that prevent girls–especially girls of color–from seeking help, which inspired me to become a psychiatric nurse practitioner. I'm proud to have already completed my training as a Certified Nursing Assistant by the age of 18.
Girls and women have big and bright ideas, and when we have the support we need to be healthy, educated, and independent, we create change. It makes me feel hopeful to see so many women running for office and taking the lead in so many professions. Thanks to you, every day at Girls Inc., thousands of girls like me learn how to use our voices to ask for support and create change in our communities. We are going to be the future.
When you make a gift to Girls Inc. today, you can give the next generation of girls like me the opportunity to grow up strong, smart, and bold. Thank you.