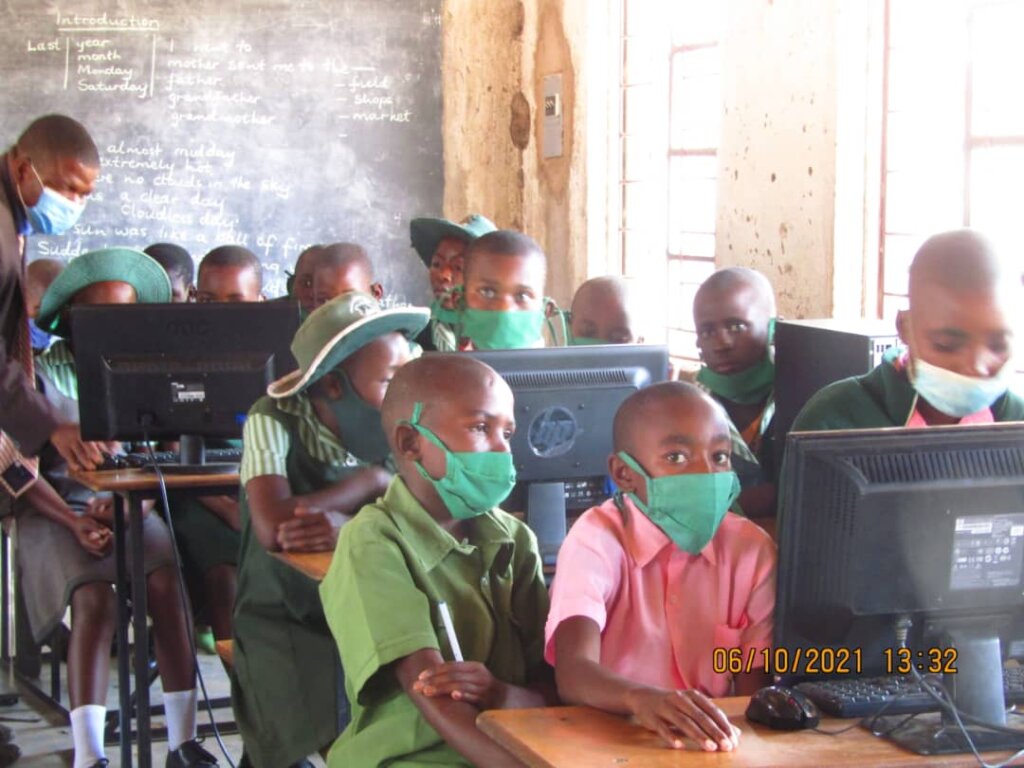 We would like to express our profound gratitude to you for your continued support of our Information and Communication Technologies (ICT) project. This project is our strategy for bridging the digital divide that exists between rural and urban schools in Zimbabwe. More than 75% of Zimbabwe's 14 million population lives in rural areas where teachers and students have limited access to technology. Sadly, the rural areas are underserved because development is disproportionately concentrated in urban areas. As result rural schools are operating on shoestring budgets, classrooms are in disrepair, teachers don't have proper tools for teaching and the schools simply don't have the funds to purchase computers. Even though rural schools are now offering basic computer training, it is not effective as students don't have hands on training due to lack of computers. For the few rural schools that have computers, students have limited access to the computers. To give you an example, in 2020 we donated 5 computers to Rimbi Primary. The teachers and the students are very grateful and they feel very fortunate to have the computers. However, the hands on training is still not that effective because the computer to student ratio is 1,500 students to 5 computers. This is substantiated by what the Rimbi Primary School headmaster had to say:
In His Own Words by Rimbi Primary School Headmaster
"It's a big day today at Rimbi Primary school because of this donation of computers. This day should be recorded in our history books that on November 2, 2020 we received a donation of brand new computers from Tekeshe Foundation. We are very grateful for this donation. Thank you very much everyone who made this possible. As we all know we are in the era of ICT. Everything we do requires technology. As a result the Zimbabwe Government requires ICT to be part of the curriculum starting at preschool level.
We feel very fortunate to receive these computers. The basic ICT training we offer at Rimbi Primary was very limited as it was just based on theory. The practical aspect of the education was lacking because we didn't have computers. We taught the kids about the keyboard, mouse etc. but it was not that effective. Everything was based on the kid's imagination. This donation will greatly enhance our ICT training going forward.
Today because of this gesture, Rimbi Primary school is now on par with urban schools. Harare has been brought to the rural areas. We assure you that we will take very good care of these computers. We are planning to convert class room 13 into a computer lab. We will put burglar bars on the windows and on the door to ensure that the computers are secure. To the students, I am appealing to you to please handle these computers with utmost care. To Tekeshe Foundation, we continue to look to you for more help. We greatly need Wi-Fi and more computers if this is possible. Thanks again for this great donation."
Lack of access to technology is causing a digital divide that is disadvantaging a whole generation of kids growing up in these rural areas. The majority of the students who graduate from rural high schools have no computer skills. Yet after high school, over 70% of the students drop out of school due to poverty and they end up going to the urban areas to look for jobs. This is quite a challenge since they are ill-prepared to enter the work force due to lack of skills; unlike their urban counter parts who have computer skills.
The vision of this project is to build the ICT capacity of rural teachers while providing computers and internet access to rural schools in Chipinge. It also aims to provide access to technology to rural students with the objective of arming them with the twenty first century skills that will place them on a level playing field to better compete for jobs. In keeping with this vision, here is what we have accomplished to date with your help:
Provided ICT capacity training to 25 teachers
Provided internet access to Rimbi High
Donated 5 laptops to teachers
Donated 4 desktop computers to Rimbi High
Donated 5 desktop computers to Rimbi Primary
Donated 5 desktop computers to Mbeure Primary
2022 - 2025 Goals
Even though we have made a lot of progress in our effort to bridge the digital gap that exists between rural and urban schools, we still have a long way to go. Here is what we hope to accomplish in the next three years:
Donate 100 computers to 5 rural schools
Provide internet access to 5 rural schools
Establish a community ICT Center equipped with 25 computers in Rimbi village. The ICT center will serve as a hub where teachers, students and the entire community can access computers, the internet and get ICT training.
We have accomplished a lot together. We coudnt have done it without your help!
Thanks again for all your support!
Best wishes,
Thelma