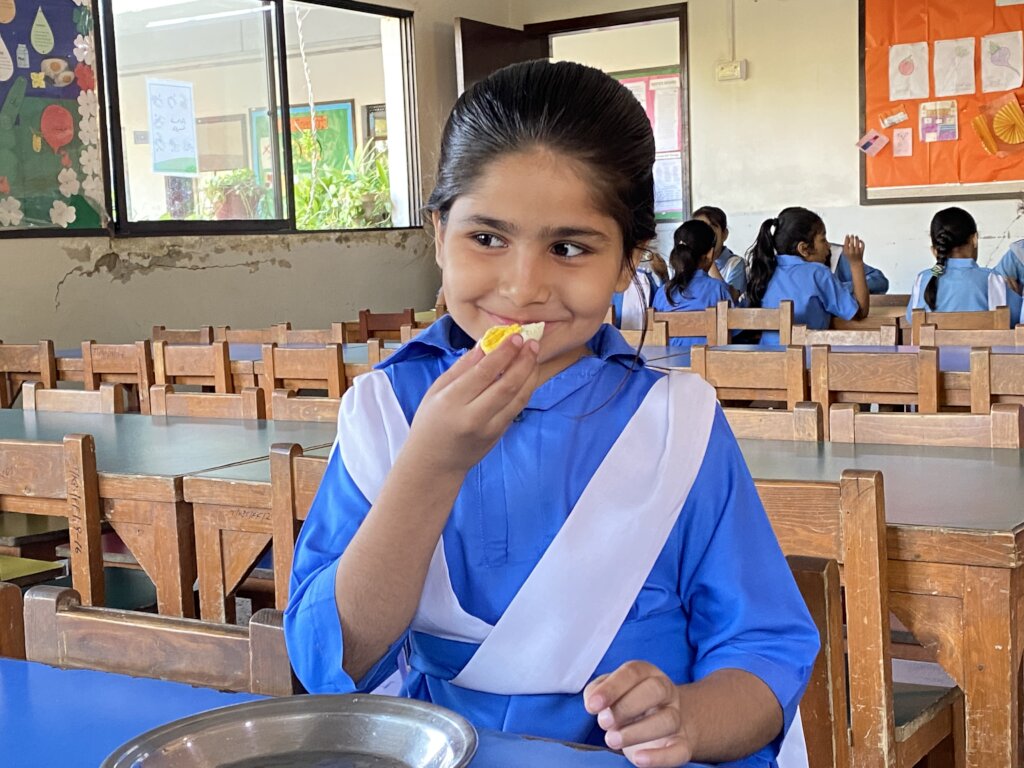 The Breakfast Program continues with full zeal and zest at Zindagi Trust schools. As warm, windy Karachi mornings set in, students jump out of their beds and head to school. With school examinations on the horizon, students require nutritious and healthy meals to kick-start their mornings fresh and energized.
A hearty breakfast guarantees a great day and mood for our students. This term, with the lasting support of our donors, we have expanded the breakfast program at both our schools. At SMB Fatima Jinnah, we have scaled up the project from ECE to first grade. At KPS, however, the project has scaled up to include classes up to grade 4th. We are very pleased to report this expansion, and seeing the breakfast room filled with fulfilled stomachs and happy smiles brings us great joy. All of this has been made possible by the support of our GlobalGiving Family. The program is now available to students of additional grades, helping them in their physical and cognitive growth.
We are committed to growing and making breakfast an exciting and enriching experience for our students. It symbolizes our and your commitment to the well-being and growth of the next generation, ensuring that they are nourished not only physically but also emotionally and intellectually. We firmly believe in ensuring the well-being, education, and growth that is crucial for building a stronger and brighter future for these children
The program today caters to 8,000 students collectively at both our schools. It has shown great gains in student attention, memory, confidence, physical and emotional well-being, and has promoted an overall happy atmosphere. The menu for these spring months, from April till July, has been green, citrusy, and healthy.
Monday: Boiled eggs with a glass of milk
Tuesday: Lentils and rice
Wednesday: Chicken curry with flatbread/ Vegetables (Potatoes and Spinach)
Thursday: Chickpea Salad
Friday: Seasonal fruit with milk
However, a growth in numbers does not represent a decline in quality. We have maintained the high standard of the program by taking regular updates and reviews from parents, teachers, and students about the Breakfast program. Parents often comment on the changes they witness in their children. One of the parents said, "The breakfast program is really good. The things my daughter didn't eat like eggs or milk, she now eats happily. She used to eat a lot of unhealthy snacks but has now stopped. When she comes home from school, she always tells me what she had for breakfast, and the standard of this breakfast is great."
Another mother wrote to the school saying, "I really like the Breakfast program. Children don't eat in the morning, but this feels like home, and since they're with their friends, they end up having breakfast. They make sure to tell me about it too!"
We recognize that for young kids, breakfast serves as fuel to kickstart their adventures and learning journeys. The nutrients packed in these delectable morning dishes allow an opportunity to move towards their dreams and aspirations. Moreover, our breakfast room provides students an opportunity to bond with their friends in the morning. It not only helps their interpersonal skills but also fosters strong friendships, as students come together to share not only a meal but also discuss their days and lives. This time of togetherness instills support, trust, growth, empathy, and a sense of belonging that will guide children throughout their lives.
Zindagi Trust hopes to create a comfortable environment for all enrolled students where they can enjoy while studying. We believe being well-fed is the first step to good learning and fun. We look forward to your support in helping us make students healthier and happier, securing their youth and future.