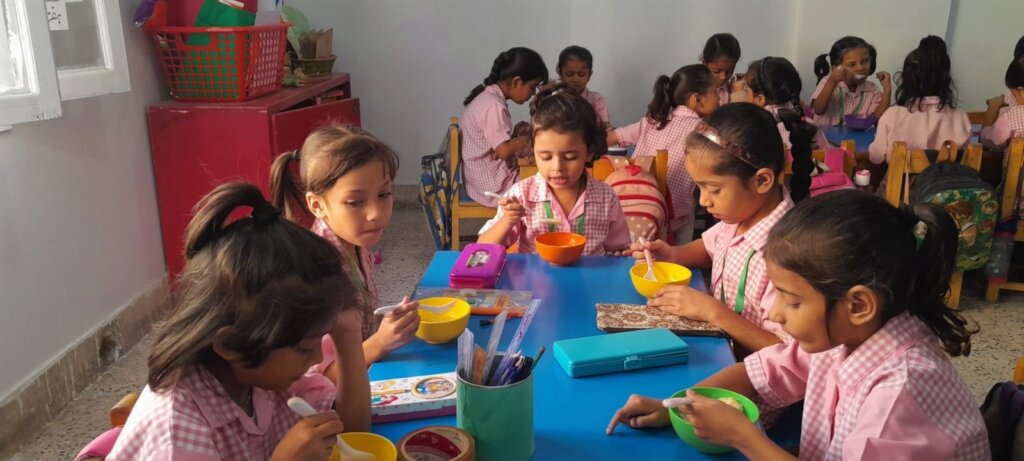 The cold harsh airs blew in Karachi this winter leaving our skins dry and beds cold, but with our breakfast program we ensured every student had a warm meal and was well fed at the start of each school day.
The project continued in full zeal and zest at both schools SMB Fatima Jinnah School and Khatoon-e-Pakistan. Zindagi Trust believes in providing students with an enabling environment to make the most of all opportunities available to them. Projects like the breakfast program, allow girls to access a good hearty meal at the start of each day. Coming from homes where parents either leave too early to prepare a meal or simply cannot afford it, for many girls this morning meal is the source of their energy to maximize their potential academically and excel during the rest of the day.
Hence with the change in Karachi's air and the seasonal vegetables and fruits comes a new breakfast menu. We appreciate that having breakfast improving memory, concentration, problem-solving ability, test scores, and mood. We hence ensure that each menu is carefully crafted to give students a healthy, balanced nutritious meal.
Around 600+ students benefit from our program each day at both schools. Our weekly menu for the months of November to March looked like this;
Monday: Boiled Egg with a glass of milk
Tuesday: Potatoes and Rice
Wednesday: Fried Egg
Thursday: Chicken Corn Soup
Friday: Cornflakes/Boil Potato with Ketchup
The menu attempts to provide all necessary nutrients to students from calcium, fibre to protein, Iron and other necessary vitamins and nutrients. While the variety ensures students do not bore of the same food each day. Special care is also taken to ensure hygiene of the students as well. Students are encouraged to wash hands before their meal and all utensils are regularly washed. The preparatory staff's hygiene is also a top priority and all fruits and vegetables are thoroughly washed to ensure a hygienic and safe meals for all children.
The breakfast program has become our pride and the cause of many improvements. Students are more active, happier and willing to grasp concepts faster in class according to our teachers. Parents have also appreciated the initiative and find that students are more motivated coming to school and are more enthusiastic about eating with friends. Parents appreciate how the breakfast program helps in their children's healthier lifestyle. A parent writing to school said; "I think this initiative is great. The meals are according to what kids like to eat. It is hygienic and the staff is really cooperative and nice as well."
With summer fast approaching and changing our lifestyle and food choices a new menu is already underway being carefully crafted for our students. With the help of our donors we hope to continue making each morning a happy and warm one for our girls with a full stomach and shinning prospects. We at Zindagi Trust believe in transforming lives with the education we provide and are thankful for your continued support for it.