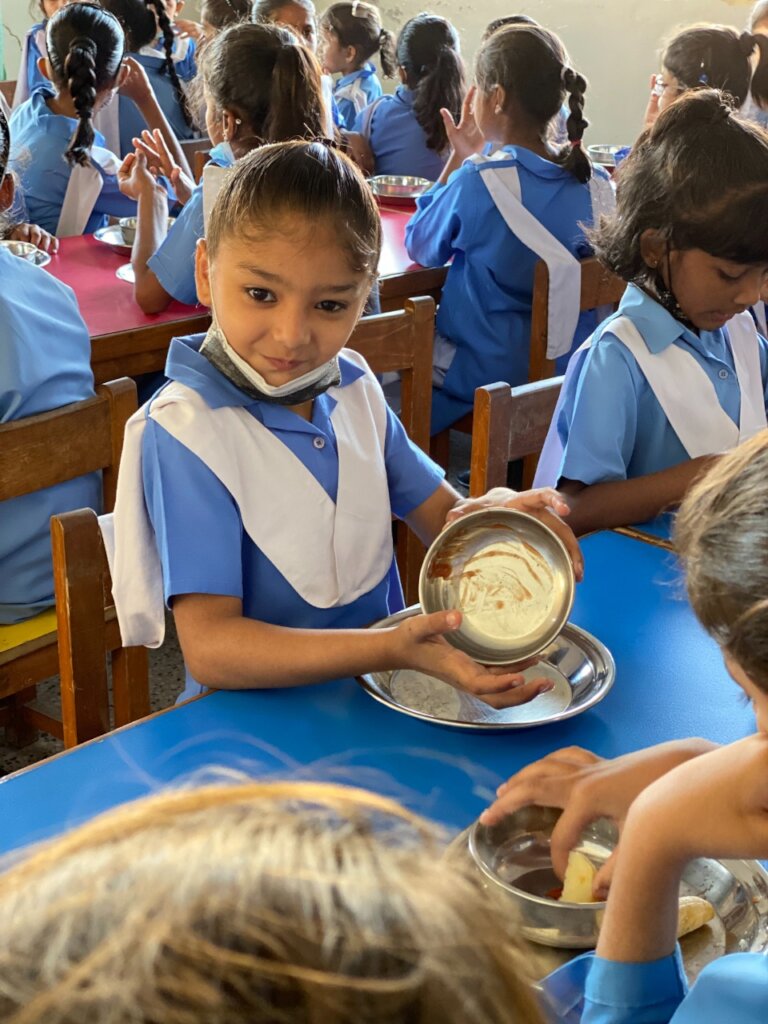 As the month of May approached, students were caught up in the humdrum of the academic year end exams - the older students prepared for their board examinations, and younger students for their assessments all the while attending their daily lessons. To keep students functioning at their full potential, Zindagi Trust ensured the delicious breakfast early morning before classes are delivered without any hindrances. It is important for our students to be rejuvenated through a nutritious breakfast, which is why providing them with a hearty meal in the morning is a priority for us.
Over the last few months of spring and early summer, students were given a variety of appetising breakfast items. Mondays welcome boiled eggs with milk. On Tuesdays, students enjoy fruit smoothie and sliced potatoes. Wednesdays start with chicken mince with green peas, potatoes alongside chapati. Thursdays students are served egg and mayonnaise chapati roll. Fridays commence with potato and spinach gravy with chapati, while Saturdays welcome lentils with rice, followed by bananas. As usual, our competent kitchen staff ensures the meals are prepared in a clean and safe environment and children have fun while consuming it.
There were over 6,300 meals during April and May for early childhood education students at SMB Fatima Jinnah School, whereas nearly half the number was provided at Khatoon-e-Pakistan School. Most of the month of May and the entirety of June were part of the summer break for students. During the month of June, a summer camp was organised where cooking classes were held and secondary school students learned easy to make healthy recipes for breakfast. Our school hallways have welcomed back students with the commencement of August, and with it, resumed the breakfast program in full swing.
A few parents even made the effort of writing an appreciation letter to the SMB Fatima school administration to convey how grateful they are to have such a program in place. One parent wrote, "My daughter studies in KG-2 at your school and she loves the environment and safety the school provides her with. Personally, the incredible feature of your school that stands out for me is the breakfast program. The breakfast given to the children is filled with nutrition that is integral for their health, growth and nourishment. I am beyond grateful to the school administration for letting my child be a part of the school and benefiting from its various facilities and programs."
As part of Zindagi Trust's admission policy, the administration of both schools- Khatoon-e-Pakistan and SMB Fatima Jinnah consults the parents regarding any possible allergies, pre-existing conditions or food problems of their children so the menu can be prepared accordingly. Measures such as these ensure the breakfast program functions smoothly for all students and Zindagi Trust continues to spread smiles through hearty meals.