Project Report

| Apr 13, 2022
Healthy Meals and Energized Minds
By Naveen Shariff & Mahnoor Mahboob | Program Officers - Special Programs and Advocacy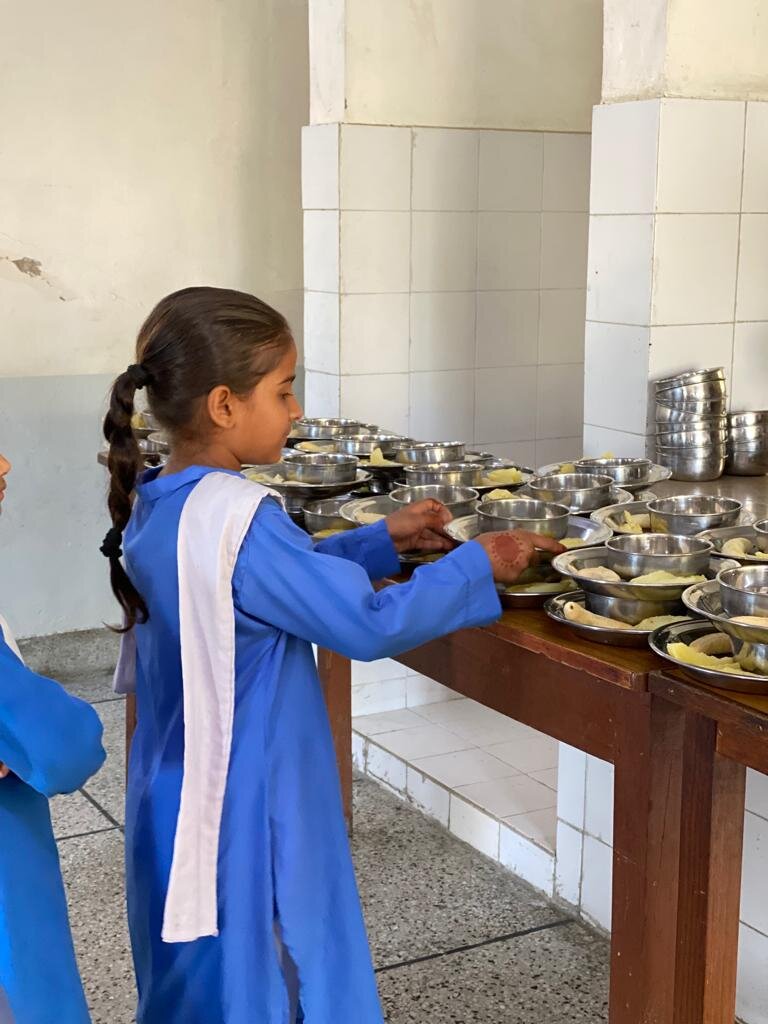 With the onset of a new year and all of our students aged 12 and above vaccinated for COVID-19, the new academic term started on a positive note. Like Zindagi Trust's academic and non-academic programs, the breakfast project too commenced in full swing.
The breakfast program caters to over 700 students with nutritional and appetising meals every morning at two of our adopted government schools . The beneficiaries of this program are students from kindergarten to grade 1 in SMB Fatima Jinnah School, and kindergarten to grade 2 in Khatoon-e-Pakistan School (KPS).
The breakfast menu is crafted with careful consideration of student nutritional needs, and is updated according to different seasons. Fresh seasonal fruits are essential to the menu throughout the year, while items like soup and porridge are available during the colder months whereas summer welcomes refreshing milkshakes, yoghurt and daal chawal (lentils and rice) to combat Karachi's heat.
The health of our students takes precedence in decision making hence factors like infections or price hikes can modify the menu. Recently, beef was temporarily removed from the menu when a viral infection broke out among cows. Similarly, artificial sugar is banned at the schools as it is reported to make children hyper-aggressive and is not very nutritious.
At SMB Fatima Jinnah, the breakfast maids ensure that students with different religious backgrounds are provided with a separate menu on request, which encourages tolerance and inclusivity. Moreover, to prevent food wastage and to secure student health, leftovers are sent to the health room every day to be given to children of other grades reporting sick or reporting symptoms of fatigue.
The school teachers and staff play an active role in facilitating the young students. The ECE-I class teacher from SMB Fatima Jinnah motivates students to finish their meals by giving them stars and stickers as positive reinforcement. The breakfast maid ensures students enjoy the breakfast experience so she narrates different stories to them to gauge their interest. At KPS, teachers and maids sit down with the students who are not able to finish their meals and successfully motivate them to finish the remaining food.
Parental involvement and feedback is crucial to the success of the breakfast program. They are consulted regarding their children's food allergies and special attention is given to students who have a health condition that requires a different meal. At the time of admissions, parents are introduced to the breakfast program and are eager for their children to participate in it. They generally have positive feedback for the program; a few motivated parents even approach the school for the recipe of their child's favourite meal at school.
Currently, Zindagi Trust is motivated to further improve the breakfast program. One of the first few urgent tasks of the organisation is to revamp the breakfast room at SMB Fatima Jinnah, including getting new furniture, and putting up wall frames.
To measure the success of the program, our team is determined to work on a monitoring and evaluation report for the breakfast program that will cover three main things: the analysis of the nutritional status of children at school, further testing of any significant differences in the nutritional status of beneficiaries and non-beneficiaries of the breakfast program, and a comparative analysis of the prevalence of stunting, wasting, obesity at our school versus district, province, and country. Producing this report will be a significant step in strengthening our breakfast program through intensive data collection and analysis.
Zindagi Trust is able to continue the breakfast program through the generous support of our donors, and we hope to deliver on our plans and constantly strive towards improving the health and wellbeing of our children.