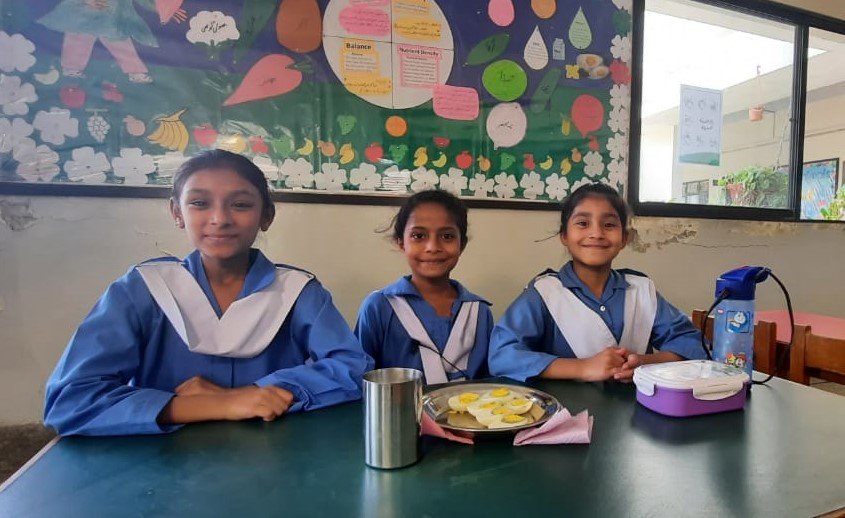 Since we updated you back in April, there has been a prolonged lull in the form of school closures, stretched over the course of the last few months. Regardless of this, the invaluable impact of our Breakfast Program has not waned, as seen in the active participation of our government teachers.
In the past three months, students were busy with exam preparation at their homes with online classes and subsequently gave their examinations. Schools have yet to start in person, however when the new school year will begin in person, their will be an incoming batch of kindergarten students – providing us an opportunity to provide physical and mental nourishment to new students with our Breakfast Program.
To decide the menu for the Breakfast Program, there are certain food staples which are alternated and cooked differently to keep students interested. These include milk, fruits, yoghurt and eggs. This is often accompanied by fun dishes like channa chaat and mashed potatoes.
"Students graduating out of the class are so concerned whether or not they will still be able to have breakfast at school, it is such an important aspect of their time in class!" – Uzma
Uzma is a Kindergarten teacher at SMB Fatimah Jinnah Government Girls School which operates under the management of Zindagi Trust. Uzma has been an avid contributor in making the Breakfast Program a success at the school. Her love for her work as a teacher for the junior classes is very evident as she mentions her work. As young students often need more guidance and attention, Uzma finds that all her time is spent with her students, whether she is teaching or sitting and having her lunch. More than anything she enjoys the ability to find her inner child while interacting with the students.
The Breakfast Program is very important to Uzma. Seeing the students come with empty stomachs she felt it was a huge necessity that proper nutrition was made available to them. She works very attentively to ensure that all the students receive a healthy dose of their breakfast meal every morning and often takes the initiative to compensate any student who is unable to bring their lunch from home. "I look out for students who cannot bring their own lunch, they feel so bad that other students have theirs so I go and get some for them."
Since the online classes it has been very tough for Uzma to connect with students but she tries her best, often asking them what meals they have had for breakfast. As the new academic year has started and a new batch of students have joined Uzma, students are often hesitant to share with her. She tries to prompt them by telling them her meals and they seem more comfortable in opening up. According to Uzma some students tend to eat halwa/puri which is not a very nutritious meal and others do not have a morning meal. Uzma is eagerly awaiting that students will return to school so that she will be able to see them in person and help facilitate their healthy eating behaviors through the Breakfast Program.