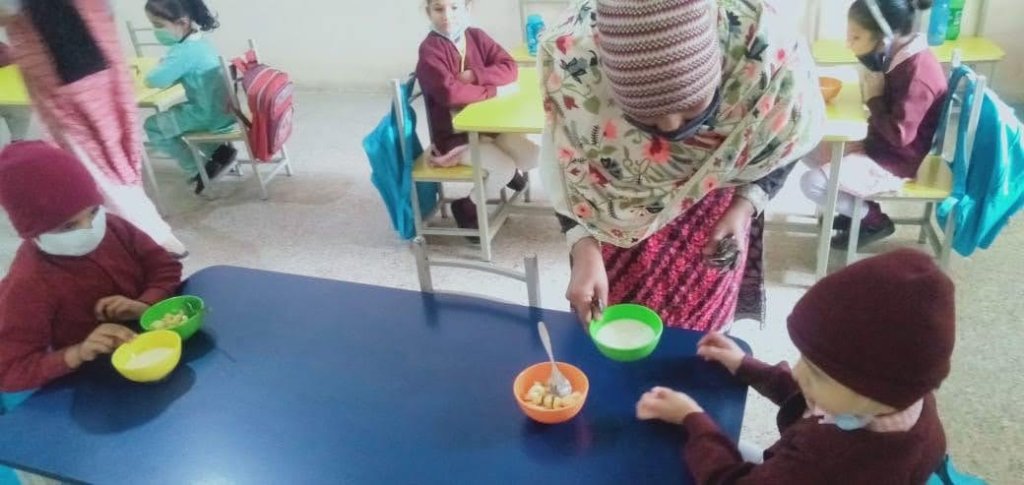 Our last update for you in December featured our caretaking staff which works tirelessly to provide delicious and nutritious meals to our students. Since then, the schools reopened in January and the students from both schools, once again arrived to receive their breakfast meals. During the cold weather in the beginning of this quarter, students continued to receive the same menu as the last quarter however, as the weather changed in these months, our breakfast menu was modified to befit the warmer spring season.
The menu included milk with boiled eggs, porridge, mashed potatoes and bananas. Students attended school in staggered slots of 50% attendance, with one group of students arriving on one day and the second group on the next day. This protocol required that students remain in their classroom for their meals, as opposed to sitting together in our Breakfast Room, which took longer to serve them the meals, but was similar to the COVID 19 safety protocols followed last year.
April, unfortunately, saw the closures of schools once again due to the third COVID 19 wave, at this time, here's what parents had to say about the impact of the Breakfast Program and school on their lives and their children. Waseem, the father of Afsara – a KG 2 student enrolled at SMB Fatima Jinnah Government Girls School said "We feel very secure and satisfied by the Program. It makes my daughter so happy that when she comes home, she makes us happy." He added that the school was providing an important platform for the two of his daughters that are enrolled there and he is hoping that his third can also go there as she enjoys biking and activities like sports which are promoted at the school.
"It's a relief and comfort to me that my daughter gets breakfast at school." says Nisa, the mother of Wahiba, another student from KG 2 at SMB Fatima Jinnah Government Girls School. She adds that when Wahiba comes home, she tells her mother what she eats in school in the Breakfast Program and asks that she may make it for her at home. Zaib Un Nisa said that she makes it a point to go to school and ask how the breakfast meals are made, so that she can replicate them for her daughter at home as well.
Students miss school and long to once again wake up eagerly, bursting with energy to look forward to the rest of the day. The parents are also looking forward to a healthy return to schools for their children, so that their daughters can continue to thrive in the ever nurturing environment in the school, which is achieved in part through the Breakfast Program.