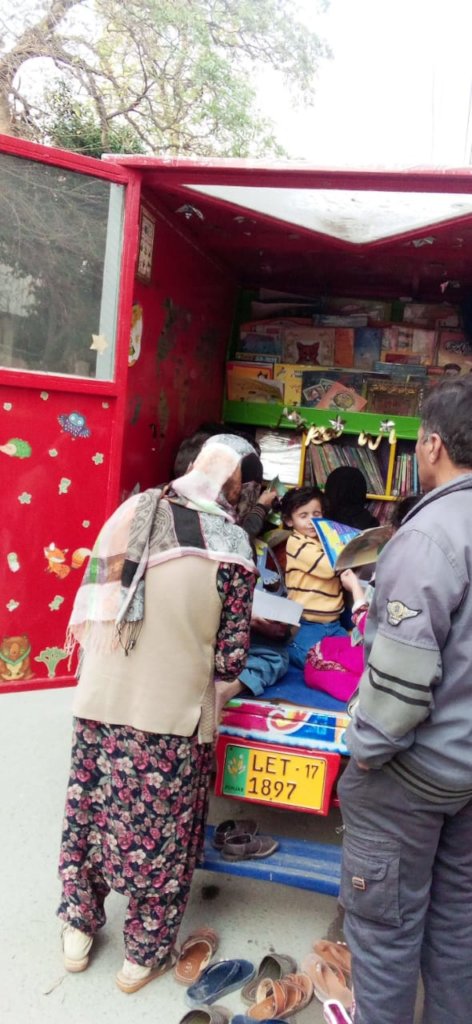 Our Rickshaw Library visiting multiple communities in Lahore has provided varied learning opportunities to the children living there.
They learnt about the world around them, talked about ways in which they could better their environment and worked on improving their vocabulary and language skills.
Our Mobile Librarian while reading stories to these children the past few months has noticed a growth in their imagination and empathy. In the last three months, the mobile librarian has taken the reading capability test twice, once in the end of December and then in the beginning of March based on the reading level the child is at, i.e. Letter, Word, Sentence or Paragraph level. For younger children ages six and below, this test didn't work much as they enjoyed storytelling and visual books more whereas ages seven plus improved from letter to word level and a few from word to sentence level within three months.

The Rickshaw Mobile Library has been visiting 5 communities a week with an average of 25-30 children accessing it each day making it approximately 150 children per week a total of 1800 beneficiaries in the last 3 months.

A feedback from a child in the community that made our hearts glad was; "My parents do not take me to any recreational place as my father returns from work late at night and has no time and money to take us out. But this Rickshaw Library coming to our house is my favorite fun activity and we don't have to pay for reading the books and doing fun activities around them."

Our mobile librarian has noticed that community visits have also sparked social and communication skills, making children friendlier and more cohesive. Asking more questions about the stories and discussing their own ideas about the world has invigorated their reading experience.

These visits have largely benefitted girls who do not get permission to go far from the house without their elders, or need to stay at home helping with household chores. One girl in the community said to the mobile librarian, "I wait for this Rickshaw to come every day all week as this just comes outside my house and I can easily come to it, learn to read new books and do fun activities with the stories like role play and prop making. If it wasn't coming to my house I would have never gotten the permission to visit it and get the chance to see such interesting books with so many stories and colors in it. This is my favorite thing to do and I get very sad when it rains and the visit is delayed".

The regular Rickshaw library's visits in the communities provide the children living there hope and happiness. They finish all their tasks and get ready hours before the visit waiting for the rickshaw to come to their street.
In one of the communities we visit, the children eagerly issue books and return them weekly with full responsibility, sharing reviews with the mobile librarian of how much they liked the book or could relate to the characters, or how they didn't enjoy the ending and wished it was something else etc.
The community children are either out of school or going to Govt. Schools where such activities are not practiced and they do not get to see such a variety of books and activities designed around them.
We hope to continue the "Rickshaw Wala" visiting yet more community children, and brightening their days and giving them exposure to the world.
As we all know:
"The more you read,
the more things you will know.
The more that you learn
the more places you will go."