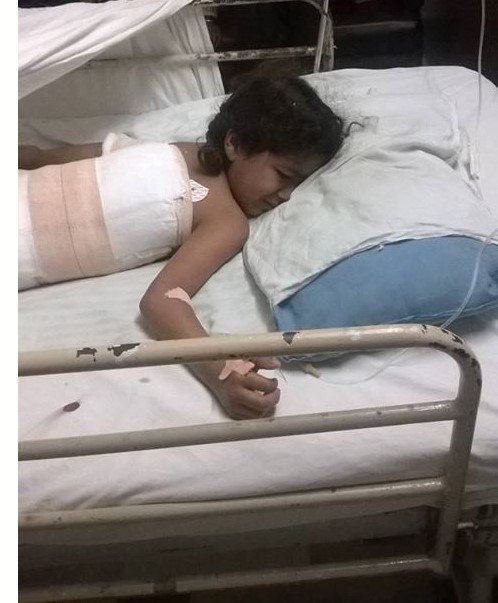 Purkal Youth Development Society is a 'care center' for 510 economically disadvantaged children. We are transforming lives of rural children by providing them value based learning, holistic education, wholesome nourishment, medical support, hostel facilities to senior students, digital learning aids and exposure.
As the fate would have it, Mahi a sweet little girl aged 8, studying in Class 2, fell prey to her family's economic circumstances. She went home smiling from School, who knew, she would suffer severe burn injuries due to a kerosene lamp that would fall on her accidentally. She was immediately rushed to a hospital in critical condition.
Her father (Mr.Gajender Pundir) being a driver and mother, (Mrs.Bina Pundir) a homemaker, the family had no idea about paying the hospital's hefty bills. We assured them of financial help but Mahi, in the meantime showed no signs of improvement. We then consulted a few other doctors in the city, who said that it is beyond their ability to treat this child. They opined that the child may not survive at all.
Fortunately we met a generous doctor called Dr. Yogi who took this as a challenge. We then shifted her to his hospital. He has generously waived off his personal fee.
Mahi have had many major surgeries since then. We are glad that she is out now of danger and has also been discharged from hospital.
She has been shifted about a week ago into our School where we have created a separate room for her. This has been air-conditioned to make it aseptic and the child will stay here until the 15th of June. Thereafter the doctor proposed that she should join the School into her regular classes. Her mother is also here take care of her. May be sometime in July, we will permit her to go back to her home.
Since the doctor advised that we should give her good nourishing food and that the protein intake was the most important, we are arranging to give her every day, half a liter milk, four eggs along with fruits and nuts. We will continue this diet until the end of June, till she becomes more normal.
While her father and mother are her biological parents, our relationship with her is also not less. We would help her – "whatever it takes".
The expenditure is insignificant compared to Mahi's life but for a small Society like us, financially it means a lot. We have already spent about Rs. 2.2 Lakhs on Mahi, perhaps there is a further cost of Rs. 1 lakh involved.
We thank you for your support and good wishes.
Links: