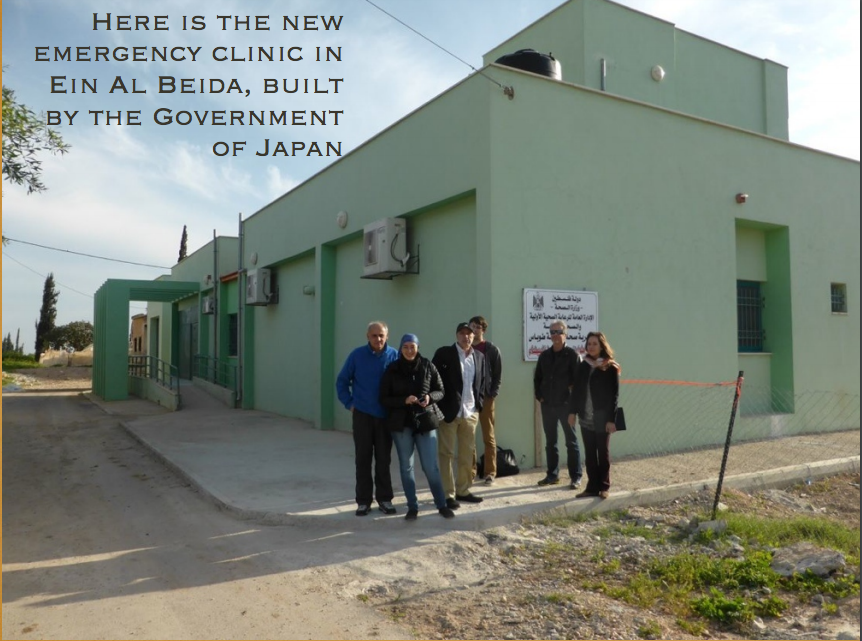 Dear Friends;
We have good news and bad news. First, the good news:
Our project has successfully provided the new emergency clinic in Ein al Beida Village with equipment and training to establish the prenatal and postnatal wing of that new building. Our project means that now, pre and postnatal care is being provided, reducing risk of illness and infection among women and children throughout the region.
The village of Ein al Beida is the northernmost Palestinian village, located within the northeast region of the West Bank, Palestine. Our Rotary project sought to establish the first prenatal clinic and birthing center in the area. Our goal was to benefit the community by making obstetrical and neonatal medical care accessible to the over 50,000 Palestinians in the area. Please note: women of all faiths are welcome.
Now for the bad news: Our clinic still needs staff to so that it can remain open 24 hrs a day and become a birthing center. The Palestinian Ministry of Health was not able to provide the twenty-four hour staffing required due to Israel's freezing of Palestinian tax revenue when the Palestinians joined the International Criminal Court. Due to this shortage of funding and a downturn in the economy overall, medical staff are affected on all levels. Currently, staff are not paid for months at a time and the Palestinian Ministry of Health is rarely able to hire new medical staff, especially staff that is needed for extended hours. I am attaching a link about this problem.
Although we were not able to realize our goal of creating a birthing center, we have created a valuable and viable OB/GYN clinic for the town and the surrounding area. Nurses staff the clinic daily and doctors come once a week to see patients.
Three months after installation of the OB/GYN equipment and training of doctors, an Arabic-speaking researcher interviewed three staff members and three patients from the OB/GYN clinic. We were pleased with the results (see the attachment). The prenatal clinic serves an average of 50 patients per week. When a staff member was asked "Which day do you have the least number of patients?" he responded by saying "each day is full." The staff provide patients with regular pre and postnatal check-ups, vaccinations, lab tests, family planning, consultation, gynecological care, medication, and care for any illnesses or concerns that women come across at any point during or after their pregnancies. Aside from being able to carry out births, both staff and patients reported being satisfied with the equipment and care at the prenatal clinic.
The patients have benefited by being able to get good, routine OB/GYN care close to home. This is quite significant. Ein Al Beida and the neighboring villages of Bardala, Cardala and the Bedouin community of Al Maleh are very near or even within the Israeli Army's live-fire military training area. The road to the nearest hospital in Tubas goes through the military training area. All must pass through an Israeli military checkpoint. The next nearest hospital is in Jenin and there are checkpoints along the way as well. Crossing the checkpoint can be very stressful: on a good day one can cross the checkpoint without much wait but one cannot predict when the checkpoint will be slow or when it may close entirely. In the fall of 2015 continuing through 2016, the violence at checkpoints has increased with Amnesty International and Human Rights Watch reporting incidents of extrajudicial killing even as the Israeli Army reports threats and attacks. What this means for expectant mothers is that they tend to schedule their births to be performed by cesarean section at the hospital so that they begin their journey before labor starts and are certain to arrive in enough time. The existence of our Rotary-sponsored OB/GYN clinic in Ein Al Beida means that women need not cross the checkpoints for prenatal and neonatal care – and that is a big relief.
Long term, the project opens doors and it inspires peace. Thank you again for your support.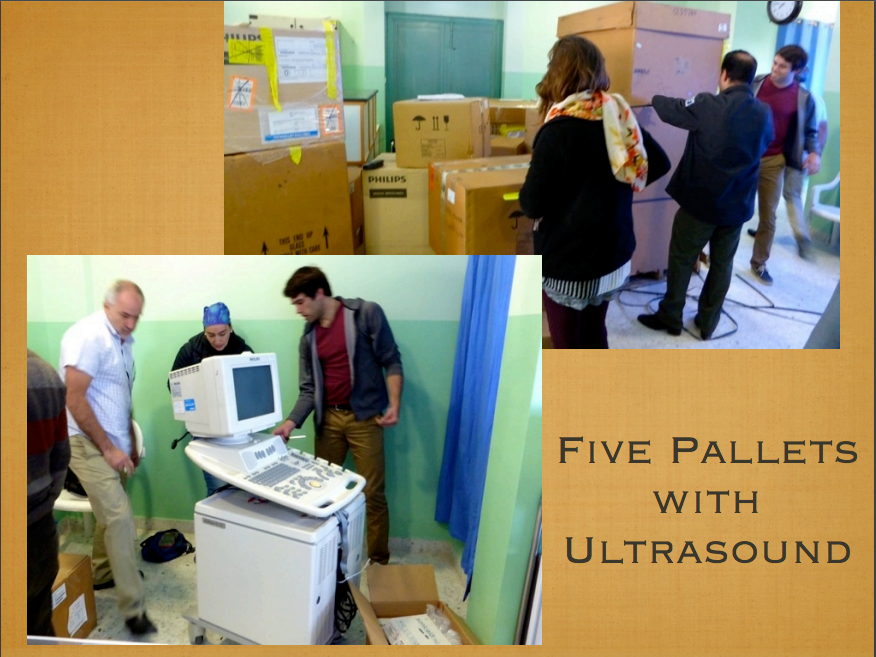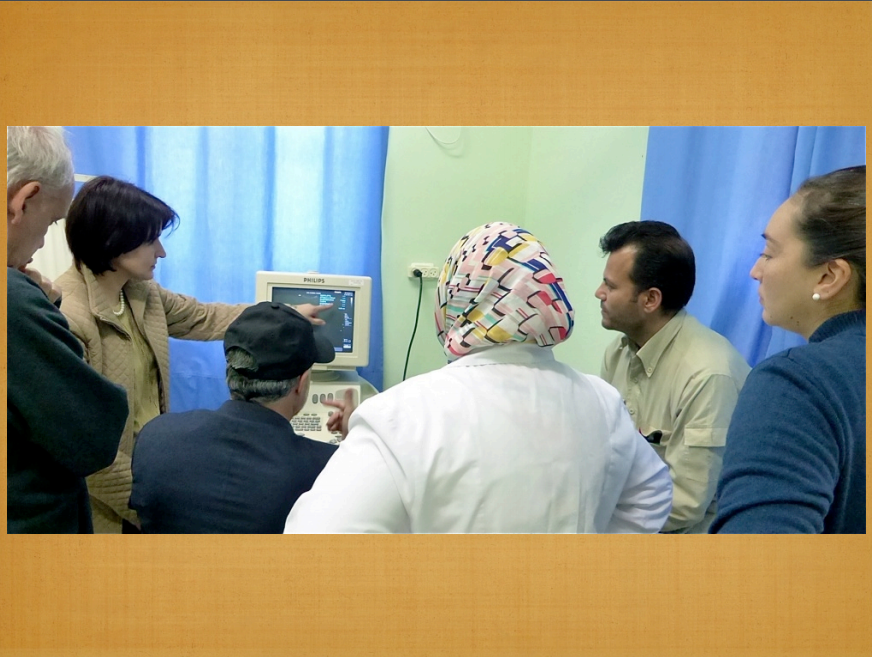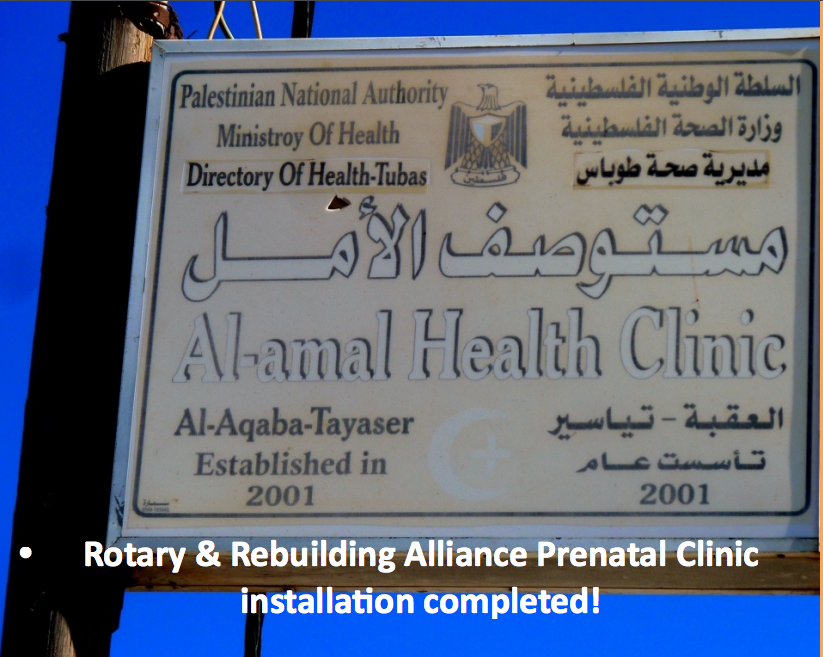 Links:
Attachments: