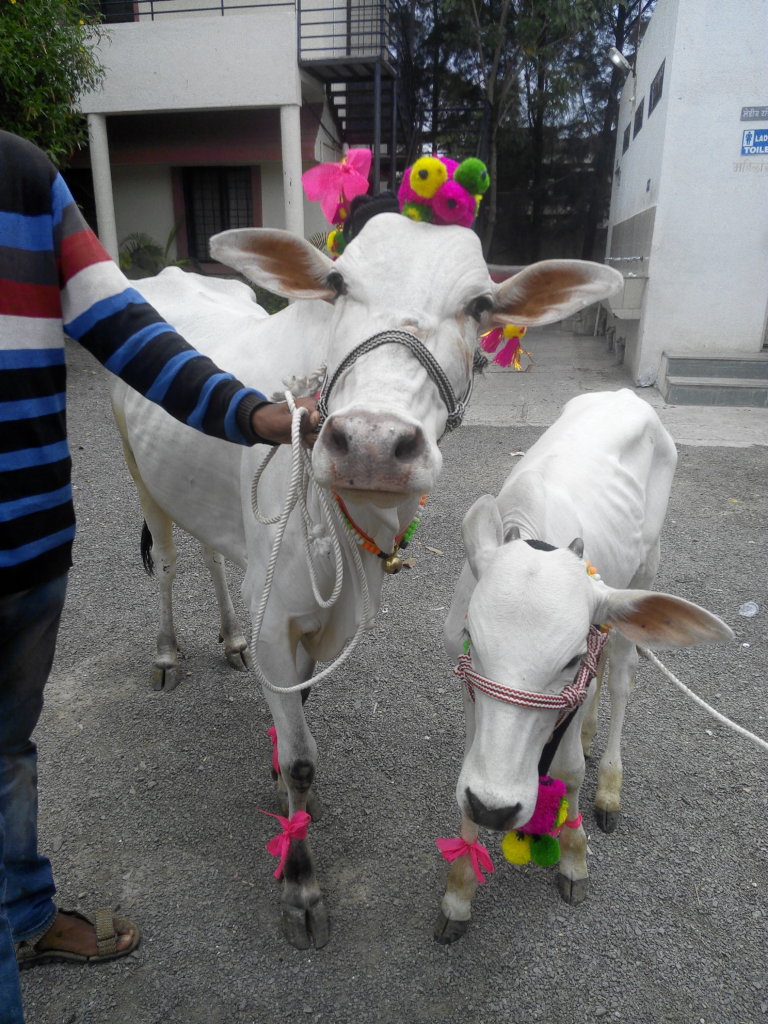 Our farm is busy welcoming our newest additions! A recently arrived mother and child join us as we hosted a supporters parents' 60th wedding anniversary. In a beautiful Indian tradition, which marks the witnessing of 1,000 full moons, well-wishers were asked to donate the combined weight of the married couple in gifts for Snehalaya. These included educational supplies, clothing, grains, dry foods and these two holy cows mother and child.
Enjoying their moo-ve
Like all of our beneficiaries, the bovines have quickly settled into their new home, enjoying the fresh air and rural peace at our farm. In return, they are contributing to our monthly delivery of over 1,000 litres of milk to our Rehab Centre, ensuring nutrient-filled dairy in our beneficiaries' daily diet. We keep some of the milk at the farm for our own beneficiaries too and you can see the good it's doing for Ganesh, our miracle baby we introduced you to in our last report.
These cows really are the gift that keeps on giving! Our two dairy farmers use their manure, mixed with honey and water then dried out, to produce our totally organic fertiliser which boosts the growth of our veggies and our newest crop, 'Hatti' grass, which our cows happily munch on themselves. Keeping our 13 cows fed and watered is a challenge, and this new crop has prevented the fodder shortages we experienced last year. More good news is that the drought which was causing even more severe issues for our farm and throughout India over the past few years has finally broken and our reservoir has thankfully been restored to 80% capacity.
This means all of our beneficiaries can continue to reap the harvest of their work. One of them, Sunita, was found at a bus stand by the police trying to raise money to buy food and a cup of tea by selling her body. The police brought her to our women's shelter where, after a medical check-up, she was sadly diagnosed with HIV and has since joined our farm project.
We started her on medication (ART) and as she couldn't disclose her history and was in an unstable mental condition she is also receiving counselling. Sunita won't talk about what took her to that bus stand, and that is ok by us. She says she is feeling better and is enjoying the theraputic qualities of working the land and helping to produce vegetables for our children.
In December, at our annual matchmaking ceremony for HIV+ couples, we're hoping to help her in her quest for love to find a husband who she can feel loved and supported with in her life. Social exclusion in India for people living with HIV is high and being unwed is also social unaccepted so our matchmaking event is a real hit.
Thank you for all of your vital support in keeping our farm going and giving women such as Sunita an escape route from the stigma they experience as a result of their HIV status and sex work. Thanks to you they really are living healthily and happily in the family environment that is our Hamlet of Courage.