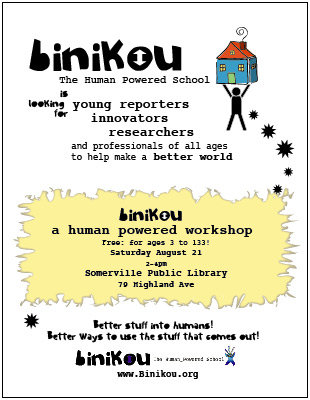 Here's the outline for our first Human Powered Workshop, coming up on Saturday August 21st at the Somerville Public Library (in Massachusetts). Let me know if you have any simple, fun ideas for demonstrations to do during the workshop...
Binikou ~ The Human Powered Workshop
1. Who am I? I'm a teacher, artist, philosopher, and lover of all things that grow! I've been exploring what humans need to be really healthy - really, really, healthy, to the point of feeling exceptionally awesome about themselves and their world. I looked at lots of different kinds of science, including a man named Abraham Maslow, who also studied what humans need to be healthy and resourceful enough to be able to do great things. And what I came up with was that for people to be really, really healthy they need enough:
Input: Whole food Clean water Fresh air Warmth Light
Output: the freedom to express their body's excess solids, liquids, gases, and energy
And then they need to believe that their closest family members (like moms and dads and brothers and sisters and husbands and wives) are healthy.
And then they need to believe that their other friends and family are healthy.
And then they need to believe that the whole planet is healthy!
Which is why I started Binikou ~ the Human Powered School! Because when every human is healthy and full of awesome power, everyone else will be healthy and full of awesome power as well! Binikou is a brand new educational program that plans to have both local workshops and classes as well as a website online (and maybe some books, someday!) where people from all over the planet can share their simple ideas for helping people get more of their needs met, so that they can be healthy and awesome, too.
2. What can I do? I can offer you a place where you can let everyone see your most awesome self! I am the founder of Binikou, and I'm working hard to bring kids, teens, and adults from all over the world together to make a better world for everyone.
3. Who are you? Are you mostly a reporter? And innovator? A researcher? A professional? Or a wise leader?
Reporters ask everyone around them questions! How, why, what? Innovators work with others to come up with new ideas. Researchers study and test the work that's being done by others, to better understand what works and what doesn't work. Professionals integrate all their knowledge and skills and work within large teams on more complex and long term issues. Wise leaders look at the big picture and find value in everything they experience.
4. What can we do together? Share and explore ideas for helping people!
We'll spend a little bit just thinking about and sharing ideas we've heard about, tried, and just come up with for getting more whole food, clean water, fresh air, warmth, light, and for using the extra solids, liquids, gases, and energy that we need to get rid of in more beneficial ways. Then we'll test out some of the ideas people have already had!
OK, go!
A. Sharing ideas!
Especially: Warmth: How can we build a lightweight, portable shelter for holding future Binikou workshops even in cold and/or wet weather? Food: What are some yummy recipes for using living sprouted nuts and seeds? Water: How can we clean the water we can get from our environment - ponds, rivers, lakes, and the runoff from our roofs - so that we feel safe drinking it?
B. Testing ideas! Greens! Hand out Whole Foods food ranking cards showing the power of greens. and taste test some wild and cultivated greens. Human powered smoothies! Dynamo flashlights. Bicycles? Talk about gears. Why is a kids trike less useful than an adult bike? Why is a bike or trike more efficient than walking? Test this by taking 5 steps walking and five pedal pushes biking and see how far both take you. Any idea how much energy is used in a step vs. a pedal push? Solar Power! Dark colors absorb heat energy from the sun. Use a black container of water and a white one, and see which is warmer. Solar shower.