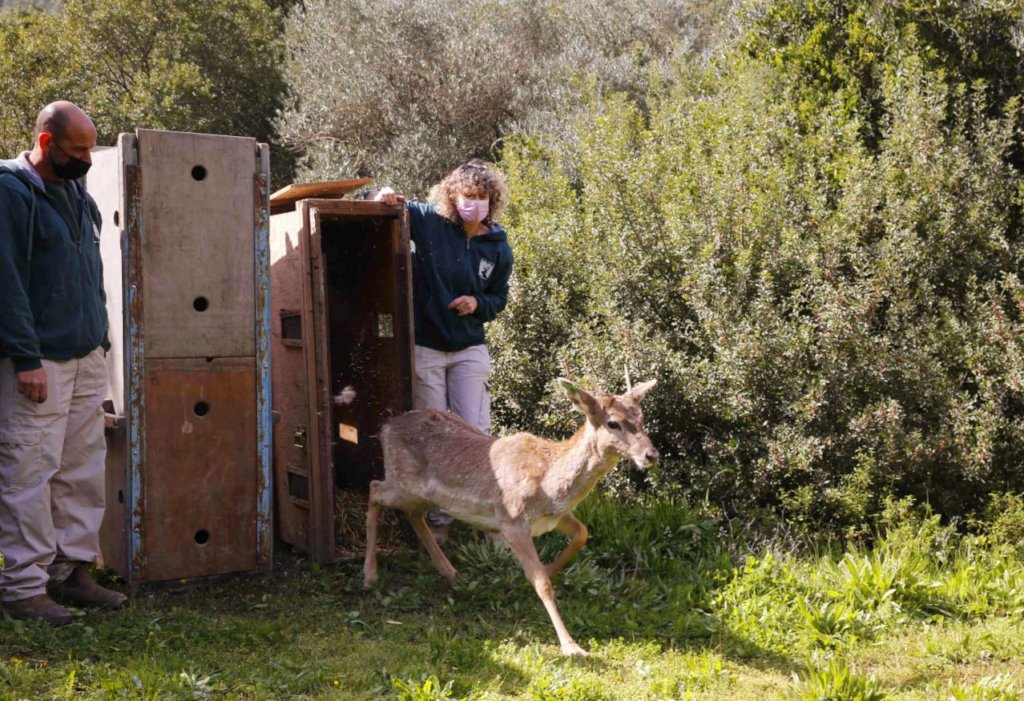 Last month, four fallow deer born at the Zoo and aged one and a half years old were released into the wild.
This is an age where they can be independent in nature. Before their release, the deer underwent health tests and vaccinations and were fitted with a collar with a GPS transmitter.
They were then taken to the Nahal Sorek Nature Reserve in the Jerusalem Hills and released. For the first three weeks, they will be in a special acclimatization complex, in order to adapt to life in the wild on the one hand, and be protected on the other. At the end of the acclimatization period, they move into the open hills.
The Zoo's Chief Veterinarian, Dr. Nili Avni Magen: "Over the years, we have released several dozen fallow deer into Nahal Sorek. In the last four years, we have seen fawns born in the wild, a second generation, born to mothers who were also born in the wild. This shows that the population is stabilizing. The return of Persian fallow deer to the Israeli landscape is one of the most successful examples of the return of an extinct species to nature."
Persian fallow deer were known to have habituated the Land of Israel and are even mentioned in the Bible, but they became extinct at the beginning of the last century. About forty years ago, a small number of fallow deer were brought to Israel from Germany and Iran.
In the 1990s, the project of returning them to Israeli nature began. At first, fallow deer were released in the Nahal Kaziv Reserve, and in recent years, fallow deer have begun to be released to the Nahal Sorek Reserve area. Across the country, there is currently a stable population of over 200 fallow deer, dozens of them in Nahal Sorek.