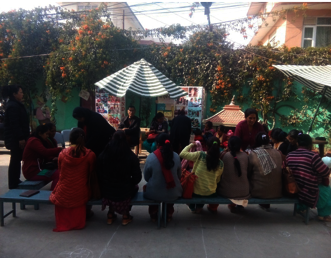 Visiting other schools can be a fantastic way for teachers to gain valuable insights into how to do their own vitally important jobs even better.
Teachers in rural Nepal, however, can rarely or ever participate in this kind of professional development activity, because of the time and money involved. Even beyond that, there simply are NOT many (if any) such opportunities available to them.
ETC is delighted to provide a variety of training and development opportunities for rural teachers, including field trips! Back in the winter, our Nepal staff organized and led a group of nineteen pre-primary and primary teachers from Dolakha on a four-day visit to the Kathmandu Valley, where they visited classrooms at four model schools:
Prabhat Secondary School
Bal Bikash Secondary School
Seraph World Pre-School
Grand Academy Secondary School
While there, they observed how their peers managed their classrooms, encouraged active participation among their students, and used teaching materials in various creative ways. They were able to ask questions and share their experiences with the model school teachers and among themselves.
As a result of this field trip, these rural teachers have gained not only new skills and knowledge, but also motivation and enhanced job satisfaction. Our staff members have observed that the rural teachers have eagerly incorporated what they learned into their own teaching practices. The participants can also share what they have learned with their peers at the rural schools who were not involved in this field trip.
As always, we at ETC want to thank you, our friends and supporters, for making this important work possible!