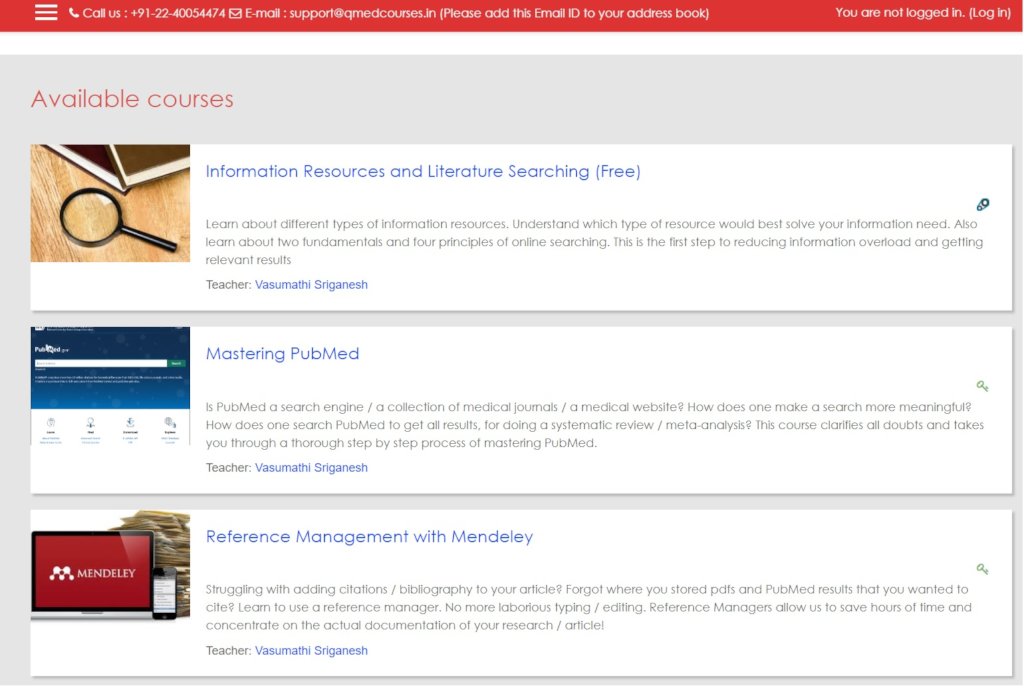 We at QMed hope you have been safe and well during the pandemic. As we told you in our last newsletter, we have been very active, working from our homes.
We officially launched our new site - www.qmedcourses.in on the 14th of June 2020, exactly a month after we sent you our last report. Everything has gone well since then. The best part that I would like to share with you is that in a week of our launch we got an email from a prestigious medical school - "All India Institute of Medical Sciences, Bhubaneswar" - asking us for a subscription for their institution. The formalities were done by early July and we have more than 550 faculty and residents enrolled. Some of them have completed one or more courses and have given great feedback
Next we had the "Regional Medical Research Centre" from the same city - Bhubaneswar asking us for institutional access. This organization is one of the centres of the Indian Council of Medical Research - India's premier research institution. Their payment should come through any time and we look forward to enrolling 30 of their scientists.
We also had three institutions of the Manipal Academy of Higher Eduation enrolled in our old site. We have migrated participants of two of the institutions to our new site and we have to do this for the third. Fortunately everything is going fine and we are enjoying paying attention to all details!
What do we want to achieve with QMedCourses?
Reach out to medical schools, other health sciences teaching institutions and research centres all over India. That is a very large number
We want to get the councils to recognize our courses and recommend them as important learning for all students and faculty
Through our courses, we want to contribute our expertise for healthcare professionals, students and scientists to better research and produce better publications from India
We have made a great start. And we have also have some challenges. Chiefly, we need funds for:
Carrying out regular activities of this website, till the project starts paying for itself
Cloud Hosting costs
One or two consultants to help us with ever so many tasks that we have identified
Promoting awareness of the site all over the country
We are once again ready to receive funds and we look forward to your donations. And if you have friends in the healthcare sector in India, do recommend our courses to them. While anyone can join from anywhere in the world, as a Trust, we have set a goal of reaching out to all institutions in India and so we need this help.
Finally - do wish us the best for this venture! We at QMed would like to thank you for the support over the years!
Links: