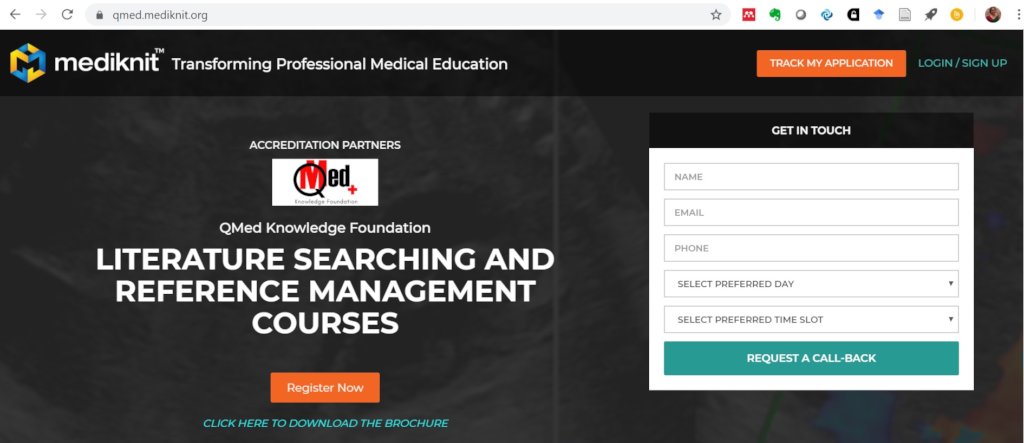 We are really excited to share about the developments with our Online (ELearning) Courses
Two New Courses
First - we have just added two new courses - "Mastering PubMed: Advanced" and "Reference Management with Mendeley". Those who register, get access to all three courses, and those who had registered for our first course will now get access to these two. Getting the two new courses up and running made us go through some challenging times, but we are finally all ready.
Sign up for 1000 users by a large Academy
The Manipal Academy of Higher Education has signed up for 1000 (One thousand) users to learn from our courses. The participants will be from three different medical colleges of the Academy.
Getting this to happen was again a fairly lengthy process. Nine faculty from across the three institutions studied our online course thoroughly. All of them gave great feedback. Then I was invited to participate in a meeting of all their Vice Chancellors and present about us. I happened to be overseas then, and they were kind enough to have me present virtually. They conveyed their appreciation not only for our courses but for our commitment and then in some time, told us that they would want 1000 people registered.
MAHE is a respected institution in the country and we hope that with them having come on board, we could soon have still more institutions join us. After all - our mission is to reach out our knowledge across India.
Going ahead
With these major developments, we hope that we can bring you lots more good stories in our next few reports. It is difficult to express how much every single donation has helped us. And of course not just donations but the encouraging messages & good luck messages that you send us, keep us going through the ups and downs.
Do stay with us, while we share more stories. We want you to feel great about your contributions - and see how the future generations of doctors and health professionals are growing with this much needed knowledge!
Wishing everyone a Very Happy Deepavali from India!
Vasumathi Sriganesh
Links: