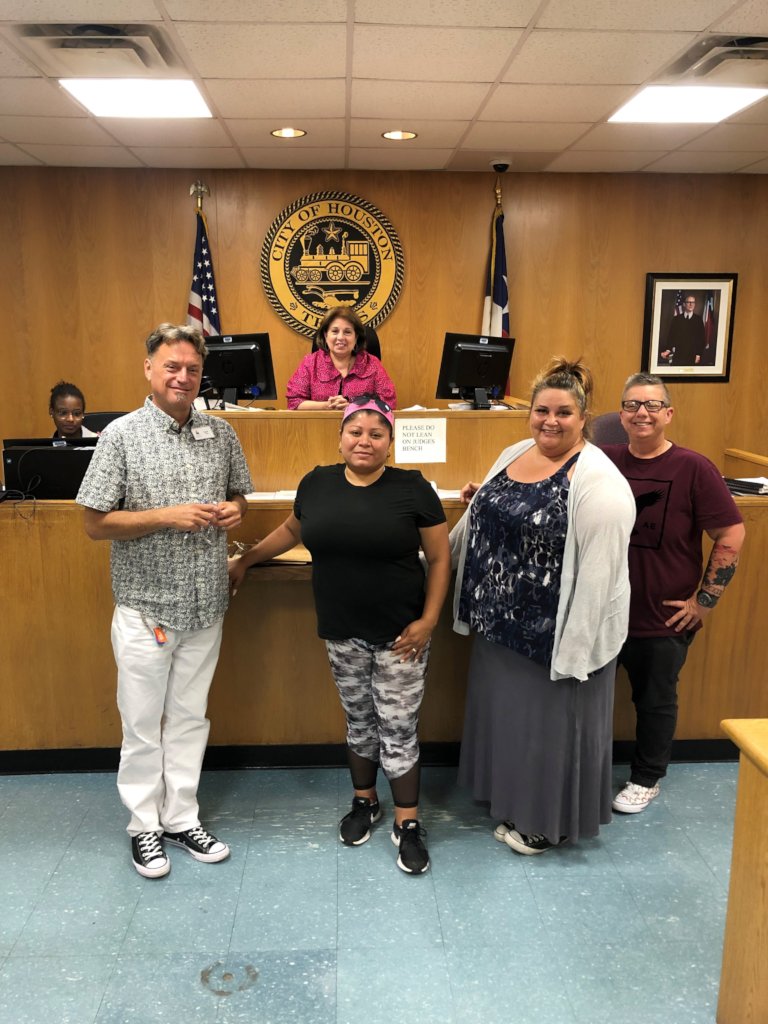 If you were to ask Scot More, Program Analyst for the Coalition for the Homeless, what his favorite part of his job is, he will tell you without even batting an eye, "Homeless Court," even though it only makes up about 10 percent of the work he does every day. As I sat down to do my usual staff spotlight interview for the month of May, Scot refused to let me highlight his personal accomplishments (this is no shock to anyone who knows him), but asked me to instead focus on a program that has been close to his heart for over 13 years.
What is Homeless Court?
Homeless Court is a special Court session for homeless defendants to resolve outstanding misdemeanor offenses and warrants within the City of Houston's Municipal Courts. The idea for a homeless court system began in San Diego, California in 1989, and was adopted in the Houston area in 2006.
Homeless Court has been able to build partnerships between the courts, local emergency shelters and homeless service agencies, to help individuals experiencing homelessness resolve misdemeanor offenses without being taken into custody with alternative sentencing options.
Participants in Homeless Court sign up on a voluntary basis by requesting to be a part of the program through a local homeless service provider. Homeless Court addresses all class C misdemeanor offenses within the City of Houston. Some of these offenses could include – failure to pay bus fare, traffic
violations, or sleeping in a public park.
Alternative Sentencing
"A lot of people experiencing homelessness are afraid of the court system," said Scot. "They don't believe that they won't go to jail until they actually go through the process." Scot works as the Homeless Court liaison for the Coalition and says a lot of the time he is there mainly to help calm people's nerves.
One of the biggest proponents of Homeless Court is that no participant will be taken into custody against their will. And this component is something every judge, defense attorney, prosecutor and homeless service agency has agreed on.
Scot says the biggest hurdle for clients is simply showing up. Once they are there, the judge will offer the participant an alternative sentencing option. Usually this sentence will be community service or activities in the shelter program in which the participant is enrolled in*. Each shelter has its own requirements for participants to access the Homeless Court program.
The three judges currently presiding over Homeless Court are Judge Leigh St. Germain, Judge Imelda Castillo, and Judge Grantham Coleman.
What Actually Happens During Homeless Court
This week I had the opportunity to observe a Homeless Court Docket at the City of Houston Municipal Court. When I arrived, many of the participants were already there, each meeting with Scot individually as he got them checked in and gave them any necessary documents. Presiding over this docket was Judge Castillo, with approximately 20 individuals scheduled to participate.
Before the session was started, Scot once again assured each person that the judge would be waiving all fees and ordering each person community service for the hard work they had done and would continue to do. Scot also provided additional resources for those who needed them.
Judge Castillo then began to call participants up one by one. For every person she called to the stand, she dug deeper than their record, and got to know them on a more personal level. Judge Castillo asked questions about how their programs were going, what their plans were for the future, and if they were happy with their current situation. She never treated any of the participants like they were a criminal but showed compassion for the fact that they had fallen on hard times and were trying their hardest to move forward.
"I have been presiding over Homeless Court dockets for about 11 years," said Judge Castillo. "It is so incredibly rewarding to see people making positive changes to their lives and becoming more stable." Judge Castillo says by waiving these types of fines or warrants, the participants have one less thing to worry about and it helps each of them become more productive citizens.
Dawn, one of the individuals who participated in this docket, says the amount of relief she feels is indescribable. "You have no idea what a weight this is off our shoulders," said Dawn. "I can now go get my license renewed, which means I can finally go apply for jobs, and start the next chapter of my life."
Without this crucial program we would be unable to continue our work of making homelessness rare, brief, and nonrecurring.