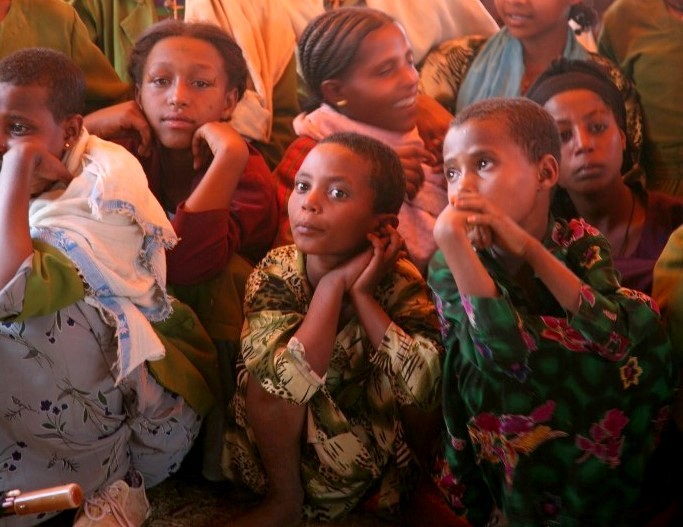 Elizabeth McKee Gore, the UN Foundation's Executive Director of Global Partnerships, just wrapped up an extensive trip to Ethiopia, which brought her from rural villages to urban centers to everywhere in between. And while it's hard to re-create such a dynamic trip in words, Elizabeth is doing exactly that with a blog series on her incredible experiences.
Elizabeth's on-the-ground stories capture just how far the work of the UN Foundation and its UN partners reaches, whether in health or education, refugees or adolescent girls, peacekeeping or clean water.
December 2, 2009 I am sitting in the small village of Lalibela, a sub-district of Achefer in Ethiopia. Two sets of beautiful eyes are staring at me. They belong to two young girls who are astonished that I got married at 30 years old and that I don't have children.
We are visiting a project with the UN Fund for Population (UNFPA) called Berhane Hewan. The project works to prevent child marriage and ensure girls go to primary school. This area has some of the highest child marriage rates in the world. Half of all girls in this region are married before their 15th birthday.
Funded by the Nike Foundation and the UN Foundation, this UNFPA program focuses on four areas: adolescent girl's formal education, adolescent girl's non-formal education, a married girls program, and a community program.
About 150 community members arrived to meet us and tell us about what they have accomplished about preventing child marriage, literacy, hygiene, family planning, and vocational skills, such as home improvement and agriculture. Interlaced within the curriculum is education about HIV prevention, the downsides of child marriage, birth spacing, and ending female genital mutilation (FGM).
I was surprised by the boldness of the girls, none of whom were intimidated to speak up, and by the support of the men in the village. The village elders described the program as a true "light" for the community. The community's support is critical to the program's success. It's a truly participatory process. Twice a month, the entire community gathers, which includes parents, young married women, young girls, and boys. Together, they discuss harmful traditional practices such as child marriage and FGM.
One of the teaching tools for the community is public plays. The most popular play here is titled, "If you marry me off today, you spoil my future." Bizuwayan Beriuum, a member of the married girls program, said, "The most important part of this program is the cultural shift it has provided the community in what is supported or not. Child marriage and FGM are now not accepted practices."
If you want to learn more about the prevention of child marriage, please visit the UN Foundation Girl Fund.