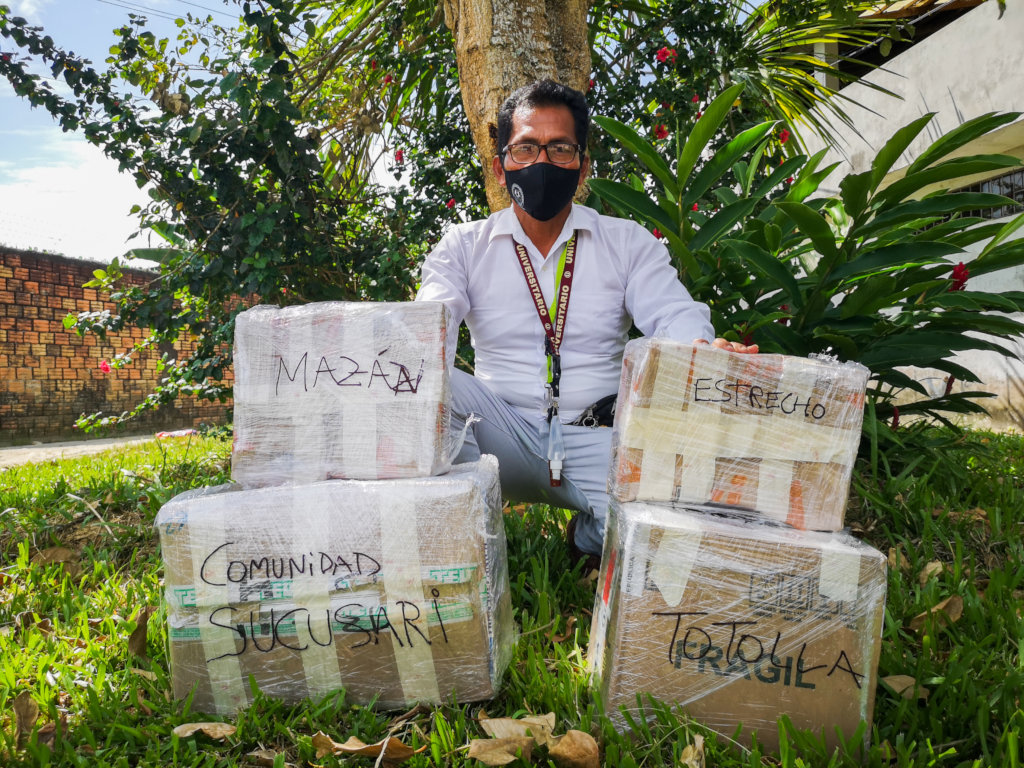 As we reach the mid-way point of 2021, we here at OnePlanet have been hard at work helping to support and empower the Maijuna indigenous group of the Peruvian Amazon in their push for more sustainable and healthy communities. Although the ongoing COVID-19 pandemic continues to make our work challenging, some recent highlights include:
1. COVID-19 Support: Since the onset of COVID-19, we have had to constantly shift and adapt our organizational mission and workplan. In 2020, we shifted our focus to pandemic prevention and relief and since then we have provided several rounds of support to the Maijuna communities. The latest round of direct support provided to the communities was in March, when this part of the Peruvian Amazon was in the grips of a crushing second wave of COVID-19 infections. This included sending the Maijuna lifesaving medicines, medical supplies, and personal protective equipment (PPE) for use in their communities. More recently, we have been helping to support the work of ORPIO (the regional indigenous federation) as well as the Ministries of Culture and Health in the development of plans to vaccinate indigenous peoples in the region. We are fully committed to supporting this historic process in whatever way possible, given how critical it is to the health and wellbeing of the Maijuna and other vulnerable indigenous groups of the Peruvian Amazon.
2. Stingless Beekeeping Project: The average Maijuna family survives on less than $2 per day and our community-based stingless beekeeping project is helping to boost their income and quality of life in an environmentally and socially responsible way. Pre-COVID, Maijuna beekeepers were selling honey at a premium price to visitors of a nearby ecotourism lodge. Since the start of the pandemic, this ecotourism lodge has been shut down resulting in a loss of market access and declining sales for the Maijuna beekeepers. To help mitigate these losses, our team has been working on developing a new business plan to reflect the reality that we are living in. A focus of this work is opening up new markets at premium pricing for the sale of Maijuna stingless bee honey in the city of Iquitos. This work is ongoing but we are happy to report that we are making solid progress.
3. Maijuna Federation Support: We have continued to provide critical financial and organizational support to help empower the Maijuna indigenous federation in their fight for the conservation of their ancestral lands, cultural survival, and the health and well-being of their communities. Over the past several months, this has included providing technical assistance and expertise to the Maijuna as they interfaced with governmental and non-governmental organizations, among many other things. Currently, we are also helping them to safely plan a meeting of their federation board of directors. This multi-day meeting will open a crucial space for their federation leaders to plan, coordinate, and carry out actions related to the protection of their ancestral lands as well as the health and wellbeing of their communities.
We are more committed than ever to help support and empower the Maijuna in their fight to protect their ancestral lands, communities, and traditional culture for future generations. We will keep you updated on our work with the Maijuna in the coming months. Thank you in advance for your ongoing interest and support.
Thanks, and stay safe and healthy!