Project Report

| Feb 18, 2020
Harnessing Traditional Knowledge for Beekeeping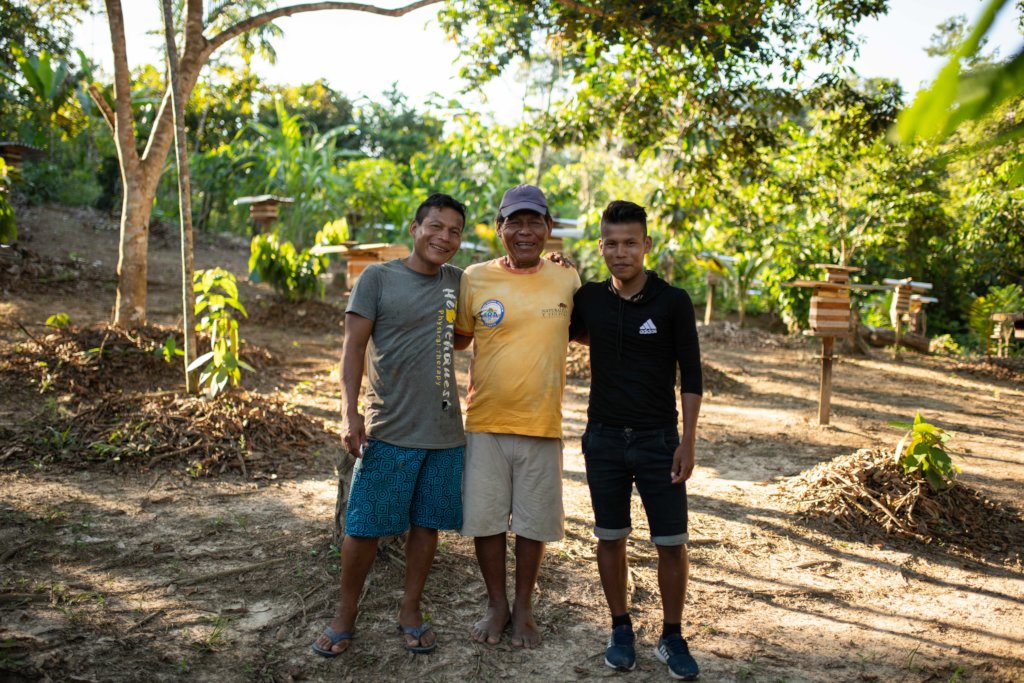 The Maijuna have deep cultural connections to the stingless bees that live in their ancestral lands. That foundation is key for success as OnePlanet trains the Maijuna to raise stingless bees and sustainably harvest their honey.
For generations, the Maijuna have sought stingless bee honey for its unique flavor and medicinal properties. They have acquired extensive traditional knowledge about the dozens of species of bees producing honey in their ancestral rainforests. For many of the bees, the Maijuna are the sole keepers of knowledge about their distinguishing behaviors, habitat, the quality of their honey, and more. For example, the Maijuna identify a rare species of stingless bee sought for its high-quality wax that is useful for fishing spears and for its dense, flavorful honey.
Traditionally the Maijuna destructively harvested honey from wild hives. With support and training from OnePlanet, dozens of Maijuna families are now raising stingless bees, managing over 300 hives, selling the honey, and increasing the number of local beehives rather than destroying wild populations. Through stingless beekeeping, the Maijuna are harnessing their traditional knowledge of bees to generate a sustainable source of income.
Because the bees and their honey are already a rich part of Maijuna life – celebrated with songs, dance, a favorite treat, and of course presence in their forests – the bees are an excellent resource to transform into sustainable income. Through beekeeping, younger generations learn about their forests and culture from their grandparents, who have long known the bees but who are now, with OnePlanet training, raising them and accessing high value markets for the first time. Beekeeping offers a rich avenue for exchange between generations by placing renewed value on traditional knowledge.
The Maijuna are starting 2020 energized to build on their current successes with stingless beekeeping. They are poised to turn native stingless bees into a celebration of their culture and a key element of their sustainable livelihood. With your support, we can continue working with the Maijuna to document and teach their existing traditional knowledge of bees, support sustainable practices of raising hives, and ultimately adapt their vast knowledge base to support Maijuna families while protecting their ancestral culture and lands.