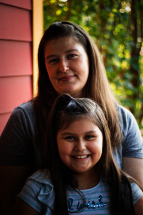 "Two years ago, I had a constant feeling of dread that my family was going to have nowhere to live. Where would we go? Would we have to live in our car? What if I couldn't provide a safe place for my kids to live?"
For two years, Summer, a mother of 3— Lillyana, Isaac, and Angel, searched for housing for her family. The search began following the loss of Summer's father in 2017 after which Summer had to leave the place her family once called home.
Summer knew that help was necessary to find an apartment that would fit her family. She visited the Department of Human Services for assistance. With limited options presented, Summer faced closed waiting lists or wait times of several years for low-income apartments.
She contacted a social services call center titled 211 Info and discovered ROSE Community Development, one of our partner organizations offering affordable housing in Southeast Portland for families and low-income seniors featuring strong community-building programs as well. After contacting ROSE Community Development, Summer visited the office and got on the waitlist.
"One amazing day we got a call that we had been approved for a 4-bedroom apartment. I couldn't believe it— every kid would have their own room! And the rent was only $472 a month! This was a miracle to us."
To celebrate their new space, "We ate pizza and ice cream and watched movies together." Summer and her family were so excited about their new space, but they had nothing to make it cozy until Community Warehouse stepped in.
"We all slept in the living room together— we had no furniture. We had nothing when we moved in," Summer shared. "ROSE helped me with Community Warehouse. Everything I have is from there. It was so helpful. Comfortable. My pink chair was the best part. I even got an electric fireplace heater. Our beds were a blessing. Everyone got new beds, and it was brand new. I even got an iron! Our kitchen is fully stocked now."
Here, at Community Warehouse, we are committed to serving under-furnished neighbors in the tri-county region. As your local furniture bank, we have seen the impact of furniture on children, families, and individuals over the past 20 years. We need your support to continue transforming empty spaces into comfy homes for families like Summer's.
Summer's youngest child, Lillyana, was happy to have a bedroom to call her own. Filled with furnishings from Community Warehouse, Lillyana shared, "I have clothespins that hang string lights with photos of my family where I can see them before I go to bed and when I wake up."
Now that Lillyana's room has everything she needs, she has gained a new enthusiasm for organizing. "I get to have a dresser now! Clothes and toys used to be in plastic storage bins. It means a lot to me to fold and put away my clothes. I like organizing!" Lillyana declared.
From January to May of 2021, we served 315 children in need of basic household furnishings. Beds are a critical part of a stable home environment. By supporting our goal of providing beds to children sleeping on the floor, you can offer comfort and stability to under-furnished neighbors.
Links: