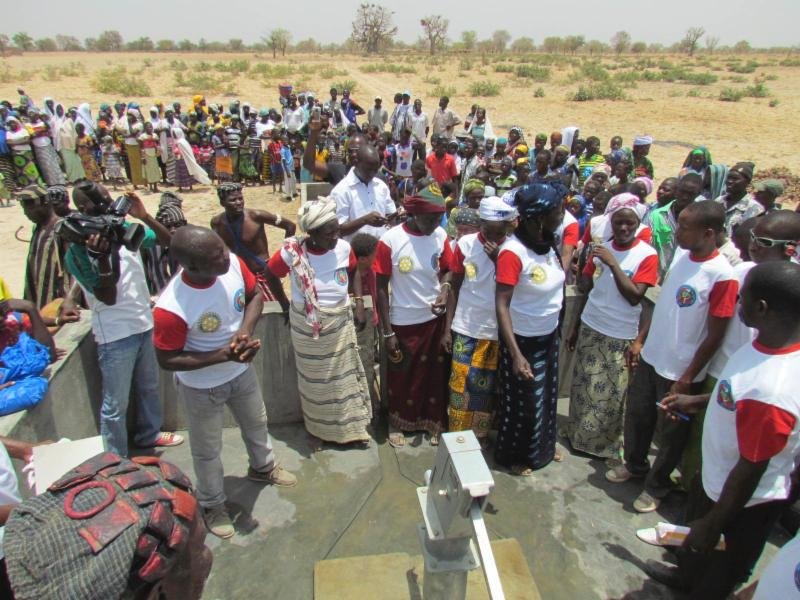 Dear all of you remarkable supporters of BARKA,
Thanks to your dedication and passion for bringing clean water to the people of Burkina Faso, The BARKA Foundation is the strongest it has ever been since its founding. Every day, BARKA has been reaching new milestones. Ina and Esu are currently on the ground in Burkina Faso and asked me to update you on the latest news. My name is Kim Abuelhaj, a BARKA volunteer based in NYC, working on social media and philanthropy development. For 3 years I served a US Peace Corps Volunteer based in Fada N'Gourma—the capitol of the Eastern Region where BARKA's Burkina HQ is based.
We would first like to thank Rotary International, which has approved a $100,000 grant to deliver clean drinking water, improved sanitation, and hygiene education for the community and schools of five villages in the commune of Fada. Not only is this BARKA's largest grant to date, but such generosity just proves how we are in this together and that one day, those communities of Burkina Faso will have a better life.
Subsequently, when USAID's WASH program in West Africa heard news of such a grant, they were inspired to match the $100,000 gift in order to expand BARKA's impact. Not only will this kind of assistance provide BARKA with essential technical assistance to increase our work's efficiency and effectiveness, but it also symbolizes the name BARKA has created in Burkina Faso. That would never have been possible without supporters like you!
In other news, Cirque de Soleil has an NGO called One Drop Foundation, which focuses on Water & Sanitation projects. Their work is similar to that of BARKA's as they too focus on water, sanitation and hygiene, and also use theatre and cultural arts to get their hygiene messages across. One Drop will be working with BARKA to bring our theatrical presentations to new heights.
Last but not least, your support has allowed BARKA to finally hire three full-time staffers in Burkina Faso. This is such big news as BARKA has been entirely all-volunteer since it began in 2006! Find out who they are and what they do below! They will give us the capacity to branch out to new communities and further develop our water and sanitation projects.
And get this—BARKA needs just $421 to go from being a Global Giving "Leader" organization to a "Superstar", the highest ranking an organization can receive on the GG website. Help us make it happen with a donation today. Again, thank all of you for your generous support. We are so grateful to have you on our side to bring clean water to the people of Burkina Faso. Your steadfast commitment will help us win the fight against dirty water and poor hygiene and sanitation.
As always,
BARKA!!!
Kim, Ina and Esu and the BARKA team