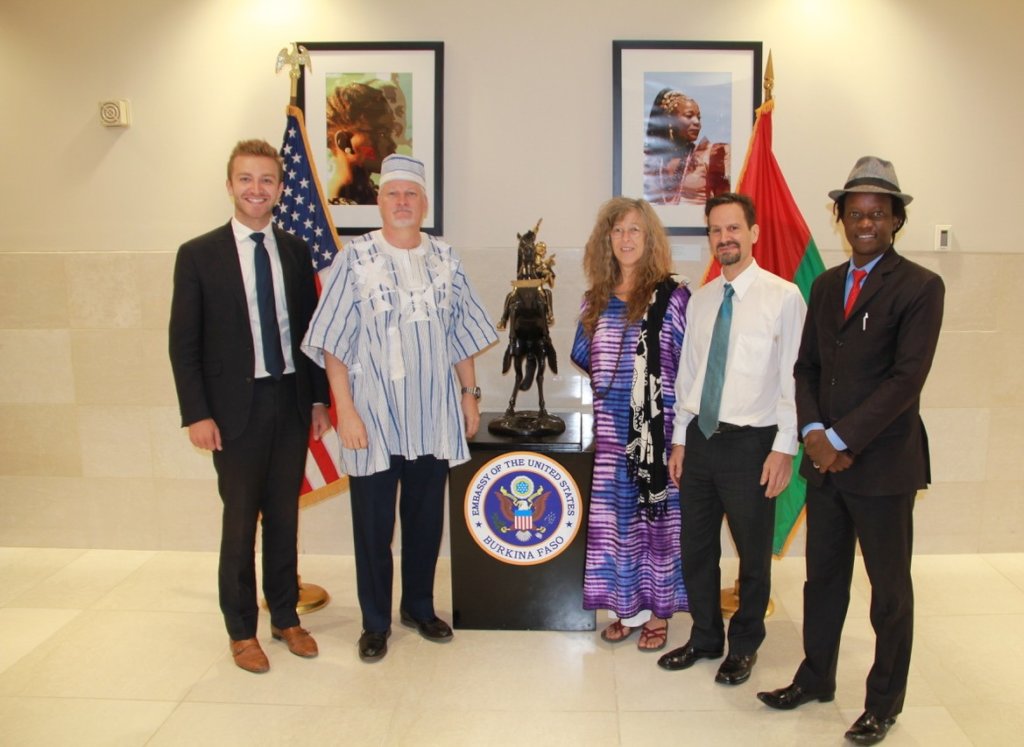 Dear BARKA Supporter,
Despite a worsening security situation in Burkina Faso, thanks to BARKA's terrific team on the ground, 2019 was among our most successful years ever. We made significant progress in the region of Fada N'Gourma in the areas of water resource management and menstrual hygiene management for over 10,000 people.
The US Ambassador says it best:
"To have the opportunity to work with the BARKA Foundation and to see the work that BARKA Foundation is doing in this area of water plays such a role in the daily lives of the community, was an inspiration to me. I wanted to be part of this mobilization of energy, and effort, and communities, all around best practices to manage the water resources that we have, because together managing those resources will make a better future for the communities we're working with."
Ambassador Andrew Young of the US Embassy in Burkina Faso
2019 Highlights:
The US Embassy of Burkina Faso funded BARKA's Theatre Troupe to sensitize rural and peri-urban villagers on the need to collect micro-payments for water services and the key role women play in managing water resources.
On May 28, the International Day of Menstrual Hygiene Awareness, BARKA unveiled two "MHM Cabins", a private, secure place for over 3000 female students at Fada's two largest high schools to take care of their menstrual needs. These are the first in the Eastern Region and among the first in the nation. Such cutting edge implementations to support girls' health and education is making BARKA a leader in this emerging field of Menstrual Hygiene Management (MHM).
In conjunction with World Water Day, we also created a program to engage youth in civic engagement as a counter-measure to the recruitment strategies being carried out by militant groups responsible for increasing terrorist activity in the country.
The 4-person BARKA Delegation visited the USA again this year. Two members are staying with us for their entire 6-month VISA, enabling BARKA to host events in several new communities to extend our reach and continue to build the reciprocity BARKA facilitates between the US and Burkina Faso.
BARKA has also set the stage for even bigger impact in 2020. We are working with Rotarians in the US and Burkina to develop a new water and hygiene project to drill 20 wells in areas of greatest need.
We have also taken great strides in the development of a large scale Girls and Women's Reproductive Health and Rights project in which BARKA is poised to introduce menstrual cups for the first time in Burkina's history.
As excited as we are about this year's accomplishments and our expectations for the year ahead, we are fully aware that our success would not be possible without the generous support of donors like you. Since BARKA's inception, we have been powered in a grassroots manner from individuals who care about what we're doing and want to be a part of it. There is something extraordinary happening here that's more than the outstanding work on the ground… it's also about the family of people BARKA brings together who are committed to making the world a better place, and who are doing just that. Thank you for being an important part of this. Barka.
We'd like to close with another inspiring quote from the US Ambassador to Burkina Faso (full video interview now available on BARKA's website and facebook page):
"One of the things I like about BARKA is the fact that the BARKA Foundation has been in the region for a long, long time. BARKA has sunk deep roots in the community and through those deep roots you can adjust interventions with community members in ways that those community members can deeply and effectively absorb. That is a cutting edge grassroots interaction that has really positive impacts on trying to achieve the outcomes we've collectively set for ourselves… What a wonderful way to spend this limited amount of time we have on this planet but to reach out and form a bond with people who are striving to improve the quality of life for those who don't have the benefits and don't have the resources that so many of us take for granted."
Ambassador Andrew Young of the US Embassy in Burkina Faso
We wish you blessings for a safe, healthy and happy 2020 and look forward to continuing our progress together to benefit the people of Burkina Faso who need our help now more than ever before.
Barka,
Ina & Esu
Links: