July marks the month of homecoming to Barbuda. After Hurricane Irma devasted Barbuda's housing and infrastructure, many of the 1600 residents who had stayed on the sister island of Antigua for work or schooling are expected to return home. They will find an island that remains severely damaged from 150mph winds that destroyed Barbuda in September 2017. For example, many homes are still without running water or power and the primary school is uninhabitable, requiring alternative learning spaces until a new school is built.
However, the people of Barbuda are strong and resilient. They work hand-in-hand with aid organizations to rebuild their island, one brick at a time. The Barbuda Recovery & Conservation Trust supports their work through diverse programming that includes education & tutoring, subsidized transportation, reconnecting houses to water and electricity, and working with the local community to build sustainable fish traps. To date, we have tutored over 40 students, connected 150 homes to utilities, subsidized ferry transportation for 150+ trips to Barbuda, and built 100 fish traps to improve local livelihoods.
Leon, pictured second from right, is a local fisherman from Barbuda. He lost all lost all fish and lobster traps during Hurricane Irma. Nevertheless, he was eager to return to Barbuda and make Barbuda a better, more resilient place. BRCT staff met Leon through our Fishers Livelihoods Recovery Program and hired him to spearhead the design and construction of sustainable fish traps. Over the past six months, Leon and his team built over 100 fish traps with biodegradable exits and 1-inch gaps to allow juvenile fish to escape and prevent unwanted fishing. These fish traps, coupled with on-going outreach with the Barbudan fishing community will strengthen local fish stocks and improve the island's fisheries in the long-term.
As the Fishers Livelihoods Recovery Program, like many traditional aid and recovery programs, is nearing its end, we will continue to work with the people of Barbuda and local partners to identify most urgent needs and help make Barbuda more resilient. We want to thank our 530+ donors. Your continued support is needed and most appreciated.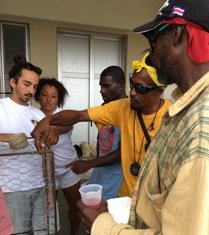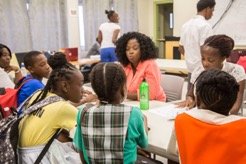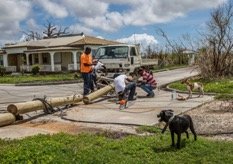 Links: