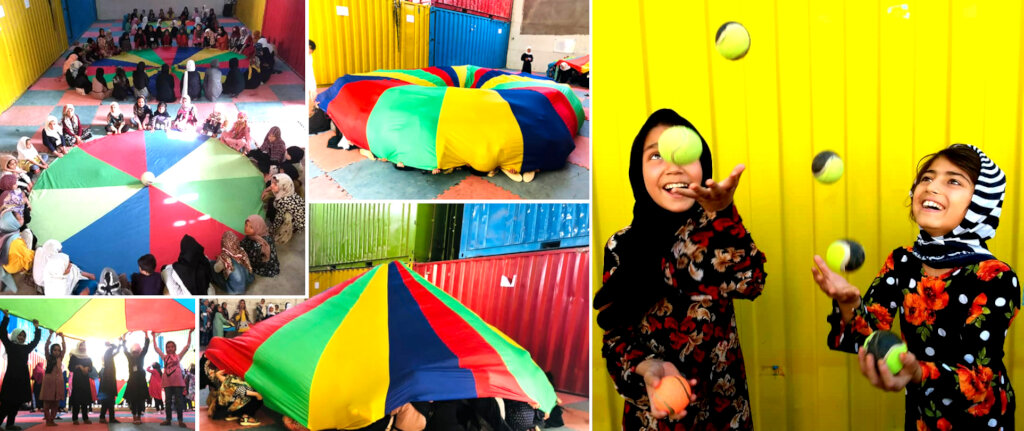 Dear Friend,
Now more than ever, Afghan children need fun!!!
We continue all our daily social circus activities in our Herat center for up to 200 girls and boys in two different shifts. Besides social games and collective joyful social circus activities, there are school subject classes and also lunch is provided for the students.
Apart from regular weekly social circus activities for 500+ children in 6 provinces, we have had 12 events, performances, and competitions in the last few weeks. These activities were organized for hundreds of children, youth, and parents in 8 communities in 6 provinces. The competitions were conceptualized, developed, and managed by 10 youth team leaders and have had various forms and subjects such as juggling, funny balloon games, talent show, poetical contest, acrobatics, and tug of war (rope pulling).
We keep adjusting ourselves to the new situation and try our best to modify and develop our activities to fit the new requirements. This is a long process but at the same time very essential.
As you know Afghanistan is now suffering very severe starvation and food shortage. MMCC has distributed 1000 happy food presents for children which included some children´s favorite items such as dates and cookies as well. These packages have been distributed in Kabul, Herat, Nangarhar, Khost, Bamyan, and Ghor, in a total of 11 locations. We identified the underprivileged families to receive these presents for example in some of the IDP camps. The distributions were organized and managed by our youth team leaders, and supervised and monitored by MMCC staff in Kabul and the provinces. Usually, the adults receive any distribution items but this time the happy kids themselves received the presents and proudly brought them to their families. The distribution events had entertaining social games and social circus activities which made it all more like a celebration. You can contribute to the food campaign by donating or sharing: https://globalgiving.org/projects/sharing
Thanks for your support.