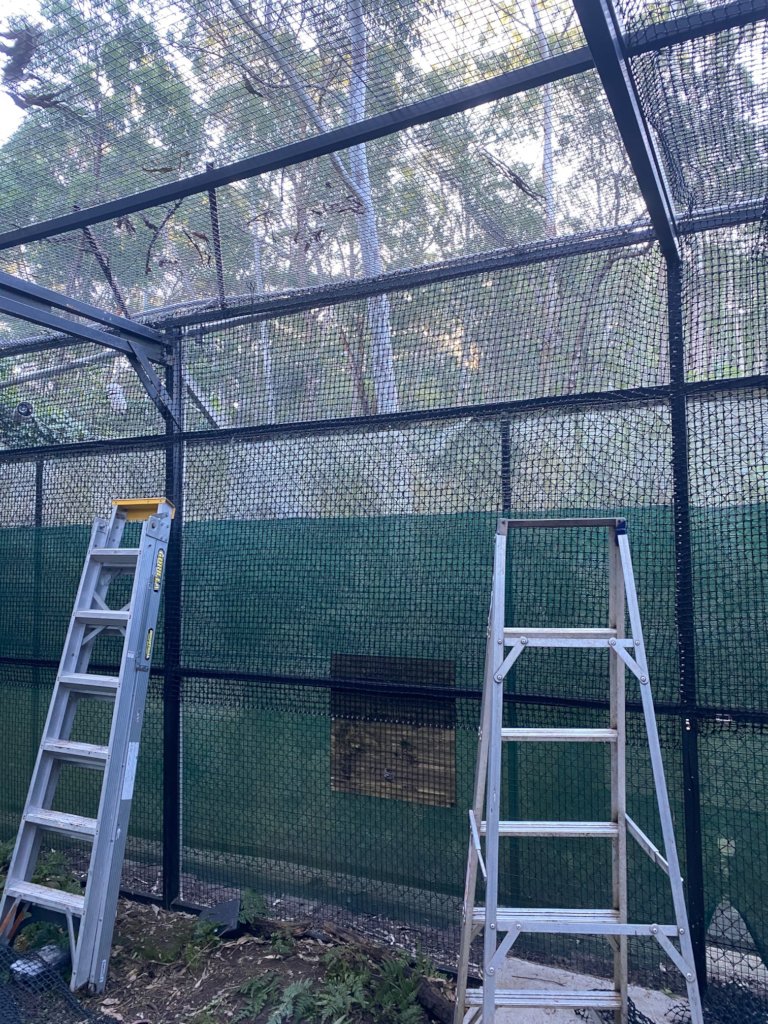 GlobalGiving Report August 2021
We have had a moderately busy winter season caring for around 250 adult and juvenile flying foxes that have come into care for a variety of reasons, including net entanglement or with concussion (from being hit by a car or flying into inanimate objects). The final group of these flying foxes have been in the large cage for the last 4 weeks getting flight fit and ready for release. Their final catch-up and health check happened this last weekend and fortunately the majority are ready for release – so the hatch was opened on Sunday. It usually takes about a week or so for the bats to disperse and in the meantime we will continue to support feed them until they have all gone. This means we can all have a well-earned break from cleaning, cutting fruit and feeding out a Kukundi for a few months.
I have 3 bats remaining in care with me who, for a variety of reasons, will have to wait until the large cage re-opens again in a few months. All have injuries from net entanglement. One girl had an injury over her 3rd finger bone that has taken twice as long as normal to heal and it is only just now starting to close over and look good. She was removing the wound dressing almost every night (sometimes we managed to stretch it to 2 nights) and not allowing the covering to do its job. One of the other bats – a juvenile female had an injury on her right wing tip that was also not healing. In the end we determined that the bone underneath wound had died and so we had the wingtip amputated. She will be ready for time in the large cage the next time it is reopened.
In between the pups being released earlier this year and opening up the cage for the adults and juveniles, we have had some much needed maintenance work done. The cutting room and prep room were given a thorough clean and a fresh coat of paint – its amazing how much brighter the rooms look.
We also had new concrete floors laid in both cages, with the gradient of the flooring done so that the water runoff from cleaning the cages all goes in the right direction. We took the opportunity while the new floor was being laid to add a collection pit to help manage the waste. Now that the last of the bats have been released, we can look at be painting the concrete floor with a special non-slip paint that makes it easier for cleaning and much safer for our volunteers to move around on.
Another addition to the small cage during this time was a hatch in the internal door of the small cage. This new hatch will make the weekly weigh and measure of pups much easier. In the past we had to curtain off the airlock with a sheet and this was where we would place the pups once they had their weekly health check. They had a happy knack of escaping the curtained airlock. The new hatch means no more escaping!
We have also had netting in the cages redone, which has been a BIG job – just locating a source of the appropriate replacement netting was difficult. Over time the netting had developed quite a number of holes, which were beyond repair and becoming dangerous for the bats. So this was a much-needed job that had to be done. I would like to give a huge THANKYOU to one of our volunteers, Susan, who projected managed all of these jobs during some very trying times. She is a champion!
I trust that you all have been keeping safe and well during this global pandemic. Thank you so much for your generous donations that enable us to continue to rescue and release back into the wild these amazing bats. We could not do it without your help.