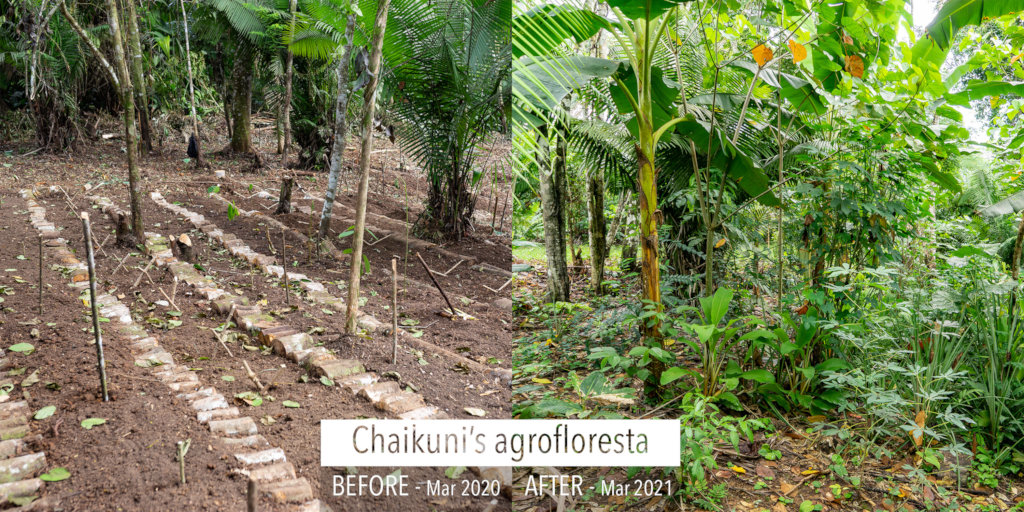 Dear Friends and Supporters,
We hope this report finds you well and healthy. Over the last months we tried to make the most out of the relative calm and normality to push ahead with our activities. November and December were busy months with fieldwork, supporting families getting their agroforestry plots on their way, and organizing community assemblies to support the communities to organize the use of their community land in a sustainable way. After a well-deserved time-off around the turn of the year, our team continued the activities in the communities and our permaculture center. Unfortunately, by mid-late January, the second wave of the pandemic hit Peru and our city of Iquitos, once again impeding the normal development of our project.
During the time we were able to work normally, we implemented another 13 mingas or collective workdays, working with local families on the establishment of their chacra integral or food forest. We are currently working with 15 families, and offer each family our support for three full workdays. By the end of this year, our goal is to extend this work to include at least 24 families, each one converting approx. 1 hectare into a highly diverse food forest.
By mid-December we also concluded our third communal land planning workshop with the San Pedro village. Using a "talking map" methodology, we asked the villagers to draw the past and present distribution of the natural resources on their territory on a map. The decline of their resources over the years suddenly became very visual and helped the villagers to reflect on their current practices, how they would like their future to be, and what will need to happen so this vision of the future can materialize. Having collected all this information during the workshops, we are now working on transferring the communities' proposal on how to sustainably manage their communal lands onto a geo-referenced map. We then expect San Pedro to endorse their own proposal in a signed communal agreement. By the end of the year, we aim to have concluded the same process in our three other partner villages.
Do you remember how 1 year ago and just before the strict lockdown of over 100 days we ran an agrofloresta-training with villagers, teaching them this particular method to install an extremely diverse and productive agroforestry system? One year later, we have harvested a great diversity of foods from our own agrofloresta that was planted one year ago, such as maize, yucca, beans, cocona fruit, papaya, chaia, katuk, and bijao leaves. (These latter are used to prepare several local dishes). In many ways, crop diversity strengthens the resilience of the system.
We hope this explosion of green (see photos) – an explosion of life itself - is as much of an inspiration to you as it is to us at the Chaikuni Institute. As another period of limited activity is forced upon us by the coronavirus, and the government´s response to it, we take this inspiration with us and get ready for the time when we can get our hands dirty again. Let´s hope it won´t be too long.
We hope that your resilience to the current situation persists and once again would like to thank you for your support - to our Institute and the local communities that we partner with.
Warmly,
The Chaikuni Institute Team