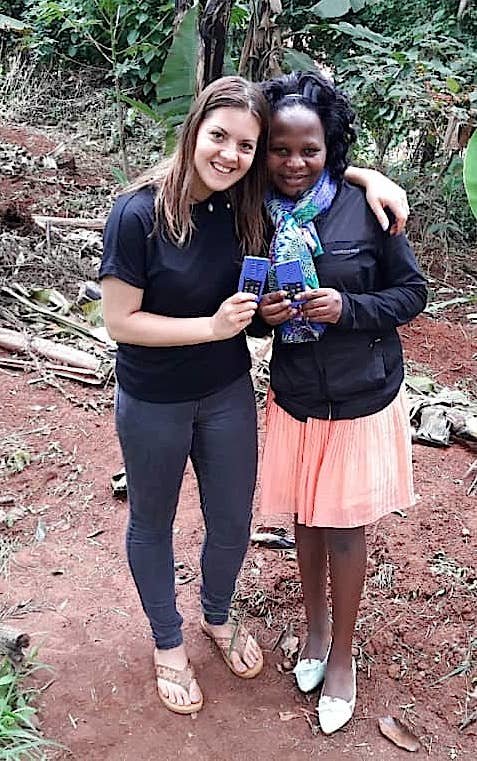 (Anmerkung für unsere deutschen Spender: bitte abwärts scrollen für den deutschen Text!)
Dear Donors, here we are again with news from our project in Kyamulibwa, Uganda.
During the last three months, distribution of our MP3 Players containing vital health information for illiterate rural women in Uganda has been continued. Only very few devices are left - our partner Projekthilfe Uganda e. V. will store about 10 to have some back-up at hand just in case. All other MP3 Player we shipped have been distributed to local women's groups: 490 players in total. Each one of them is being used in a group of 10 - 12 women, so we've reached well over 5.000 rural women with this project.
Our German volunteer Kora Koch left for Uganda on May 16th, she's will be there now until end of this year and supervise both final distribution and use of the players. We are very happy about that, and so is she, obviously - you can see her big smile on one of the pictures below! It's easy to spot her, she's the only "musungu" (white person). By the way - do you recognize the lady beside her? You may have seen her on one of our first photos - that's Josephine, our "Voice of Uganda". She helped us to record all of our texts for the players in Luganda, the local language. And she is still helping in our project as a volunteer.
So far, we've raised 7,102.34 US$ for this project - well, YOU did! :-) All this would not have been possible without your help and your generosity. A big THANK YOU for your support!
When we started this project, our target group were 10.000 rural women in the district of Kyamulibwa/Masaka in Uganda. This is why we calculated for 1000 MP3 Players (1 player = 10 women). During the process of distribution and while collecting feedback from the women's groups, we realized that we had overshot the mark. The networking among the single women's groups is working far better than expected, and thanks to the outstanding engagement of the local social workers and our volunteers, exchange of the players between various groups can be handled well. Turns out that we do not even need the 1000 players we had projected to reach all of the local groups, as they are passing their players on when they are done with the contents. An additional advantage resulting from this practice (apart from cost saving) is the exchange of personal experience between the groups. So far, they had been working quite independently from one another - now there's a reason they connect on a regular basis. This leads to many inspiring conversations and emotional support they give each other.

This is why - evaluating the feedback from groups and social workers - we decided that the 500 Players we could finance with your help for this project are definitely fair enough to reach the impact we had been aiming for. We will therefore put this project on hold for the moment and not ask you for additional donations. Of course, we'll keep on receiving reports from the local workers. And should we come to the conclusion that we were wrong in downsizing the number of players for this project, we'll become active once again, of course. No woman will be left behind!

But for the moment we leave you with some final impressions from Kyamulibwa and thank you once again for your kind support. Please do not stop visiting our company website (www.uridu.org) to stay updated on our work. We'll be back on GlobalGiving soon with a new project, and that's a promise!



Liebe Spender, wir melden uns wieder mit Neuigkeiten von unserem Projekt in Kyamulibwa, Uganda.
In den letzten drei Monaten ging die Verteilung unserer MP3-Player mit wichtigen Gesundheitsinformationen für Analphabetinnen in Uganda weiter. Nur noch wenige Geräte sind übrig - unser Partner Projekthilfe Uganda e. V. wird etwa 10 Stück zurückbehalten, um für den Fall der Fälle einige Ersatzgeräte zur Hand zu haben. Alle anderen von uns gelieferten MP3-Player wurden an lokale Frauengruppen verteilt: insgesamt 490 Geräte. Jedes von ihnen wird in einer Gruppe von 10 bis 12 Frauen eingesetzt, so dass wir mit diesem Projekt weit über 5.000 Landfrauen erreicht haben.
Unsere deutsche Freiwillige Kora Koch ist am 16. Mai nach Uganda aufgebrochen, sie wird nun bis Ende dieses Jahres dort sein und den Einsatz der Player im Feld mit betreuen. Wir sind sehr glücklich darüber, und sie ist es offensichtlich auch - das erkennt man schon an ihrem strahlenden Lächeln auf einem der unten beigefügten Bilder! Kora ist leicht zu entdecken, sie ist schließlich die einzige "musungu" (weiße Person) auf den Fotos. Übrigens - erkennen Sie die Dame neben ihr auf dem Bild? Vielleicht haben Sie sie schon auf einem unserer ersten Fotos gesehen - das ist nämlich Josephine, unsere "Stimme von Uganda". Sie half uns, alle unsere Texte für die Player in Luganda, der lokalen Sprache, aufzunehmen. Und sie hilft immer noch als Freiwillige in unserem Projekt mit.
Bis jetzt haben wir 7.102,34 US $ für dieses Projekt aufbringen können - oder vielmehr: SIE! :-) All dies wäre ohne Ihre Hilfe und Ihre Großzügigkeit nämlich nicht möglich gewesen. Ein großes Dankeschön für Ihre Unterstützung!
Als wir mit diesem Projekt begannen, wählten wir als unsere Zielgruppe 10.000 Landfrauen im Distrikt Kyamulibwa / Masaka in Uganda aus. Für diese kalkulierten wir 1000 MP3-Player ein (je 1 Gerät für 10 Frauen). Während des Verteilungsprozesses und während der fortlaufenden Auswertung des Feedbacks aus den Frauengruppen stellten wir aber fest, dass wir eigentlich zu großzügig geplant hatten: Die Vernetzung der einzelnen Frauengruppen funktioniert deutlich besser als erwartet, und dank des hervorragenden Engagements der lokalen Sozialarbeiter und unserer Freiwilligen läuft der Austausch der MP3Player zwischen unterschiedlichen Gruppen sehr gut. Es stellte sich tatsächlich heraus, dass wir gar keine 1000 Player brauchen, um alle lokalen Gruppen zu erreichen. Jede Gruppe gibt ihre Player nämlich nun an eine andere Gruppe weiter, wenn die Frauen mit dem Anhören der Inhalte fertig sind. Ein zusätzlicher Vorteil, der sich aus dieser Vorgehensweise ergibt (abgesehen vom Kosteneinsparungsfaktor), ist der rege Austausch persönlicher Erfahrungen zwischen den Gruppen. Bis jetzt hatten die jeweiligen Frauengruppen immer ziemlich unabhängig voneinander gearbeitet - jetzt gibt es einen Grund, warum sie regelmäßig zusammenkommen. Dies führt zu vielen sehr inspirierenden Gesprächen und großer emotionaler Unterstützung, die die Frauen einander schenken.
Aus diesem Grund haben wir - unter Berücksichtigung des Feedbacks von Gruppen und Sozialarbeitern - nun entschieden, dass die 500 Player, die wir mit Ihrer Hilfe bereits für dieses Projekt finanzieren konnten, erst einmal völlig ausreichend sind, um die von uns ursprünglich angestrebte Reichweite des Projekts zu erzielen. Daher werden wir die Anzahl der Player vorerst nicht weiter ausbauen und Sie daher auch nicht um weitere Spenden dafür bitten. Natürlich werden wir aber weiterhin Berichte von den Mitarbeitern vor Ort erhalten. Sollten wir aufgrund dieser irgendwann zu dem Schluss kommen, dass in der Region doch noch mehr Player benötigt werden, werden wir natürlich wieder aktiv. Keiner Frau soll schließlich der Zugang zu unseren Informationen verwehrt bleiben!
Aber für den Moment verabschieden wir uns mit einigen Bildern aus Kyamulibwa von Ihnen und danken Ihnen noch einmal für Ihre freundliche Unterstützung. Bitte besuchen Sie uns weiterhin auf unserer Website (www.uridu.de), auf der wir natürlich über alle unsere laufenden Projekte fortlaufend berichten. Wir melden uns auch bald mit einem neuen Projekt auf GlobalGiving zurück, versprochen!