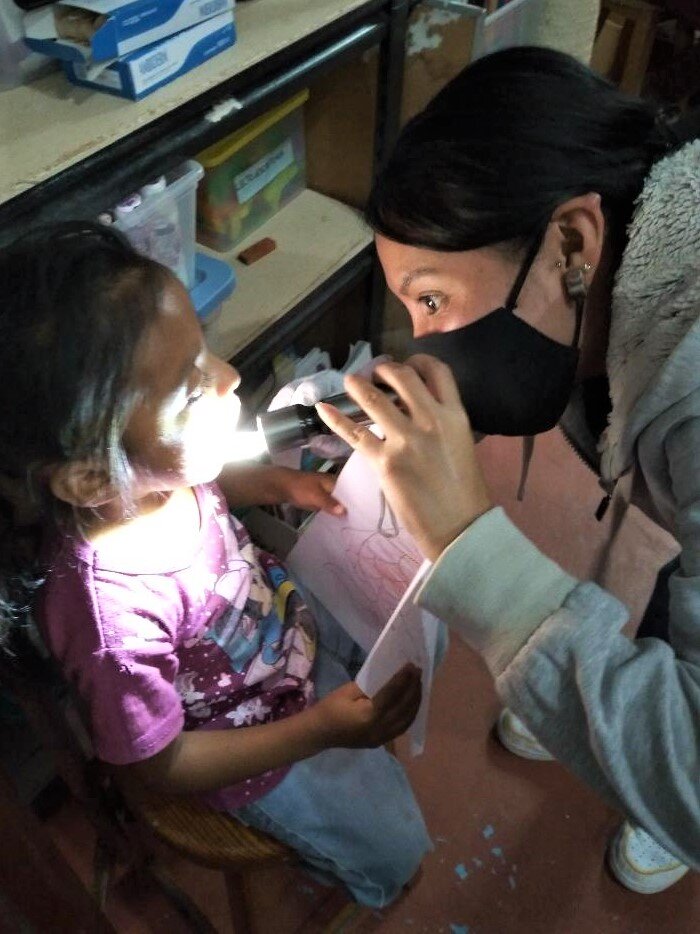 Dear Friends, while some may say that a report with the numbers from 2021 is "old news," for us here at Atzin, the numbers help to anchor "what was what" during that year, especially in comparison with former years. This report is longer than usual, so please hang in there....
During 2021, we worked to recover and revive programs affected by the pandemic; all in all, it was an unexpectedly time-consuming process - like overcoming inertia - and felt like the story of the "little engine that could." All in all, the local women working with Atzin did an incredible amount of good work, while building skills in planning, managing, reporting and evaluating programs. An estimated 3,000 beneficiaries accessed and received services (keep in mind that individuals can receive more than one service).
Two challenges across the community arose: children of all ages essentially lost two years of education, as well as the disciplined habit of regularly attending classes; 2) families were economically more stressed with more social problems, and put education of their children on a back burner. Honestly, there is no way to put a positive spin on this: barely able to cope during the pandemic, the people who paid dearly were those living in acute poverty.
2021 PROGRAM HIGHLIGHTS. Responding to community needs over the year, Atzin team and promoters did the following:
Early Stimulation Program. Re-started the early stimulation program in early October 2021, with 41 registered children aged 2-5 years of age, organized in two groups, each group meeting twice per week for three hours;
Education for Children. Gave 3.5-hour classes for 200 registered children (6-11 years old) in small groups outside in the open air from January 2 to July 16, and then again from September to December, for a total of 147 days of classes over the nine months. During 2021, attendance by children dropped in our education and literacy program, Tihueliske, and despite repeated home visits by Atzin educators and discussions with parents, it has taken months to regain momentum.
Nutrition. Promoters did 37 cooking demonstrations on Saturdays for people and patients at the Centre, and as well, provided snacks for the children on each day of classes.
Special Needs. Continued service and medication provision to 38 children and 40 adults with special needs throughout the year. Promoters continued to accompany families with appointments in hospitals in Taxco, Cuernavaca or Mexico City, with Atzin covering transportation, consultation fees, paperwork for appointments and costs of lab work.
Safe Motherhood. Provided prenatal care and postpartum follow-up for 61 registered woman, with 47 clinic days plus home visits.
Dental Health. Operated the Motlan Dental program operated once per week for five months (January to end of May), attending to 360 people for a total of 400 treatments.
Condolences. Visited 93 different households to offer condolences for a death in the family. Each family received support in cash ($200 per family) and a 5-piece food package. We kept the death registry updated with a data analysis; and mapped the locations of deaths.
Civil Registrar. Worked with a local woman (an Atzin promoter and educator for years) to be approved for the position of Civil Registrar in the community (responsible for registration of births, deaths and marriages) in May 2021. Atzin supported her nomination with transport, application payments, letters and submissions, provided three month's compensation, six-month rent in a temporary location, and basic furnishings (on long-term loan) with start-up supplies.
Advocacy. Registered a complaint and petition to the senator of the central region of Guerrero for return of an unfair payment made to the Taxco Hospital by a family on December 1st 2021. On December 16, 2020, the Guerrero Human Rights Commission took up the case and in May 2022, the full repayment was achieved.
Advocacy. Worked with five families to obtain the many documents required to obtain federal economic support as victims of violence, and then transporting the affected women to Chilpancingo for individual interviews and submission of documents. [Financial support for the widows and the nine young children came through in the spring of 2022, a huge relief for them].
So now, halfway through 2022, we take a deep breath, figuring out our next best steps: focus on nutrition, early stimulation and education for children, and mental health for youth.
With your support and best wishes, as always, we press on – thank you.
Links: